With ClickPost, you can integrate your logistics operations with 150+ carriers, including Saia LTL Freight, using a single API.
Saia LTL Freight Offerings
Services

Products

Full value coverage to ensure the safety of the product

Custom solutions for choosing various delivery hours as per personal preference

Logistics services to cater to different supply change management needs

Distribution and consolidation services covering pickups, warehousing, tracking, lesser freight costs, and more

Saia Guaranteed to choose a specific delivery time

Cross-border shipping to Canada

Cross-border shipping to Mexico

Offshore shipping to Alaska, Hawaii, and Puerto Rico

Third-party logistics services under LinkEx

Retail delivery assurance
About

Saia LTL Freight
Established in 1924 in Houma, LA, Saia is a less-than-truckload (LTL) trucking company. The company was founded by a produce dealer named Louis Saia Sr. upon finding more scope in the delivery industry than the sales one. Saia Sr. started the organization with a single-family car whose rear seats were removed to make more space for loading couriers. He worked hard for the next 45 years, making the company a huge hit in Louisiana and Texas. By 1986, the company had become the largest regional LTL carrier, with 25+ different terminals across 5 Southeastern states, over a thousand employees, and nearly $50 million in earnings.
In a major turn of events in 1987, Preston Trucking acquired Saia, and six years later, when Yellow Corporation purchased Preston, Saia automatically came under its authority. In 1995, Saia merged with Smalley Transportation and gained access to all 11 Southern states. After a few more acquisitions and mergers in 2006, Saia finally began trading on the NASDAQ.
A year later, Saia acquired The Connection Company and Madison Freight Systems, Inc. and gained over a billion dollars in gross revenue, making it the first in its entire working history. To expand its services and reach, five years later, the company purchased The Robart Companies and ventured into the truckload service and third-party logistics industry. In 2015, Saia made another acquisition in the same industry and took over Dallas-based LinkEx Inc.
Currently, Saia serves 190 terminals with a team of approximately 12000 employees and provides all kinds of transportation and logistics services to its customers.
Going through the company's operations and achievements, if you feel like connecting with it, use ClickPost's API integration with Saia, which enables eCommerce companies to go live with Saia in just a day.
FAQs about

Saia LTL Freight
1) When was Saia established?
Saia was established in 1924 in Houma, LA, and is headquartered in Johns Creek, Georgia, U.S.
2) Who is the CEO of Saia?
Frederick J. Holzgrefe, III, is the president and CEO of Saia and manages over 12000 employee forces working in the organization.
3) What facilities does Saia Guaranteed service provide?
Saia Guaranteed is a delivery service offered by the logistics company that provides customers two-time slots, namely 12 pm and 5 pm, for delivery of shipments. Customers just have to mention the time slot of their choice on the bill of lading and wait for the delivery.
| | |
| --- | --- |
| API | Description |
| Manifestation and shipping label generation API: | Create order on Courier Partner, fetch waybill and shipping label and place pickup request |
| Track Shipment API: | Track your Saia LTL Freight shipment using AWB and Courier Partner |
| Cancellation API | Cancel shipment manifested on Courier Partner for faster returns |
| EDD API: | Show estimated delivery date for shipments on the order checkout page |
| NDR Action update: | Updates the after NDR action directly on courier company's database |
| Return Web-hooks: | Track your return shipment using AWB and Courier Partner using web-hooks |
VIEW API DOCUMENTATION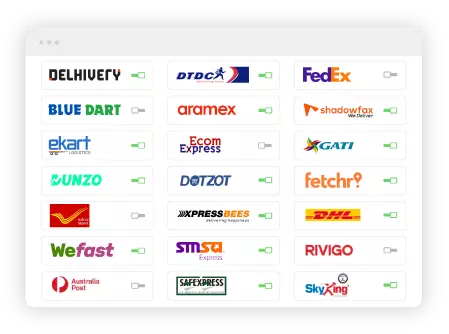 Step 1 - Select The Courier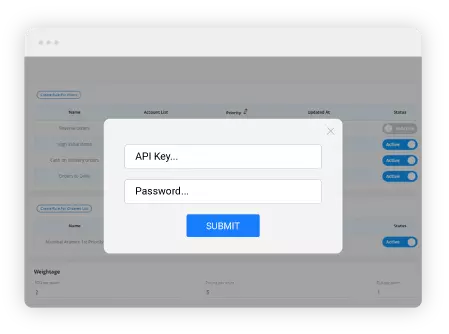 Step 2 - Enter API Key