Fetchr

API Integration Platform
Get Direct integrations with AWB, Shipping label, Tracking, Cancellation, NDR, Returns API of Fetchr using ClickPost.
ABOUT FETCHR
Fetchr is a new-age logistics enabler that is disrupting the traditional supply chain model with cloud technology and digital-only approach. They harness the power of predictive and machine learning technologies to meet the transport and shipping demands of eCommerce businesses, adding more agility, flexibility, reliability and service customizations. They cover all domestic and cross-border shipments, and offer pickup, delivery and return services.
POWERFUL FULFILMENT
Fetchr offers a powerful fulfilment technology that helps you connect supply to consumer demand, globally. Manage your orders and inventory levels, optimize shipping and keep track of the market to run your business efficiently.
CUSTOMIZABLE SHIPPING MODEL
Fetchr acknowledges that the needs of different businesses vary. Building flexibility into their services, the logistics partner offers pickup, delivery and return services for all your business to consumer cross border services.
AUTOMATION
Fetchr is enabled by artificial intelligence, BOTs and machine learning automation for customer order scheduling, service and delivery performance. With predictivity tools, it enables businesses to make profitable decisions.
INTEGRATING WITH FETCHR: DIRECT V/S CLICKPOST
CLICKPOST API FOR INTEGRATING WITH FETCHR
ClickPost already has API integrations with Fetchr for the complete shipping process.
Manifestation and shipping label generation API:

Create order on Courier Partner, fetch waybill and shipping label and place pickup request


Track Shipment API: Track your shipment using AWB and Courier Partner


EDD API: Show estimated delivery date for shipments on the order checkout page


NDR Action update: Updates the after NDR action directly on courier company's database


Return Webhooks: Track your return shipment using AWB and Courier Partner using webhooks
" We went live with 3 new couriers in 1 week using ClickPost - Superfast execution with no technical glitches. Our reach has increased and overall logistics costs have gone down by more than 10%, thanks to ClickPost "
Head of Logistics
Online Apparel Brand
ClickPost integrates with 120+ Carrier Partners


















List of E-Commerce Shipping Solutions
View all logistics service providers in India and how ClickPost helps you integrate with them
Read More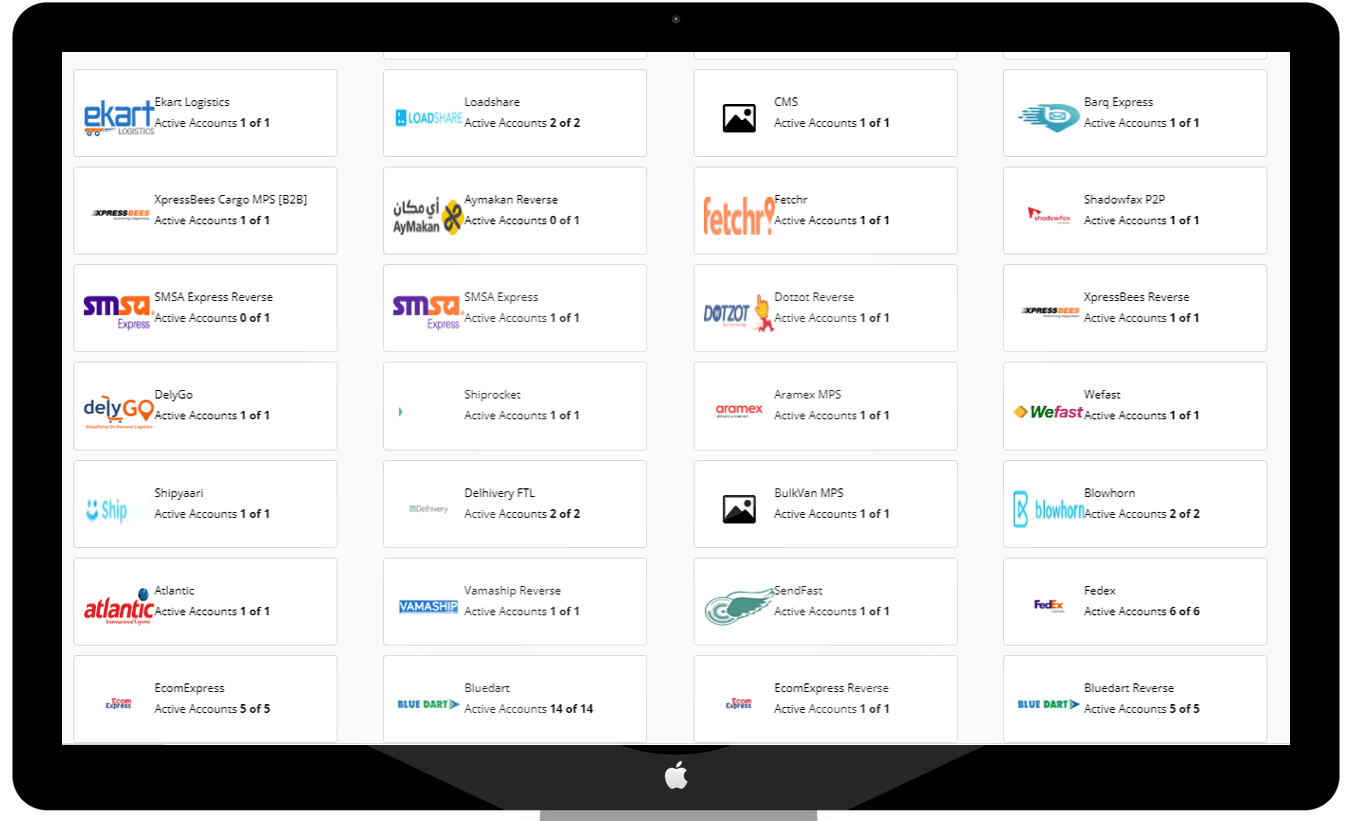 Step 1
Select the courier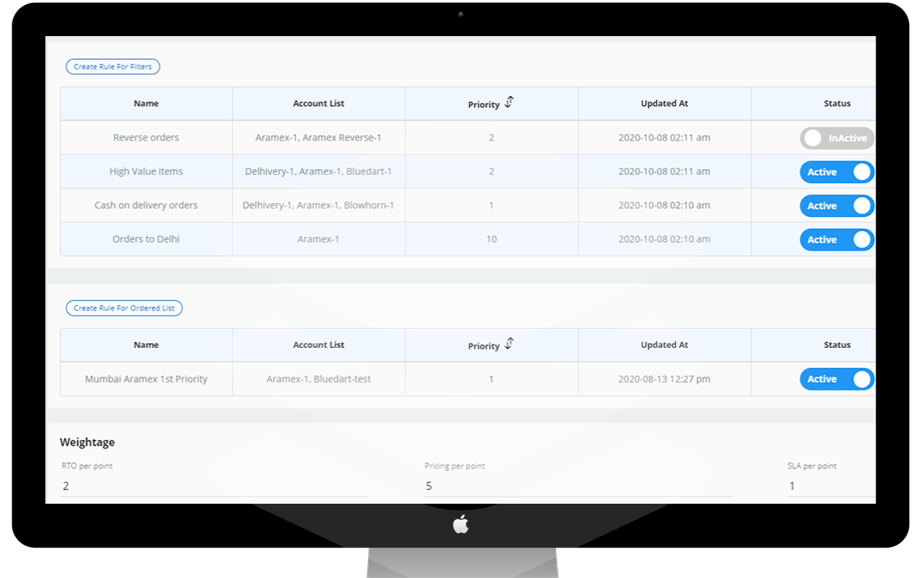 Step 2
Enter Credentials, Pricing etc.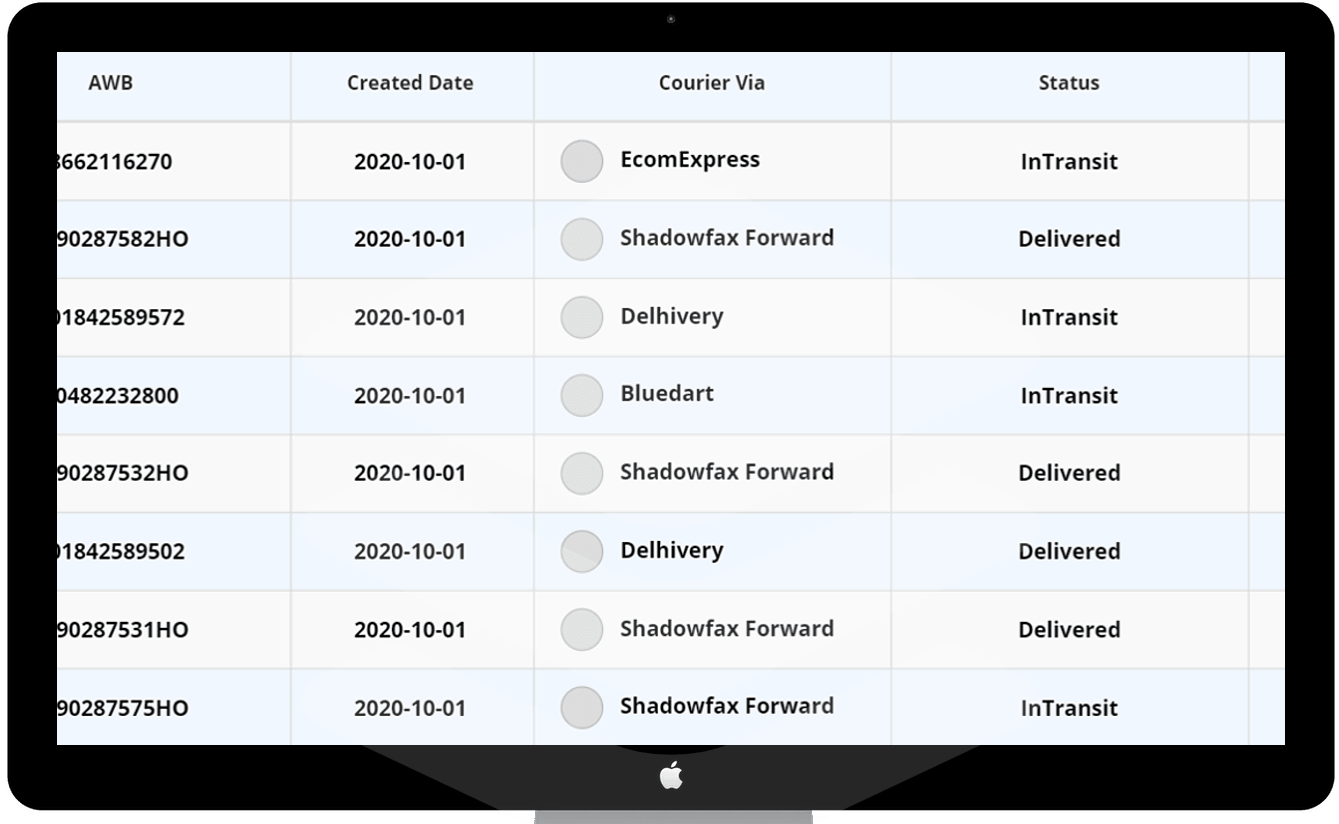 Step 3
Start Generating waybills
Why e-commerce companies prefer ClickPost over traditional logistics aggregators?
Complete control over Contracts with Logistics Partners
No middle-layer - Faster resolution of Shipping queries
Complete transparency in courier performance
Advanced features to reduce RTO% and automate operations CLICKPOST SOLVES MULTIPLE PROBLEMS BEYOND SHIPPING PARTNER INTEGRATIONS
Courier Partner Recommendations: Our logistics intelligence platform comes with a recommendation engine. We help you pick the most suitable courier partner for your orders based on their pickup and delivery performance, payment modes, serviceability, RTO orders and 50+ signals.

Engaging post-purchase experience: Keep your customers in the loop with automated order status notifications on email and SMS. Reduce post-purchase anxiety and WISMO calls, and get an opportunity to sell more with customer engagement.

Branded tracking pages: Make it easier for shoppers to track their orders. Offer a branded tracking page on your store, customized to match your brand. Upsell, cross-sell, collect feedback and improve your NPS score on the page.

Automated NDR flow: With an automated NDR flow, we help you reduce RTO by almost 9%. Get insights into shopper preference and gather feedback in real-time to prevent order delays and post-purchase regret.

Hassle-Free Integrations: Integrate all your carrier partners with one ClickPost API to bring all your data onto a unified dashboard. Get complete visibility on your logistics to improve order fulfilment.
Fetchr Shipping, Courier, and Logistics API Integration
Fetchr is the ultimate shipping solution and courier partner for ecommerce retailers. It makes use of artificial intelligence and logistics tech that are designed to make supply chain management more efficient. Using an ethereal blend of human resources and machine learning, Fetchr enables you to offer a more well-rounded approach to customer care, thereby improving the overall customer experience. The customer care software in question goes by the name Nancy, and acts as a personal Fetchr assistant for each customer that has placed an order being delivered by Fetchr. Fetchr is especially popular because of its scalability. It adapts its services to suit a wide range of shipping needs for both small and large companies.
Fetchr fleet is maintained by well-trained and highly experienced professionals that incorporate brand awareness into their delivery services, ensuring that your company is well promoted even at the time when deliveries are being carried out. In fact, Fetchr employs over 1500 delivery experts to provide top-notch shipping services to over 250 cities in motion. One of their proudest selling points is noting that they're delivery agents have travelled a distance equivalent to 5 trips to Mars in pursuit of fulfilling Ecommerce orders.
Elon Musk, eat your heart out! Fetchr provides options for zero-touch automation protocols when it comes to scheduling orders in accordance with customer preferences. The shipment can then be carried out on autopilot, minimizing the number of calls necessary for carrying out the delivery within the scheduled time. Fetchr is known for following a "big data '' approach to logistics and order fulfillment. Its cloud-based system is constantly collecting logistics data and is known for using a predictive strategy to increase profitability and revenue for ecommerce businesses across the globe. You must be in a hurry to tie up with Fetchr and you can go live with Fetchr in just one day using the ClickPost shipping & courier API integration.