Explore Our Open Positions
We are looking for the right people to bring on to the team who will be a team player and help us grow
About
Ever wondered how you found out when your order was going to be delivered or where it was via that tracking page when you ordered on Nykaa, Bewakoof, 1mg, Pharmeasy, Puma, etc? Well that was all through ClickPost. Pretty cool, eh? We do a ton of awesome stuff for eCommerce companies so shoppers like you can get the order on time and with the best experience.
We help companies implement Logistics Intelligence to deliver a superior customer experience. We are the sophisticated tech that powers some of the largest online retailers helping them run their operations smoothly. We are funded by Rebright Partners, Titan Capital, Times Internet, Gemba capital and other investors and are one of the fastest growing Saas companies in India.
Impact
If you come from a background of eCommerce , supply chain or logistics , you must be aware of terms like RTO%, fake and failed delivery management, stuck shipment, etc. We help eCommerce significantly reduce all those numbers through a deep, integrated and intelligent tech!
E-commerce in India is growing at 40% year on year. But it's still just 5% of the overall retail market. Over the next couple of decades, the way we engage with brands and how commerce happens will change significantly. We are an early mover in this macro change in society enabling brands to move to a new way of doing business. Come be a part of this revolution that will become a mainstream industry and will be one of the best spaces to be in for the next 20-30 years.
Values
Transparency

Learning

Ownership

Humbleness
Culture
Cutting through all the corporate jargon, here's who we are and what we cherish. We really don't care where you come from, your background, your age, your gender. None of that really matters. All that matters is, that you blend in while bringing your own flavour and uniqueness. When you meet us, it "Smell like teen spirit"! 🙏🏻 You'll know what we mean when you meet the team. Also, we're forming a band. ( Bonus if you're a drummer or a bassist) 😛
Benefits & Perks
Continuous Learning

Emotional Wellbeing

Health Coverage

Remote Friendly

Generous Leave Policy

Career Acceleration
Teams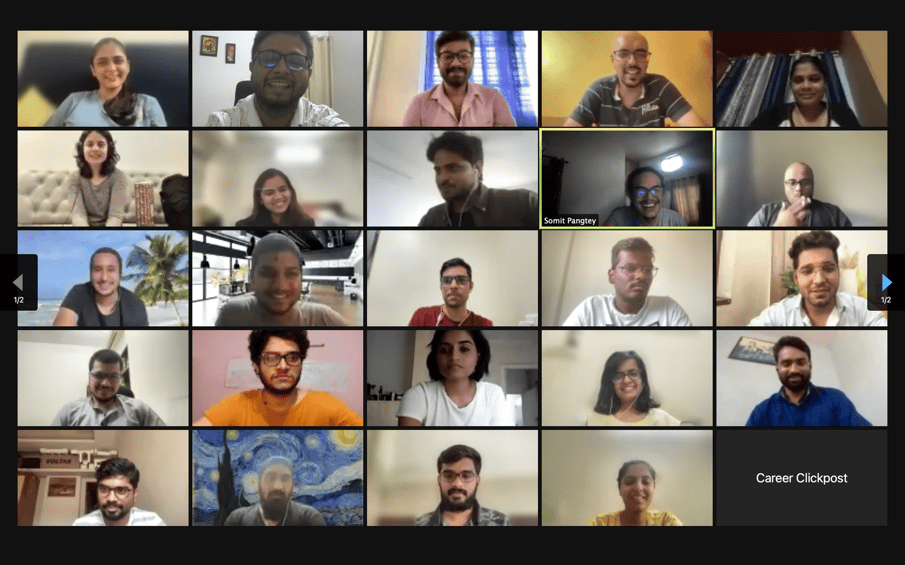 This picture was taken impromptu without anyone's notice. All you see is happy, curious faces 😄😇
Well that's just us. Why don't you join us if you're curious and want to be in a happy workplace ? 👯‍♀️
Contact Us
We will hear you at careers@clickpost.in