What is NDR in e-commerce logistics?
NDR or Non-Delivery Report is a notification shared by carriers specifying the orders which could not be delivered in a certain timeframe. When a delivery agent is unable to successfully deliver the order, which might happen for a variety of reasons like "incorrect address" or "customer unavailability", the order is marked as an NDR.

The carrier partner provides details of all such orders over APIs or in the form of an excel file. E-commerce logistics companies can then provide instructions on how to deliver the order to ensure a more informed delivery attempt, or ask carrier partners to make blind reattempts. Carriers generally make 3-5 delivery reattempts before marking the order an RTO (return-to-origin).
---
Stage 1:

Identify failed delivery
attempts (NDR) in real-time
______
ClickPost has deep API integrations with carriers enabling real-time identification and categorization of NDRs. Data is pushed from carriers to Clickpost and ClickPost engine auto-categorises them into 'Address Issue', 'Delivery rescheduled'.
Outcome: Immediate identification of failed deliveries with no manual intervention.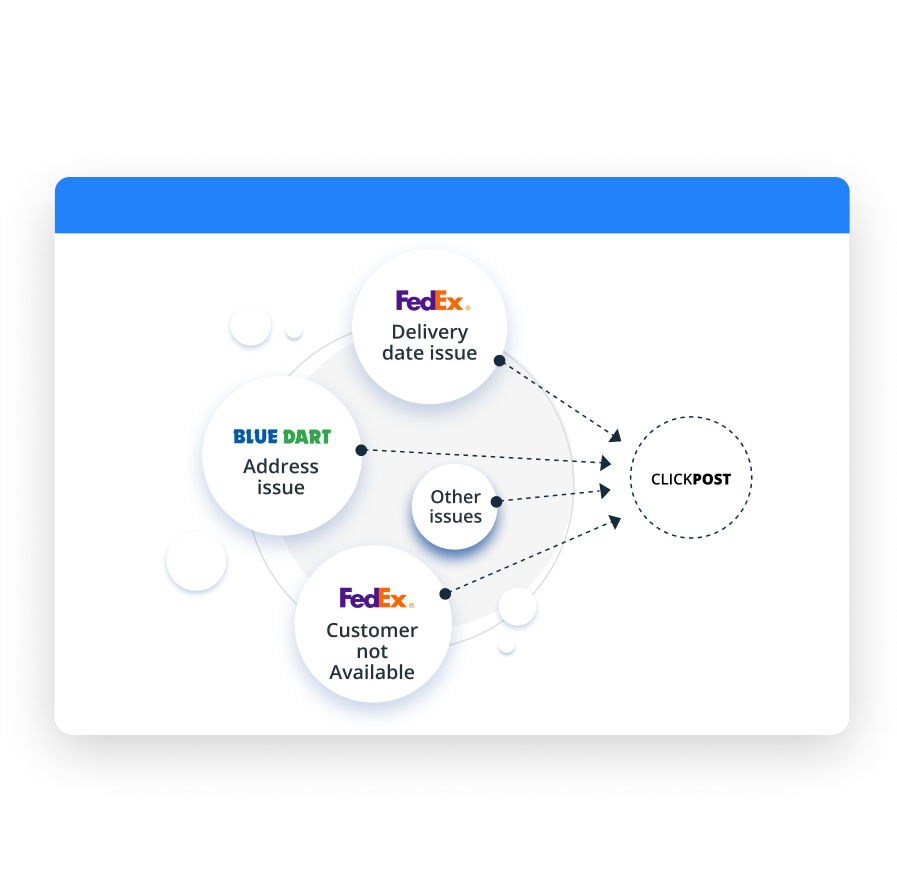 Stage 2:

Seek response from

customers to ensure delivery
For all exceptions, ClickPost automatically seeks issue-specific responses from shoppers by sending them messages via SMS/Email/Whatsapp/IVRS. All customer responses are automatically sent to carriers.
Outcome: Superfast resolution with zero manual intervention from your side!
Stage 3: Integrated NDR management portal
Your team can also manually manage NDR cases by calling customers and update reattempt instructions in a single portal.
Outcome: Minimise manual tasks in NDR management and get real-time visibility.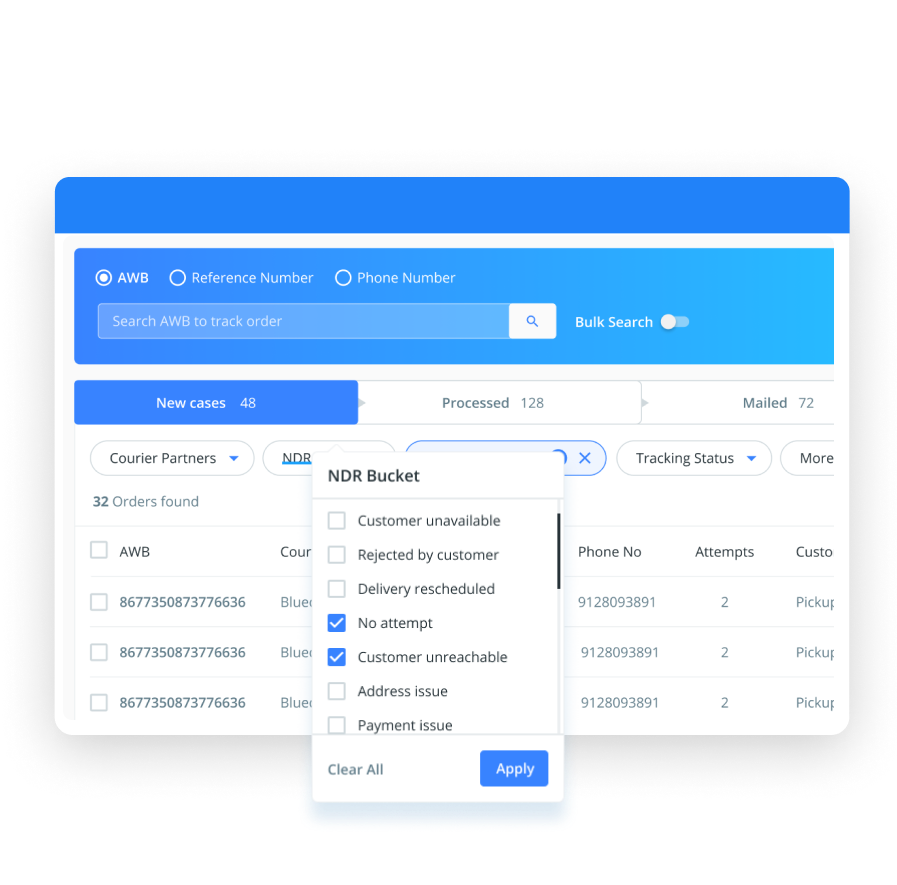 Top 5+ most common reasons for NDR in ecommerce

Incorrect or incomplete address
Customers may incorrectly input their address while placing the order or miss out on landmarks that make it difficult for the delivery agent to find the delivery address

Incorrect Phone number
Many delivery agents call the customers before delivery to check their availability. Without being able to contact the customer, the delivery agent may be unable to hand over the order.

Customer rejected delivery
Sometimes customers just change their minds about the order, specially when the order is delayed or if packaging seems damaged

Customer not available
There may be occasions when the customer is contactable but not able to take possession of the order, thereby impairing successful delivery. These are different from cases in which a customer reschedules the delivery.

NDR Fake Delivery Attempt
These are cases in which the delivery partner marks a delivery attempt in the system without actually making it. ClickPost has a unique feedback system to identify such cases

Customer rescheduled delivery
Some customers, upon receiving the call from the delivery agent, may notify the agent that they require the order to be delivered at a later date.
Best NDR management system for
ecommerce companies
The best NDR Management software system in eCommerce should have the following 10 features:
API integrations with carrier partners to identify NDR issues in real-time

A text analytics engine to automatically categorise NDR cases into specific buckets

Complete Customer communication platform to seek a response from customers on NDR cases via multiple channels such as email, SMS, Whatsapp, IVRS, etc

Intelligent workflows to drive maximum response from customers on NDR cases (eg. For all 'Address Issues', send an email and SMS to customer seeking their response -> If no response is received in 2 hours, send a Whatsapp message -> If no response is received in 8 hours, send Email, SMS and IVRS call, and so on

NDR API integrations with carrier partners to send NDR feedback in real-time

Integrated backend to enable NDR calling team to manually call customers to resolve issues

Rule-based allocation of NDR cases to different NDR calling representatives leading to their specialisation (eg. All 'Address Issues' and 'Customer refused delivery' issues are allocated to person X)

Deep Integrations with calling tools, and other internal systems

Fake delivery management system

Complete analytics on the performance of NDR team, 'Reasons for NDR' and 'NDR cases by carrier partner'
---
How to reduce RTO due to NDR management in ecommerce?
Once an NDR happens, you need to take action immediately and not leave it to the carrier partner.
Here are 5 ways you can reduce RTO after a failed delivery:
Implement an NDR Management solution

React immediately - Any delay in contacting customers after the first delivery attempt increases the chances of RTO multifold

Follow multi-channel approach to reach out to customers in cases of NDRs - manual and IVRS calls, emails, messages, notifications etc.

Incentivise call center teams to convert NDR or failed deliveries to successful deliveries

Use NDR data to select better carrier partners for future orders

Incentivise customers to convert cash-on-delivery orders to pre-paid orders before the out-for-delivery attempts
---
FAQs on NDR management system & software
in ecommerce
Q1. What is the full-form of NDR in carrier or logistics?
A. NDR means Non Delivery Report shared by carrier partner at the end of the day which contains details of shipments which could not be delivered.
Q2. What is the relation between NDR and RTO?
A. NDR Management is defined as a series of steps that you need to take after a failed delivery attempt to make sure that the shipment is delivered successfully. If no steps are taken, there is an overwhelming chance of the shipment getting marked as RTO or Return-to-Origin. Book a Demo to know about ClickPost NDR Management.
Q3. Which is the best NDR Management solution?
A. ClickPost is the market leader in NDR Management in India by a huge margin, with large e-commerce companies using its solution for their complete NDR management. ClickPost is the only company with features like AI-driven messaging, automated issue categorisation, deep API integrations with NDR systems of carrier partners, and customer-specific workflows for managing NDRs (non-delivery-report).
Q4. How much RTO reduction is typically observed after implementing ClickPost?
A. While it depends on the category and customer profile of the e-commerce companies, typically most companies see their RTO getting reduced by one-fourth to half of its original value.