The Most Comprehensive Guide to
Creating a Shipping Policy for your ecommerce store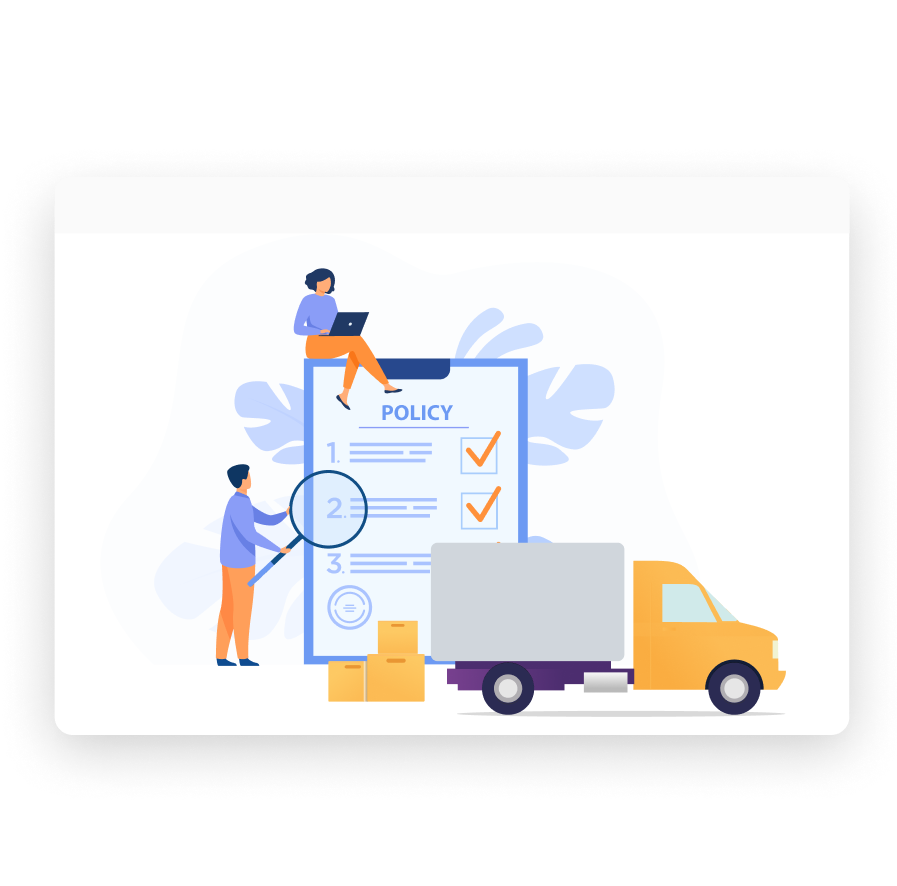 1. Introduction to Shipping Policy
---
Did you know shipping queries make up 70%-80% of all customer calls?
Where is my order? What are the shipping costs? Do you deliver to my country?
These are some of the questions every e-commerce retailer is familiar with. As an e-commerce entrepreneur, you are bound to be answering several questions. Most of those questions will be around shipping.
How much do you charge for shipping, how long does it take for shipping and delivery, what happens in case of delayed orders, and much more.
Online shopping is built on the trust of customers. Therefore, you must try to give as much information about your shipping details, delivery, return, and exchange policy as possible. First, it builds confidence and trust among customers. Second, it saves you from the dreaded WISMO calls.
2. What is a Shipping Policy?
---
A shipping policy is a company document that entails every relevant information about the shipping rules and procedures of your business. This would include how orders are shipped, how long they take to be delivered, shipping costs, etc.
A shipping policy page can be as detailed or brief as you want it to be. It may not leave you feeling excited in the morning. And sure, it's not legally required of you to create a shipping policy for your online store. But it's a brilliant resource to address all the questions your customers may ever want to ask about shipping.
A shipping policy should include all shipping information about shipping carriers, costs, delivery times, shipping methods, payment systems, refund and exchange, tracking methods, and delivery restrictions.
Before drafting a shipping policy for your ecommerce business, ask yourself the following questions:
Do you offer free shipping options, flat-rate shipping, or calculated shipping to customers?

What kind of payment options do you offer? Are you or your 3PL partner equipped to handle COD orders?

How many carriers and mail classes do you support?

How will you make tracking information available to your customers?

How efficient is your delivery service? What are your shipping times? Can you provide multiple shipping options like Same Day/Next Day services or hyperlocal delivery?

How long will order processing or manufacturing take, in the case of both custom and regular orders?

How will you handle returns and exchanges?

Do you ship internationally? Who manages customs on arrival?

What is your refund policy?
These are some of the questions every online entrepreneur should ask themselves before creating a fool-proof shipping policy. We believe these are some of the most commonly asked customer questions. Answering these questions in advance should help reduce confusion and enhance the post-purchase customer experience.
Free Download
Shipping Policy Template
3. 10 Essential Elements of a Shipping Policy
---
What you include in your shipping policy depends entirely on your shipping operations and supply chain. The idea is to provide transparency to customers at all times. We think there are 10 essential things every shipping policy must include. Let's take a quick look at them below.
3.1) Order Processing Duration
Once an order is placed, how long does it take to get shipped? Order processing times differ from industry to industry. Custom-made orders will take longer processing times than items that are ready to ship. If for any reason your order processing durations change, during peak seasons, sales, etc., be sure to update that on your website, product, and checkout pages.
In the image below, see how "Papa Don't Preach" has clearly mentioned their order processing times in their shipping policy:

3.2) Delivery Time
Delivery time is the actual time an order takes to reach the customer once it's been shipped. Delivery times can vary depending on the kind of carriers and delivery services you offer. List out the carriers you integrate with, the mail classes you ship with (Standard, Express, Freight, etc.), and the time it takes.
The image below shows how the global toy retailer, Hamleys, does a brilliant job of including both the delivery times and shipping charges in their shipping policy:

3.3) Shipping Costs
Tell your customers whether you offer free shipping, variable, or flat-rate shipping right in your shipping policy. With this information, customers can gauge the overall cost they will be paying for an item and make a better purchase decision. It also reduces logistics costs and cart abandonment.
Here's an image of "Nike" stating delivery charges and shipping options for orders of varied mail classes: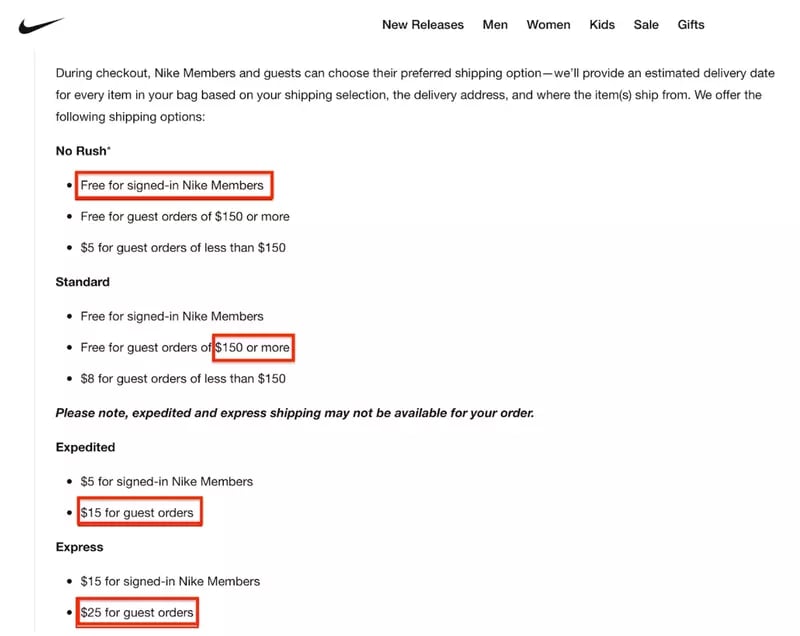 3.4) International Shipping
List out all the destinations you deliver to internationally. Also mention how customs clearance and duties will be handled. If you have any special shipping instructions for international shipping (special packaging, shipping surcharges, etc.), the shipping policy is the right place to include all of that.
In the image below you can see "Aachho" has a dedicated section listing out everything customers might want to know about international shipping, including carriers, customs clearance, and returns/exchanges:

3.5) Shipping Limitations
If you do not service certain locations, ship on holidays or Sundays, have weight limitations, etc., add that to the shipping restrictions section of your shipping policy.
Here's an image of "FedEx" clearly laying out the ground rules of shipping prohibited or restricted items:
3.6) Possible Interruptions and Delays
Covid-19 and the resulting lockdowns proved how so many things are out of our hands. The same goes for shipping. It's a fact of ecommerce that sometimes orders get delayed and nobody is at fault. To contain customer grievances in such situations, it's best to communicate in advance how you will be handling delays.
This image shows how "H&M" does a fantastic job of intimating customers about possible delays right on their shipping policy page:
3.7) Returns, Exchanges and Refunds
You may or may not want to make returns/exchanges/refunds a part of your shipping policy. Whatever you do, clarify how your online store will manage returns/exchanges and refunds, how long they will take and how to initiate the process. A solid return policy builds confidence among customers.
Here's an image of "FILA's" return policy with very clear instructions on the window for free returns and non-returnable items:

3.8) Damages and Losses
Some items get damaged or lost in transit. Your shipping policy is where you want to sort out well in advance who bears the brunt of such a loss. It's worth mentioning here how insurance policies work and how much coverage they provide.
Check out the image of "Net-a-Porter's" shipping policy where it gives directions to customers on what to do next if they receive a damaged product: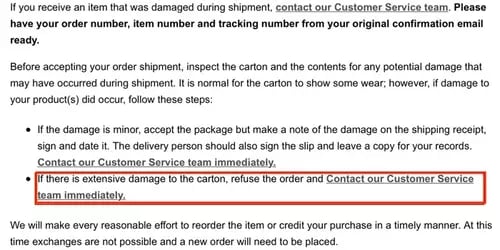 3.9) Order Tracking Information
If you don't want anxious customers calling you up about their order status, mention how they can track their orders in the shipping policy itself. Let them know how and when they will receive tracking information. Build and manage customer expectations by clearly stating at which points of the post shipping process they will hear from.
"HP's" shipping policy includes a detailed section on how customers can track their orders. See the image below:

3.10) Additional Information
This section allows you to cover all the bases that the previous sections did not cover. It can include payment modes, information on certain features you offer like Proof of Delivery, hyperlocal delivery, multiple international shipping options, free domestic shipping, in-store pickup or drop-off, etc.
4. Category Specific examples
---
We looked high and low to find you the best examples of shipping policies across industries. The best shipping policies are clear, concise, and comprehensive. In our search, we have found shipping policies of all shapes and sizes. We hope some of these examples below will help you draft one for your online store.
4.1) Luxury Goods
Nordstrom is an American luxury retail store that ships to several countries worldwide. As you can see, it has an exhaustive shipping policy that outlines everything from scheduled pickups and deliveries to expedited and international shipping. Nordstrom does this in a very easy-to-understand drop-down menu format. It has a separate policy for Returns and Exchanges. You may fit in the returns policy within the shipping policy itself if you choose to. Nordstrom's shipping policy is a great example to use for creating your own shipping policy template.
The image below shows how "Nordstrom's" shipping policy includes everything from shipping information and returns to delivery charges and FAQs: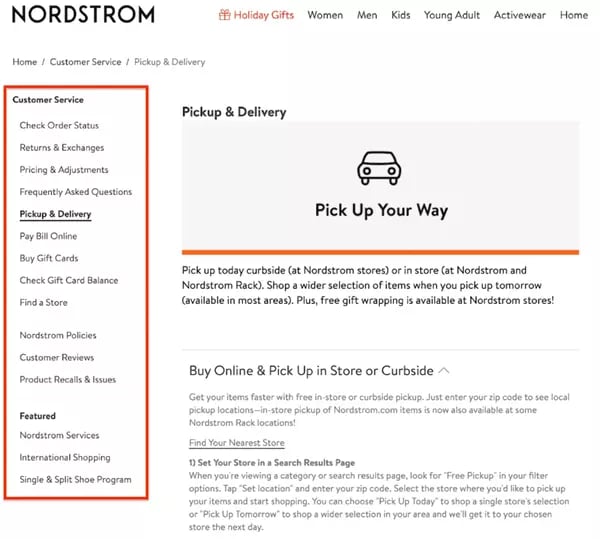 4.2) Fashion
Net-a-Porter is a one-stop destination for fashionistas all over the world. It has a simple yet informative shipping policy that clearly states the shipping fees, delivery partners, terms for taxes and duties, shipping restrictions as well as tracking information that Net-a-Porter provides. Additionally, their 24/7 customer helpline number is displayed on the Shipping Policy page itself! This is a great reference to create a shipping policy for your own store.
In this image, you can see "Net-a-Porter's" shipping policy is brief and succinct. It has all the relevant information including a section on how to track your orders: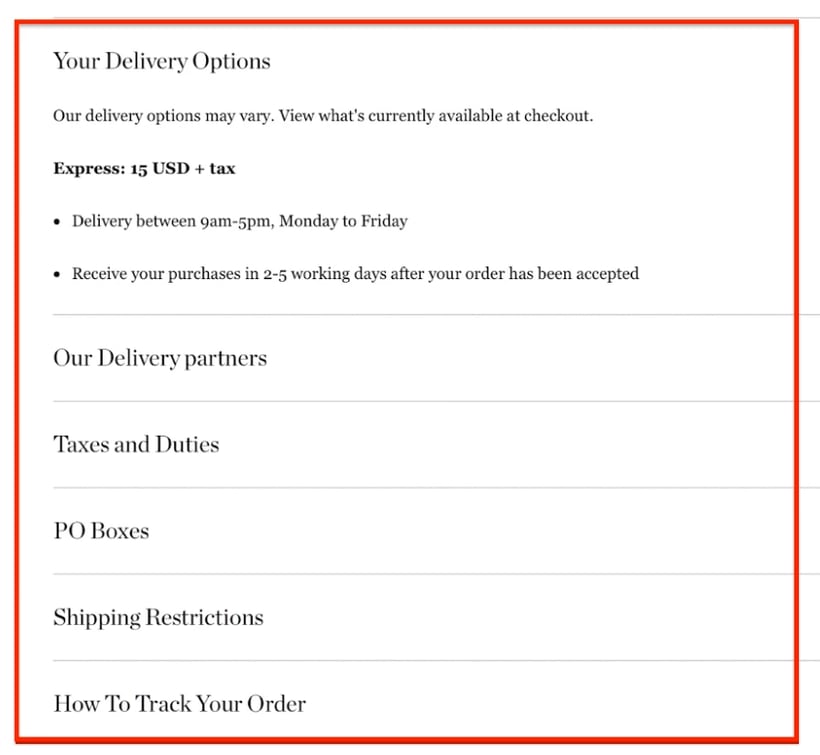 4.3) Cosmetics
Nykaa is a cosmetics brand that also sells products from global beauty brands like M.A.C., Estee Lauder, etc., on its platform. Nykaa has chosen the FAQ format for its shipping policy. FAQs are a great way to provide relevant information in digestible bites. However, it might not work for all brands. Still, if you think the FAQ format resonates with your brand image, just go for it.
Here's an image of the shipping policy page of "Nykaa" that provides all necessary information to customers in the format of an FAQ: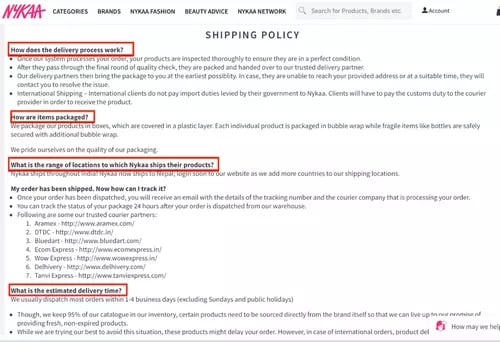 4.4) Consumer Electronics
HP's shipping policy is another good example of what your own online store's shipping policy can be like. HP has highlighted all the necessary information, including the time of the day when shipments are delivered via Standard or Express shipping. It's also mentioned how shipping rates are calculated. It does lack a bit in the structure that you can totally improve upon but the information is all in there.
Here's a highlight of "HP's" shipping policy that clearly mentions critical information like days of operation and option for a change in address once an item has been shipped: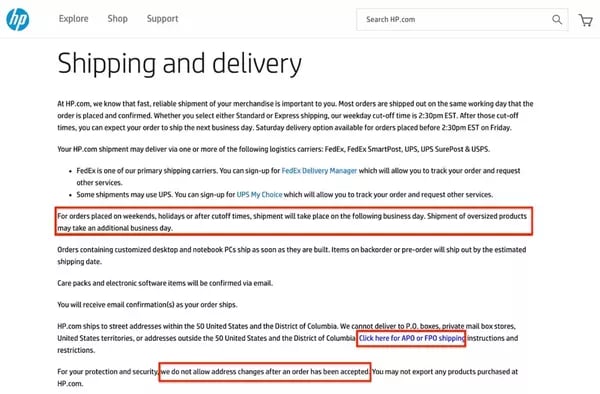 4.5) Logistics and Supply Chain
DHL's shipping policy is truly as detailed as it can get. But it's also because DHL handles so much of the shipping and supply chain management itself. Depending on the kind of niche you operate in, you may want to include some or all of the topics DHL covers, in your own shipping policy.
This is the image of "DHL's" detailed Terms and Conditions with a descriptive section on Customs and Duties: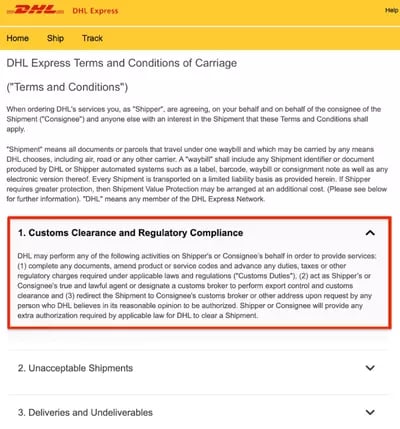 5. Free Shipping Policy Template
---
We know drafting shipping policies from scratch can be nerve-wracking. To help you along the way, we have provided a free shipping policy template down below. This template should cover all your shipping bases. We strongly suggest switching it up to make it sound more in line with your brand so that customers respond easily to it. We hope this shipping policy template helps and urges you in making one for your own store!
Domestic Shipping
[Inform customers about the domestic locations you ship to, domestic shipping rates, the carriers you ship with, and the kind of delivery speeds you offer.]
We provide local delivery to all domestic locations. You can choose between Standard and Express shipping options at the checkout page. Shipping charges will be calculated based on the delivery area pin codes/zip codes at the time of checkout. We also provide free shipping on all orders above X amount.
| | | | |
| --- | --- | --- | --- |
| Shipping option | Mail Class | Estimated delivery time | Price |
| Carrier 1 | Standard/Express | X to X business days | $X |
| Carrier 2 | Standard/Express | X to X business days | $X |
| Carrier 3 | Standard/Express | X to X business days | $X |
International Shipping
We offer international shipping to X no. of countries [link to list of countries] across the world with the help of our carriers, Carrier 1, Carrier 2, and Carrier 3 (feel free to add as many carriers you use for international shipping).
[You may also want to add any international shipping restrictions you may have at present]
Due to the ongoing COVID - 19 restrictions we do not ship to the following countries [link to list of countries].
We offer both calculated and flat-rate shipping on international orders.
For calculated shipping - Shipping charges for your order will be calculated and displayed at checkout.
For flat-rate shipping - We offer flat-rate shipping at [currency X] to [list of countries].
| | | | |
| --- | --- | --- | --- |
| Shipping options | Mail Class | Estimated delivery time | Price |
| Carrier 1 | Express | X to X business days | $X |
| Carrier 2 | Freight | X to X business days | $X |
| Carrier 3 | Expedited | X to X business days | $X |
Taxes, duties and customs are paid by [customers or sellers, depending on your policies] customers. The recipient will borne all local taxes levied by the state at the time of customs clearance.
Order Processing Times
[Start by differentiating shipping/delivery durations from Order processing times]
We offer standard shipping on all orders. Orders are processed within X to X business days, (barring Sunday and holidays). We will send you a tracking id on your registered email address as soon as your order is dispatched.
Include any other pertinent information towards the beginning, such as potential delays due to a high volume of orders or postal service problems that are outside of your control.
Tracking Information
You will receive an email notification from us as soon as your order is shipped. The email notification will include your Order Number and Tracking Number. You can use either of these numbers to check the status of your order on our website, [www.xyx.com].
Please note, the tracking link may need 24 hours - 48 hours to become active.
If you have not received your order within X business days or are unable to track your order, please get in touch with us at [support@xyx.com].
Refunds, Returns, and Exchanges
[Provide a clear description of your returns policy here. Include things like duration of the return window, restrictions on returns, how to initiate returns/exchanges and how fast refunds will be processed]
We offer 30 days returns to all products bought from [www.xyz.com]. For a full refund items must be unused, untorn and in the original packaging. The only amount deducted from your purchase will be the shipping costs for returns.
If you have any further questions, please don't hesitate to contact us at [support@xyz.com].
Final Conclusion
---
A shipping policy is a binding agreement between your ecommerce business and your customers. It's the single most important piece of the document where you can share all the information your customers might ever need to know about your terms of shipping.
A shipping policy is a great place to build trust so that both you and your customers are on the same page. Here, you can manage customer expectations in a way that makes the shipping process hassle-free for online shoppers.
FAQs
---
Q1. Who needs to have a shipping policy?
All businesses or platforms that sell and ship products online to customers need to have a shipping policy. This includes ecommerce storefronts, like Shopify, marketplaces like Amazon, Etsy and ecommerce businesses.
A shipping policy is not a mandatory document but it eases the process of shipping and assures customers that they are shopping from a trustworthy store.
Q2. How often should I update my shipping policy?
Shipping policies need to be updated every time there is a change in your delivery and supply chain. If your delivery times or any other shipping terms change permanently, make it a point to update the info in your shipping policy.
If the changes to your shipping policy are only temporary, for instance, due to the sale season or some other restriction, display the information on your website, checkout pages and product pages.
Q3. Where should I place the shipping policy on my website or ecommerce store?
The shipping policy should be displayed at several places so that the customer is always abreast with your shipping information. Here are a couple of ideas:
a) Website Footer
Check out how Net-a-Porter has added Delivery, Returns & Exchanges and Payment links in their footer section.

b) Product Description Page
Customers linger longer on product pages. Having your shipping policy there is a brilliant idea!

c) Website Banner
Let the first thing a customer sees on your website be the shipping policy. That's what H&M did, and it works.
Q4. Where can I find more shipping policies to use as a reference?
Here are the links to all the shipping policies we looked at while writing this article. We hope this helps you in drafting just the right one for your business.
Papa Don't Preach - https://www.papadontpreach.com/pages/delivery
HP - https://www.hp.com/us-en/shop/cv/shippingpolicy
Nykaa - https://www.nykaa.com/shipping-policy
DHL - https://mydhl.express.dhl/in/en/legal/terms-and-conditions.html
Nordstrom - https://www.nordstrom.com/browse/customer-service/shipping-methods-charges?origin=footer&cm_sp=corp-_-corp_CustomerService-_-globalfooternav_shipmethod
FILA - https://www.fila.com/customer-service/shipping/shipping-policy-and-rates.html
H&M - https://www2.hm.com/en_us/customer-service/delivery.html
Hamleys - https://www.hamleys.com/delivery-policy
Net-a-Porter - https://www.net-a-porter.com/en-in/content/help/delivery/
Aachho - https://www.aachho.com/pages/shipping-policy
Nike - https://www.nike.com/help/a/shipping-delivery