Wow Express

API Integration Platform
Get Direct integrations with AWB, Shipping label, Tracking, Cancellation, NDR, Returns API of Wow Express using ClickPost.
ABOUT WOW EXPRESS
Wow Express is a technology-led, customized logistics partner for eCommerce businesses, that offers a full range of integrated solutions for warehousing, order fulfilment, market-place pickups, last-mile deliveries and reverse pick-ups. They offer domestic and international logistics services. While it caters to all eCommerce businesses, Wow Express is especially known for its logistics solutions for health-related products.
WOW FIRST MILE
The Wow First Mile service offers to pick up of parcels from various locations, bringing them to a centralised first-mile centre, sorting them and handing them over to your chosen last-mile delivery operators. ; with parcel sorting by the operators you choose.
WOW REVERSE
Wow Express offers reverse pick up of orders, no matter what the reason for return maybe. The shipments are collected on your behalf from customers and delivered back to you. They offer all their logistics technologies like signatures, photo proof and more.
WOW LAST MILE
The Wow Last-Mile service is driven by technology and integrates with your supply chain to meet your last-mile delivery requirements such as cash and card on delivery, managed dropship, digital signatures, GPS tracking, door lock and proof of delivery photographs.
WOW WAREHOUSING
eCommerce fulfilment centres set up across multiple locations and tailored to rapidly process thousands of small orders daily with custom warehousing solutions.
WOW HEALTH EXPRESS
Technology-enabled pick-up and delivery service of bodily fluids (blood, bone marrow, tissue) samples from independent hospitals/pathology laboratories to the customer's central lab and delivery of diagnostic reports. For health companies.
INTEGRATING WITH WOW EXPRESS: DIRECT V/S CLICKPOST
CLICKPOST API FOR INTEGRATING WITH WOW EXPRESS
ClickPost already has API integrations with Wow Express for the complete shipping process.
Manifestation and shipping label generation API:

Create order on Courier Partner, fetch waybill and shipping label and place pickup request


Track Shipment API: Track your shipment using AWB and Courier Partner


Cancellation API: Cancel shipment manifested on Courier Partner for faster returns


EDD API: Show estimated delivery date for shipments on the order checkout page


NDR Action update: Updates the after NDR action directly on courier company's database


Return Webhooks: Track your return shipment using AWB and Courier Partner using webhooks


EDD API: Show estimated delivery date for shipments on the order checkout page


NDR Action update: Update the courier company on NDR


Returns: Track your return shipments using AWB and Courier Partner
" We went live with 3 new couriers in 1 week using ClickPost - Superfast execution with no technical glitches. Our reach has increased and overall logistics costs have gone down by more than 10%, thanks to ClickPost "
Head of Logistics
Online Apparel Brand
ClickPost integrates with 120+ Carrier Partners

















List of E-Commerce Shipping Solutions
View all logistics service providers in India and how ClickPost helps you integrate with them
Read More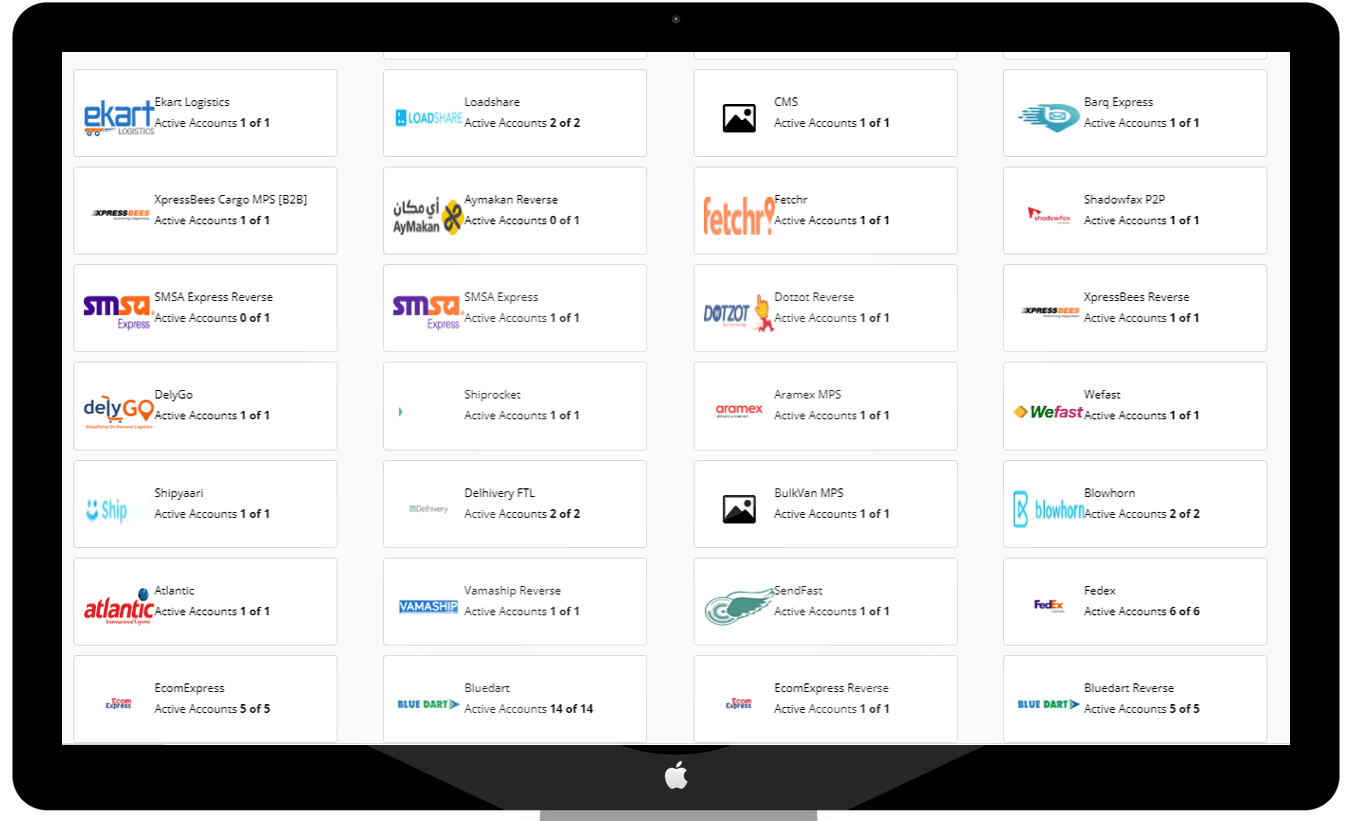 Step 1
Select the courier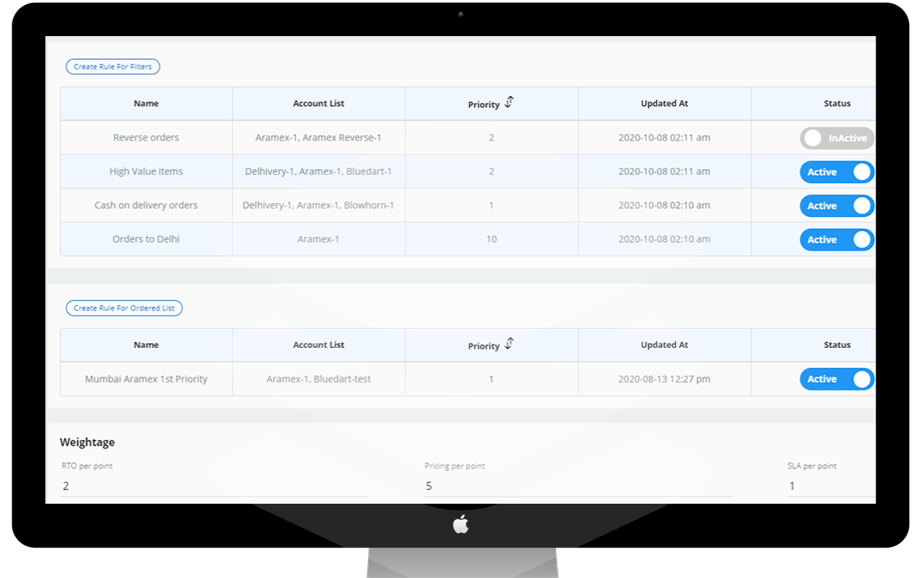 Step 2
Enter Credentials, Pricing etc.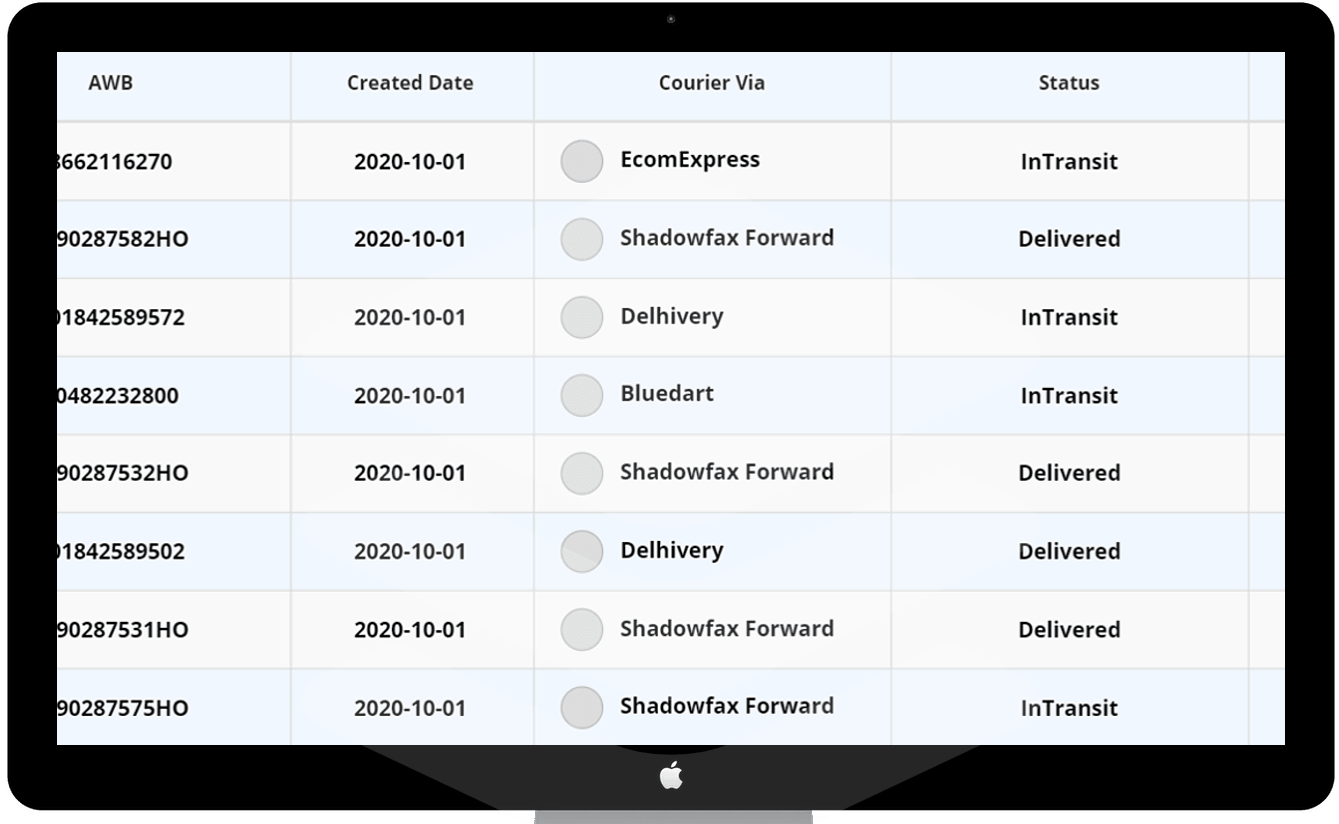 Step 3
Start Generating waybills
Why e-commerce companies prefer ClickPost over traditional logistics aggregators?
Complete control over Contracts with Logistics Partners
No middle-layer - Faster resolution of Shipping queries
Complete transparency in courier performance
Advanced features to reduce RTO% and automate operations CLICKPOST SOLVES MULTIPLE PROBLEMS BEYOND SHIPPING PARTNER INTEGRATIONS
Courier Partner Recommendations: Our logistics intelligence platform comes with a recommendation engine. We help you pick the most suitable courier partner for your orders based on their pickup and delivery performance, payment modes, serviceability, RTO orders and 50+ signals.

Engaging post-purchase experience: Keep your customers in the loop with automated order status notifications on email and SMS. Reduce post-purchase anxiety and WISMO calls, and get an opportunity to sell more with customer engagement.

Branded tracking pages: Make it easier for shoppers to track their orders. Offer a branded tracking page on your store, customized to match your brand. Upsell, cross-sell, collect feedback and improve your NPS score on the page.

Automated NDR flow: With an automated NDR flow, we help you reduce RTO by almost 9%. Get insights into shopper preference and gather feedback in real-time to prevent order delays and post-purchase regret.

Hassle-Free Integrations: Integrate all your carrier partners with one ClickPost API to bring all your data onto a unified dashboard. Get complete visibility on your logistics to improve order fulfilment.
Wow Express
Wow Express is an end-to-end logistics service company based in India. It was founded in 2014 and is currently headquartered in Mumbai. It operates a network of more than 7o distribution centres across India and provides delivery, cross-border shipping, warehousing and industry-specific logistics solutions to organizations in India. Wow Express offers first-mile as well as last-mile delivery services to businesses. It helps businesses sort and distributes items to the desired locations from where they can be dispatched for last-mile delivery at the doorsteps of customers. It also helps businesses manage to return orders through its reverse logistics solutions using advanced technologies to monitor its lifecycle.
Wow, Express allows businesses to deliver products to more than 13 countries in North America, Oceania, the Middle East and Europe, allowing them to serve clients from all over the world. Its international delivery solutions are tech-enabled to ensure maximum visibility and provide an affordable global shipping solution. The operates a network of distribution centres through which it offers warehousing services to businesses for helping store and sort items for last-mile delivery. It also provides dedicated services for the healthcare industry by offering sample collection and bodily fluid transportation services to hospitals, blood banks and clinics as well as providing diagnostic report delivery.
Wow Express is a technology-driven company that uses an intuitive delivery reporting system to improve visibility and communication with the delivery partner. The company has developed an application for delivery agents that uses Google Maps for navigation and uses route optimization for efficient last-mile delivery. It uses GPS tracking to trace the location and provide visibility to customers who can easily track the live location of the delivery agent. The platform offers a warehouse management tool that allows businesses to allocate & manage space in a warehouse facility, print and scan barcodes on items, and which can be integrated with other ERPs.
On the delivery end, agents also carry Mobile POS devices to accept different modes of payment at the time of delivery of items. While it accepts digital payment methods at the time of delivery, it also offers COD (cash on delivery) facility to businesses and remits cash within 48 hours of receipt. Apart from these, the company also offers volumetric weight calculated scanners, conveyor belt systems that can automatically sort items, autonomous material handling, scheduling solutions as well as rescheduling via SMS, along with a host of dynamic options for faster, efficient and cost-effective delivery of products.
Wow Express is a fast-growing logistics company that provides a complete suite of shipping and last-mile delivery services to businesses in India. It provides international access and massive domestic connectivity for maximum reach and uses advanced technologies to enhance the logistics experience. Through the use of APIs, Wow Express is able to integrate with several ERPs and WMS systems for a smoother exchange of data and shipping management. The company is pre-integrated with ClickPost and businesses can use ClickPost, the leading logistics intelligence platform in Asia, to integrate with Wow Express in a single day.