Shipping services
Fastest delivery options available by Road

Provides both FTL and LTL transit services

Handles packaging and labeling of orders
Special services
Offers advanced 3PL warehousing solutions

24 Hour on-site maintenance and security

Multiple product handlers to ensure order safety
Technology services
Inventory Management is fully automated

Satellite tracking used for shipment visibility

Connectivity promoted via WiFi-enabled network
About

Accutime
Accutime is a leading logistics company based out of India. It is a major third-party logistics services provider in the country and is currently headquartered in Navi Mumbai. The company has significant operations between the Mumbai to Kolkata route and offers a 4-day delivery service to businesses. Accutime provides two types of services, surface transportation and 3PL. Its surface transportation solutions include full truckload (FTL) and less than truckload (LTL) services providing real-time visibility, modular pricing structure, and flexible delivery solutions. Accutime's 3PL or third-party logistics solutions include a variety of storage and supply chain management services. It offers warehousing services to businesses along with an inventory management system.
It operates a fully WiFi-enabled network of facilities to ensure an error-free logistics experience. Accutime also offers value-added services such as packaging and labelling of products that are relevant to several eCommerce companies. Accutime employs a highly skilled workforce that provides round-the-clock security to the warehouse facilities, on-site maintenance services and support. As one of the leading names in the domestic 3PL industry of India, Accutime has created a niche for itself in the market.
Today, it is a popular choice for small and medium-sized businesses in the country and the go-to solutions provider for several eCommerce businesses. Since Accutime is a technology-driven enterprise, it allows businesses to integrate with its platform. Integrations allow companies to automate their processes and improve the flow of information between platforms. Accutime's customers use these integrations to extend their order tracking, management and support capabilities. ClickPost is the fastest-growing logistics intelligence platform in Asia and is integrated with Accutime's platform. ClickPost allows businesses to manage multiple logistics partners, orders, reverse logistics and helps companies reduce their RTOs through its intuitive platform. Businesses can live with Accutime using ClickPost in a single business day.
FAQs about

Accutime
1) What modes of payment does Accutime Logistic Pvt. Ltd. accept?
Accutime Logistics accepts a wide range of payment methods, including but not limited to debit and credit cards, netbanking and bank transfers, online wallets, and cash.
2) What is the official website of Accutime Logistics Private Limited?
Accutime Logistics' official website can be found at the URL http://www.accutime.in. Their official website lists their services and other accessible tools.
3) How Can You Integrate With Accutime Logistics?
With the help of ClickPost, integrating with any carrier is as easy as 1, 2, 3! You can connect with this carrier using the Accutime API Integration.
| | |
| --- | --- |
| API | Description |
| Manifestation and shipping label generation API: | Orders are manifested with the carrier, which includes generation of Waybill and shipping label prior to requesting pickup. |
| Track Shipment API: | Orders placed with Accutime can be tracked in real-time using the respective tracking number. |
| Cancellation API | Quick cancellation means quick returns, which is what this API integration offers. |
| EDD API: | Get the estimated delivery date of an order and display it for your customers |
| NDR Action update: | After an NDR occurs, any action taken is updated to Accutime's platform directly |
| Return Web-hooks: | Order tracking for return shipments is simplified with the help of web-hooks. |
VIEW API DOCUMENTATION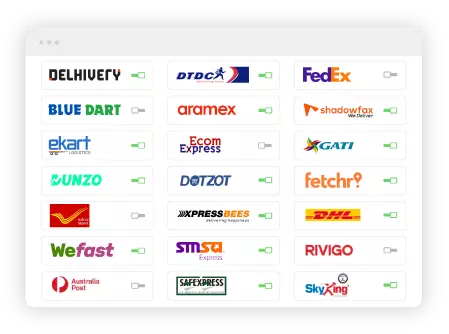 Step 1 - Select The Courier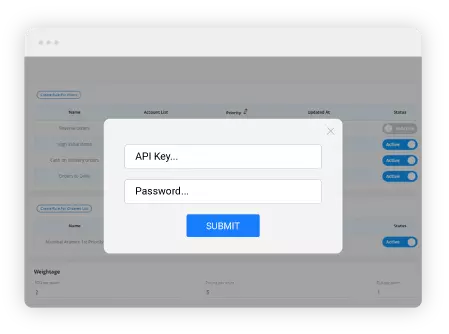 Step 2 - Enter API Key