Follow this process to improve brand loyalty
by providing seamless returns
Stage 1:

Enable customers to

place return requests easily
______
Receiving and processing return requests over email and phone calls can be a tedious and difficult task. Integrate with ClickPost to automatically allow customers to place returns based on preset rules that make up your return policy.
Example: Product X is not eligible for return because: a)it was purchased at a discount, b)it was purchased more than 30 days ago, c)it is of a certain nature (like perishables).

Outcome: Smoother customer return experience and low processing costs for returns operations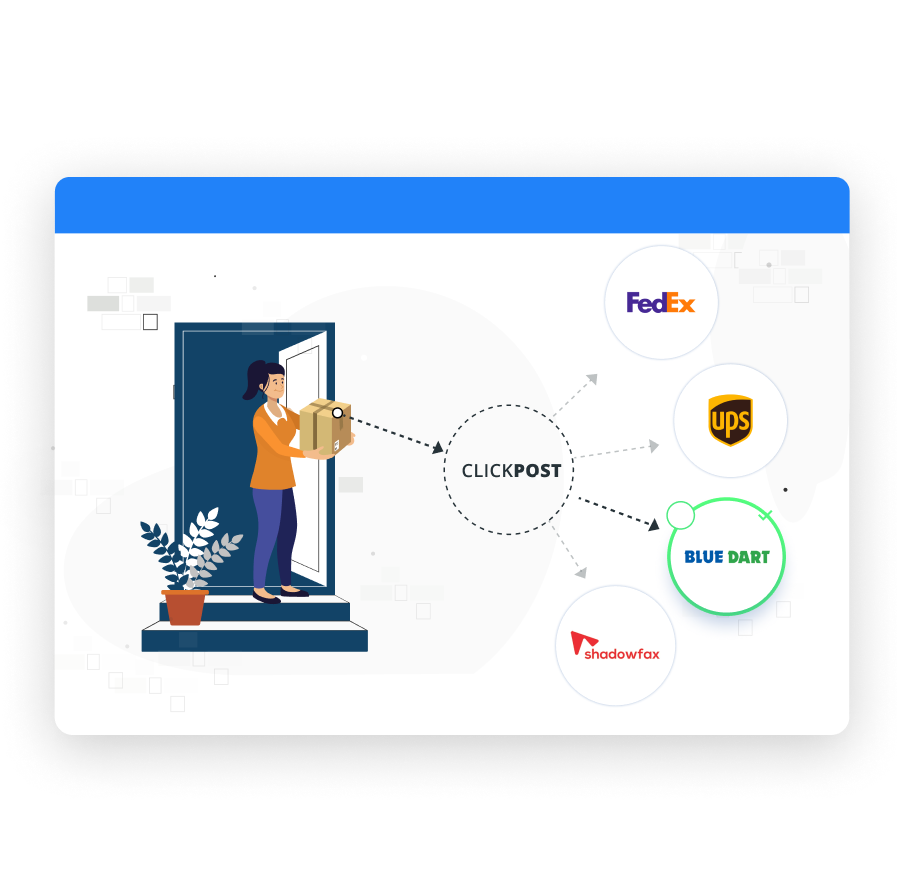 Stage 2: Automated Carrier Allocation for Reverse Pickup
Enable selection of carriers that are right for reverse logistics and pickup based on pre-configured rules. Automate generation of Airway bills and printing shipping labels. Then send pickup requests to the carrier partner automatically.
Outcome: No manual effort is required to arrange for a reverse pickup
Stage 3: Automated Pickup Exception Management
When a return order is being picked up, there are numerous pickup exceptions that can occur. The customer may be unavailable to hand over the order, or the carrier agent may be unable to find the pickup location or reach the customer. In such cases, Clickpost automates the entire process of managing these pickup failures.
Outcome: Reduce pickup operational costs and better return experience for customer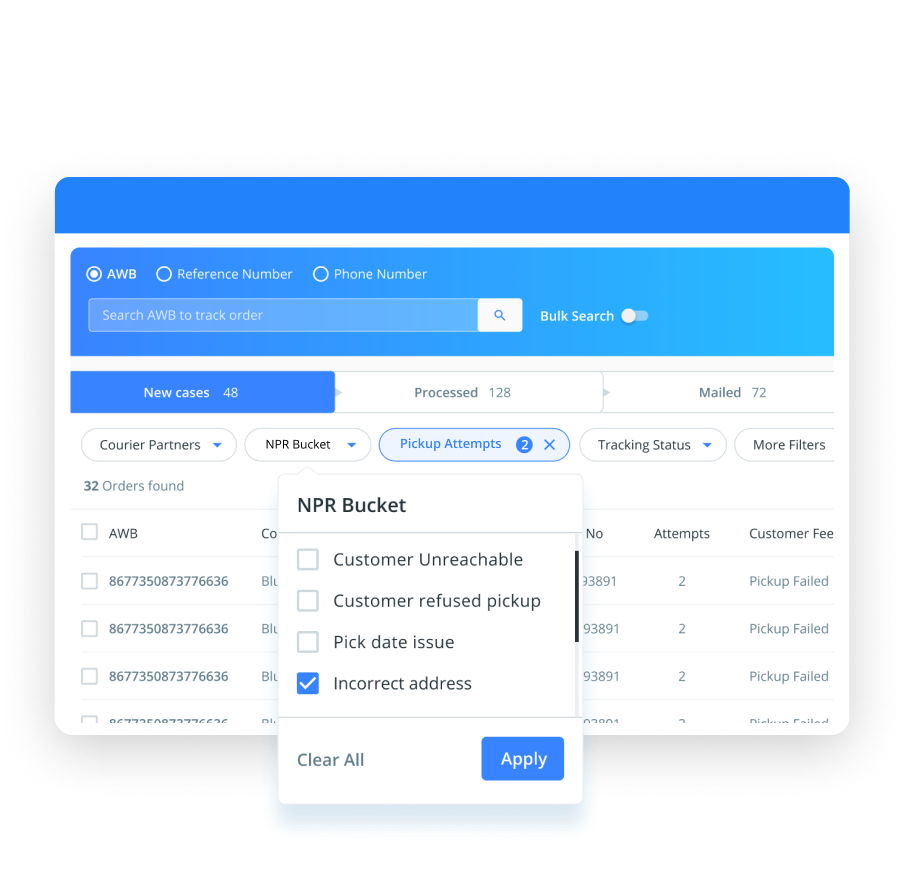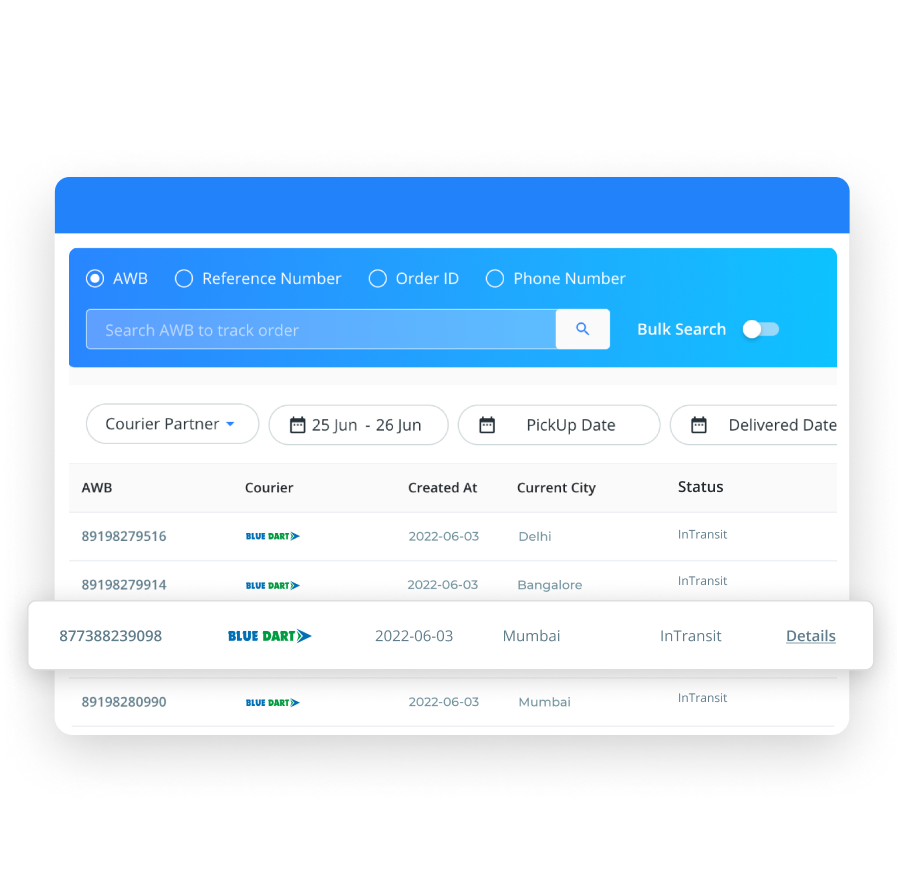 Stage 4: Track Returns
Avail integrated monitoring and tracking of all reverse orders across different carriers. ClickPost enables you to lower the volume of stuck inventory, ensuring returning goods reach your warehouse as soon as possible.
Outcome: Reduce return delays and stuck inventory
Ecommerce returns management software
As a successful eCommerce business, you know that the best way to move forward and soar past the competition is by utilizing the best resources available. When it comes to handling the fickle-minded nature of customers, intuitive software for returns management can help you stay ahead of the curve.

What Does Best Mean?

The best eCommerce returns management software is one that enables you to keep track of all return orders, specify conditions for customers to initiate returns, and monitor returning orders during their journey back to their original destination. Basically, this software should cover the four steps we mentioned above, enabling you to improve the overall return experience for your customers. Additionally, this system should also work to ensure you suffer minimal losses as a result of returns-related exceptions.
Who Are We?

With that in mind, ClickPost offers a returns management software that is tailor-made for growing e-commerce businesses. This system provides a portal for return requests to be submitted by customers, in case you don't already have one. These portals can then be integrated with ClickPost's Returns dashboard where you can view all returning orders with ease. The ideal carrier for any given return order will be suggested according to inputted metrics.

How We Help You Manage NPR

Pickup failures and return exceptions can be managed with the help of an automated NPR management system that proactively reaches out to customers to ensure successful pickup. Furthermore, you will be able to track all returning orders in real-time from the very same dashboard. All in all, ClickPost gives you many simplified solutions to returns management from a single location.
---
Ecommerce returns management - best practices
Technology is just one of many important aspects that play a significant role in ensuring returned orders are well-managed by your eCommerce business. In fact, to truly effectively manage orders you need to work in collusion with numerous players, from carriers and returns management software to your customers themselves! Here are the best practices you must follow to ensure your returns management system is operating at optimum capacity.
1. Have a returns portal
Maintaining a single portal on your ecommerce platform makes the process of submitting return requests more comfortable for customers, and more efficient for your business. ClickPost enables you to use a Plug-and-Play returns portal without having to create it. Click here to book a demo.
2. Maintain clear return policy
Be specific about which items are eligible for return as this makes filtering return requests a fast process. Specify which items are returnable, under what conditions can they be returned and within how many days. For example, items purchased on sale may be non-returnable and items purchased during festive seasons must be returned within 7 days. This information should be displayed on the product page.
3. Enable Customisations
Customers are subject to your terms and conditions, but you can bend the rules. A good returns management mechanism allows you to customize return requests for the best user experience. For example, you have an item that has a strict 30-day return policy. However, a regular customer reaches out to you stating that they wish to return the item despite 31 days having passed. You can choose to customise your return policy to allow for this customers return request, thereby solidifying their trust in you.
4. Support Customer Queries
Make sure to address any customer queries that come alongside return requests. These queries may offer an opportunity to address their grievance and flip that return request back into a successful purchase.
5. Monitor And Act On Causes of Returns
Information is the mother of all problem-solving. Knowing why each return request has been replaced allows you to segregate and address returns based on their cause. For example, in the case of clothing retail returns, size-related issues may be a major cause for the return of a particular item indicating the need to display the size chart to customers prior to purchase.
6. Choose Return Carriers Carefully
Not all carriers and shipping partners are experts at reverse logistics. Make sure you're tied up with at least one carrier that specializes in returns. ClickPost enables automated allocation of carriers that are best for reverse logistics. Click here to find out how.
7. Track Your Returns
Returns can hit you hardest if they get lost or stuck at any point during their return journey. This is why being able to track your return orders is so important. You can quickly address stuck or lost return shipments and get the order back to the origin warehouse safely. Only then can the item be restocked and resold, thereby reducing losses from the return.
7. Perform Quality Checks
QC (Quality checks) can help you determine how products are being returned, in what condition and accordingly begin the reverse journey. Not all carriers offer QC options and many that do offer these options under strict conditions and keeping in mind certain parameters.
9. manage NPR and Return Exceptions
NPR (Non Pickup Reports) and Return Exceptions can occur for a number of reasons, like if the return carrier is unable to find the pickup address. Using a carefully crafted workflow, you can reduce operational costs related to returns by automating the procedure of handling customer calls related to pickup. Click here to see a demo of ClickPost's exceptions management protocol.
10. Enable Automation
We mentioned that technology was one of many important factors, but it nonetheless plays a huge role. Numerous practices listed above as well as activities related to analytics and strategy are all made more effective and efficient with the help of automation. Automating these processes is one of the many functions of a returns management software, like ClickPost.
---
How to choose the best return management software for your ecommerce business?
We've established the importance of using return management software for your eCommerce venture. However, the process of selecting one such software isn't quite as quick a decision as the choice to use one. The most effective way to determine which software is best for your return management needs is with the help of the following criteria:-
1. Carrier integrations
Think about what your needs for return management truly are. This includes the volume of returns you deal with, the system you're currently using to manage them, and the locations you service. It's important to choose a returns management software that is tied with the carriers you need and can provide services in your given area of operation.
2. Refund Processing
When a return request is accepted, the amount paid for the purchase must be refunded back to the customer. This can be done in a variety of forms. A good returns management software will help you to process these returns quickly. This could be done in the form of store credit of the same value to the customer's account. Alternatively, customers can submit their bank details in a secure platform and receive the amount via an online bank transfer. And another option that is made available by select software is the option to process returns via UPI or online wallets.
3. Visibility
Visibility, in the case of returns management, refers to the ability to view return orders as they cross different milestones. Essentially, this criteria relates back to the technology being used by the returns management software. This system should be able to provide you with real-time updates on the status and movement of your return order, from pickup to delivery at the origin warehouse.
4. Cost
Cost is the final consideration and probably seems like the most obvious. However, determining the best cost for a returns management software requires its pricing to be weighed against the potential savings that will be made from the use of the system. Previous losses caused by failed returns can be reduced in the future if you invest in the right returns management system.

5. Ability to Manage Failed Pickups
Once an order has been confirmed as a return, the process begins to retrieve the object and return it to its original warehouse for resale. At the beginning stages of this process, difficulties may be encountered in picking up the product from the customer's location. This can occur for a number of reasons. A good returns management software will help you communicate quickly with customers to ensure failed pickups become successful pickups and do not act as a major hindrance to your returns management or increase your operational costs inexorably.

6. Availability of QC
Quality Checks can be extremely helpful in the process of managing returns, enabling you to fully understand what condition the order is in at the time of pickup and what is needed from you to process the return. This could mean checking for price-tags or barcodes, arranging alternate means of packaging the order, or determining refurbishments that may need to be carried out to restock the order. Given that only some carriers offer Quality Checks, a returns management software that aids in this process is a real advantage.
---
How to manage ecommerce product returns
The key to managing e-commerce product returns lies in understanding where and how difficulties arise. This can help you determine what losses your business is facing solely as a result of product returns and, more importantly, how these losses can be mitigated. There are those that think the very act of enabling returns is how losses occur in eCommerce. However, allowing customers to return items with ease and comfort can actually enhance their trust in your ecommerce business. This will push them to purchase more orders with your business in the future, thereby negating the loss caused by the earlier return.
It's important to acknowledge that returns are not only inevitable but a necessary part of providing the best customer experience. Instead of trying to reduce the opportunity for customers to return items, your best bet for maintaining profitability is to have a streamlined system for monitoring all requests. This is where e-commerce return management software comes in handy. A system for returns management like the one offered by ClickPost uses AI to identify and categorize returns based on their cause.
This further enables you to address returns based on their causes, both in the short and long term. In the short term, you can use the software to automate sending cause-specific queries to customers, thereby ensuring successful pickup. In the long run, you can weed out frequent exceptions or pickup delays. You can also track your returning orders as they are moving, thereby making any en-route troubles that occur easily manageable.
---
What is ecommerce returns management?
Returns are an inevitability faced by every single eCommerce business. Online shoppers demand convenience and a huge part of that convenience is being able to change their minds. So it's important to offer your customers flexibility and easy return options.

However... Reverse logistics can come with its own range of complexities. Without effective mechanisms for e-commerce returns management, there are numerous risks and roadblocks to ensuring the returned item safely reaches the origin warehouse. And that means an additional loss for your business.

What's the Solution? A proper returns management system gives you the opportunity to offer your customers more return options while ensuring that you take on minimal risks in that process. Ecommerce returns management is a holistic approach to processing customer returns that enables you to treat your reverse logistics needs with the same foresight and proactive dedication as your forward logistics needs.

The Ultimate Goal! The ideal outcome of effective returns management is to enable easy returns for customers and minimal losses for you. Through careful returns management, your eCommerce business will also be able to strategically address failed pickup attempts and other potential difficulties associated with reverse logistics.
---
FAQs on ecommerce returns management
Q1: What is eCommerce returns management?

A: eCommerce returns management is the process of systematically addressing product return requests initiated by customers post-purchase. This includes the acceptance/rejection of the request, assigning a carrier for pickup of the item and then delivery of the returned product to the origin warehouse for restocking and resale.
Q2: Why is e-commerce returns management important?
A: There are two major reasons why eCommerce returns management is a vital function for all online retail businesses. Firstly, returns management can help reduce losses caused by damaged or lost returned products. Secondly, being able to process return requests with ease improves the overall experience for customers and increases their comfort with your ecommerce business.
Q3: What are the costs of ecommerce returns?
A: There are four major costs associated with returns for every ecommerce business. The first is the cost of labour used in the returns process, from collection and packing of the product to restocking. The second is the cost of transportation, i.e., the actual cost of physically transporting the returned item to the origin warehouse. The third is the cost of the returned item in the eventuality it suffers any form of damage or loss during transit. The fourth and final major cost is the price of reselling the item, which will likely include refurbishment and repackaging costs.
Q4: What is NPR in ecommerce returns management?

A: An NPR is a Non-Pickup Report. This is a notification supplied by the carrier assigned to handle a specific returned order. This notification indicates that the pickup of the order has failed, as marked by the pickup agent. When an NPR is notified, a good ecommerce returns management software will set to work to address the NPR, communicating with the customer to ensure the order is successfully picked up.

Q5: Which carrier partners have the best ecommerce returns management?

A: eCommerce returns management is a wide-ranging process that covers numerous complex functions like identification and addressal of NPRs, tracking returns and analysis of returns data. Most carriers are equipped to handle basic reverse logistics and not returns management at a volume required by e-commerce businesses. Some carriers like Shadowfax and Delhivery specialize in providing highly efficient reverse logistics for eCommerce companies. However, effective eCommerce returns management requires more technologically supported solutions.

Q6: What is an eCommerce returns management software?
A: An eCommerce returns management software is a system that can be integrated with your eCommerce platform to streamline your returns process. The software should provide a range of solutions that simplify how you process returns as well as work actively to minimize risks and losses in the returns process. ClickPosts eCommerce returns management software provides a dashboard where return requests can be accepted, filtered, customized and monitored. It also offers a system for NPR management, directly tackling issues that arise during pickup. And all tracking updates for returned orders are received in real-time.
---