DelyGo Shipping

API Integration and Tracking

ClickPost Multi-carrier integration platform lets you integrate with 150+ carriers including Delygo Shipping using a single API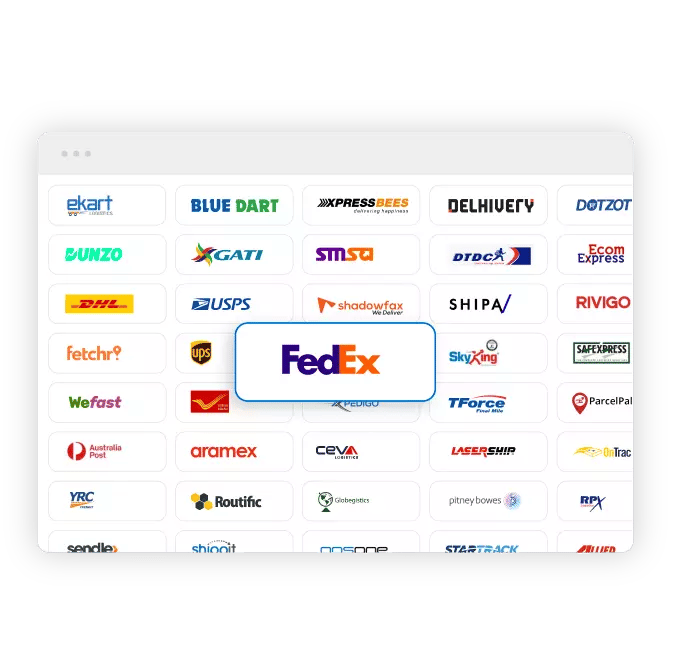 Shipping services
Same-Day/Next Day Delivery

On-demand/Scheduled Delivery
Special services
High end shipping services

Order Management solutions
Technology services
Fast delivery tracking

Tech-optimized shipping
About

DelyGo Shipping
DelyGO is an Indian logistics and supply chain management company founded by Naveen Singh. It was established in the year 2017 in Bengaluru where it is currently headquartered. DelyGO is an on-demand logistics service provider that provides express delivery solutions to businesses in India. It focuses on providing ultra-fast delivery solutions including 2-hour delivery, same-day delivery and next-day delivery. The company operates on a pay-as-you-go model and businesses are only required to pay for shipping the products that they finally sell to the customers.
DelyGO operates a network of "Darkstores" which are essentially fulfillment centres owned by the company, and use them to provide on-demand warehousing, distribution and last-mile delivery services. Through this network facilities spread across India, it provides faster order fulfillment for businesses. DelyGO provides same-day delivery solutions, allowing businesses to reach their customers as fast as 2 hours from receiving an order, giving them an edge against stiff competition in the online shopping market.
It allows businesses to automatically schedule pickups to increase the efficiency and speed of the process. Finally, DelyGO offers on-demand warehousing and B2B distribution services with flexible solutions and affordable prices to help businesses maintain stock levels. It also provides same-day inventory distribution in all metro cities in India. Further, its on-demand warehousing solution allows businesses to alter their storage space requirements based on changes in seasonal demand. DelyGO allows businesses to integrate with its platform via APIs to ensure smoother operations between eCommerce stores, carriers, and marketplaces.
Through integrations, it helps businesses exchange information between multiple partners in a fast and secure manner. Next, it allows businesses to upload bulk orders from multiple channels through a single excel sheet. One of the most important features that DelyGO offers is its tracking capabilities that allow businesses to trace the location and status of a shipment in just a few clicks through an easy-to-use dashboard. Further, it also provides value-added solutions like Cash on Delivery (CoD) for enhancing customer experience.
DelyGO is a small yet quickly growing logistics company that is working towards ensuring faster delivery times and more efficient order fulfillment. It works closely with D2C brands to ensure that their customers receive the best delivery experience in the fastest way possible, without increasing the cost of operations for the enterprise. Further, DelyGO's API integrations can be used to track and manage orders. The platform can be used with ClickPost, Asia's fastest-growing logistics intelligence platform. Businesses can integrate with DelyGO via ClickPost in a single business day.
FAQs about DelyGo
1) What services does Delygo provide?
Delygo provides concrete courier and shipping services. These tech-enabled services are made available for ecommerce businesses to speed up label creation, pick and packing, shipping, and order management.
2) How do I track orders with Delygo?
Tracking orders with Delygo requires the tracking number to be inputted to the platform or provided to customer support. Integrating with the DelyGo API integration can automate the process of receiving tracking updates.
| | |
| --- | --- |
| API | Description |
| Manifestation and shipping label generation API: | DelyGo API Integration lets you create orders, print shipping labels, generate waybills, and call for pickup in a single step |
| Track Shipment API: | The assigned AWB number can be used to get tracking updates instantaneously |
| Cancellation API | Speed up returns by enabling integrated automated cancellations with Delygo |
| EDD API: | Show customers when orders will arrive using the Estimated Delivery Date (EDD) API |
| NDR Action update: | Deal with failed deliveries smartly by ensuring direct action-updates are provided to DelyGo |
| Return Web-hooks: | Track your return orders with greater speed and efficiency to ensure they reach safely |
VIEW API DOCUMENTATION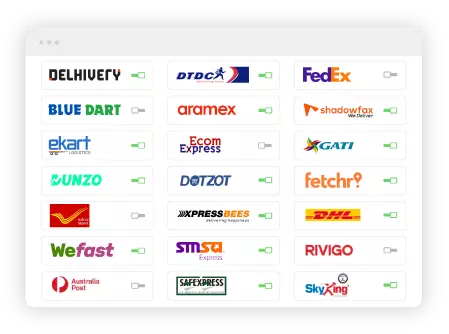 Step 1 - Select The Courier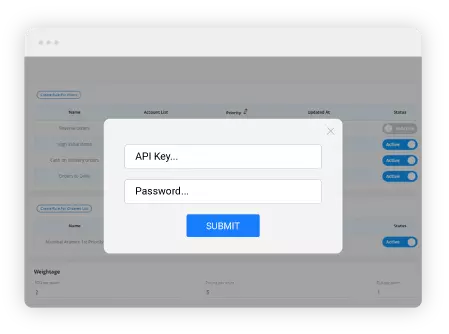 Step 2 - Enter API Key