Future Supply Chain (FSC India) Shipping

API Integration and Tracking

ClickPost Multi-carrier integration platform lets you integrate with 150+ carriers including Future Supply Chain (FSC India) using a single API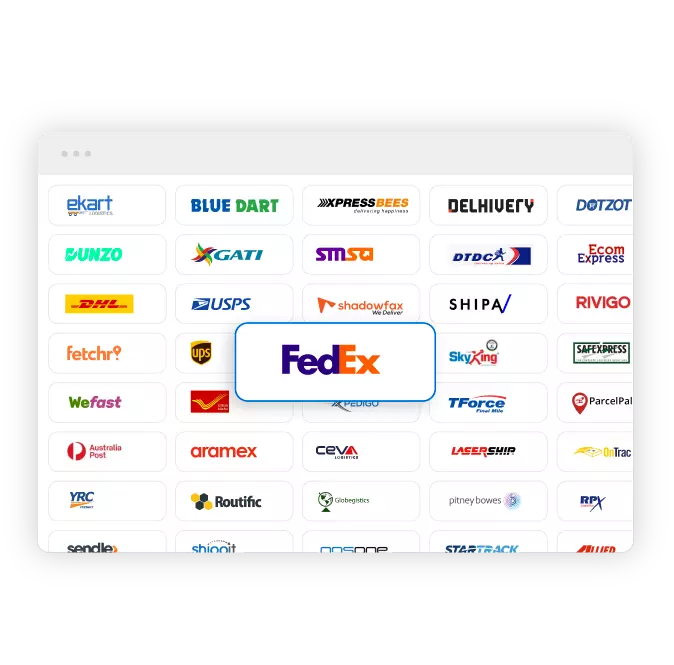 Shipping services
Contract Logistics Services

Temperature-Controlled Shipment
Special services
Packaging Solution

Order Picking and Packing
Technology services
End-to-end tracking

Warehouse Automation
About Future Supply Chain (FSC India)
Future Supply Chain or FSC is a logistics and supply chain management company based in India. It was established in 2006 and is currently headquartered in Mumbai. The company was a part of the Indian retail conglomerate Future Group until its retail, wholesale, and logistics wing was acquired by Reliance. FSC is one of the largest supply chain companies in India with 126 branches throughout the country. It owns and operates a network of 80 distribution to help it cover over 11434 pin codes across the country.
The company also owns more than 8 million square feet of warehousing space. It offers dedicated solutions to the FMCG, eCommerce, food, automotive, consumer electronics, fashion, and furniture industries. Future Supply Chain is largely a retail facilitation service provider and offers three major services, namely, contract logistics, express logistics, and temperature-controlled logistics. Under its contract logistics offering FSC provides end-to-end logistics solutions from first to last of the shipment lifecycle. It offers several key services such as warehousing, transportation, and inventory management, as well as value-added services including kitting and bundling of products, carbonization of units, and packaging services. FSC also offers reverse logistics services.
Under its express logistics service, it allows businesses to make time-sensitive delivery throughout its network of almost 12,000 pin codes. It provides LTL (less than truckload) and FTL (full truckload) services to businesses with the help of its dedicated containerized fleet of trucks. The vehicles are GPS-enabled to ensure maximum visibility and exceptions and management. It also provides businesses the option to consolidate and bulk-break certain shipments depending on the requirements of the client.
For businesses that need to transport sensitive and perishable goods, requiring extra care, FSC offers temperature-controlled transport and warehousing facilities. It allows businesses to store and move their products in storage spaces and vehicles that are capable of handling temperatures ranging from -25 to 25 degrees celsius. FSC provides this for pharmaceutical companies, frozen food businesses, fruits and vegetables, dairy items, and more.
Future Supply Chain is a major player in the Indian supply chain management industry. Being a part of the retail giant Future Group, it has a widespread presence and the capacity to handle significant volumes. The company works with some of the biggest industries and companies in India and helps them connect with consumers throughout the nation. It also promotes the use of technology within the company and uses IoT devices and GPS trackers to manage and improve the visibility of the fleet. The platform also offers API integrations to allow businesses to use its capabilities with other platforms seamlessly. ClickPost, which is a leading logistics intelligence software provider, is integrated with Future Supply Chain allowing users to create, manage, and track orders placed with the provider. Further, businesses can integrate with Future Supply Chain (FSC) using ClickPost in a single day.
FAQs about Future Supply Chain
1) Can Future Supply Chain help you develop efficient warehouses?
The Future Supply Chain technologies allow you to automate the entire warehouse processes. Through the contract logistics services, you can improve your delivery process and speed the order packing process through warehouse automation.
2) What are the types of goods that Future Supply Chain can handle?
With the logistics and fulfillment services of Future Supply chain, you can handle Eletrocnics, Home Furniture and Fashion goods. The carrier also has capabilities like Temperature- controlled delivery process and supply network for heavier shipments or bulk shipments from sectors like Automobile or FMCG.
| | |
| --- | --- |
| API | Description |
| Manifestation and shipping label generation API: | Manifest a shipping request with the carrier and generate the required shipping label |
| Track Shipment API: | Enable end-to-end tracking for your shipment |
| Cancellation API | Allows for cancellation of shipping and delivery request with Future Supply Chain as per customer request |
| EDD API: | Estimate and display the estimated date of delivery on the website for the customer's pin code |
| NDR Action update: | Flag a failed delivery and implement action sequence to optimize the redelivery attempt |
| Return Web-hooks: | Enable you to process a ecommerce returns for a better post-purchase experience |
VIEW API DOCUMENTATION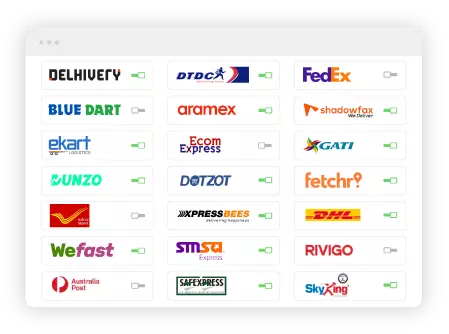 Step 1 - Select The Courier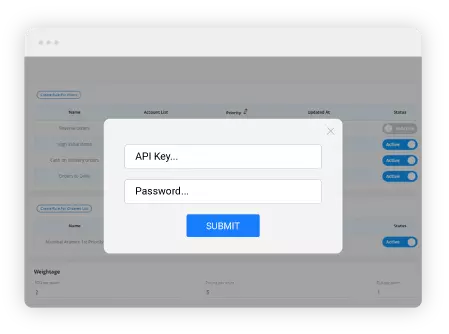 Step 2 - Enter API Key