JNE Express

API Integration and Tracking

ClickPost Multi-carrier integration platform lets you integrate with 150+ carriers including JNE Express using a single API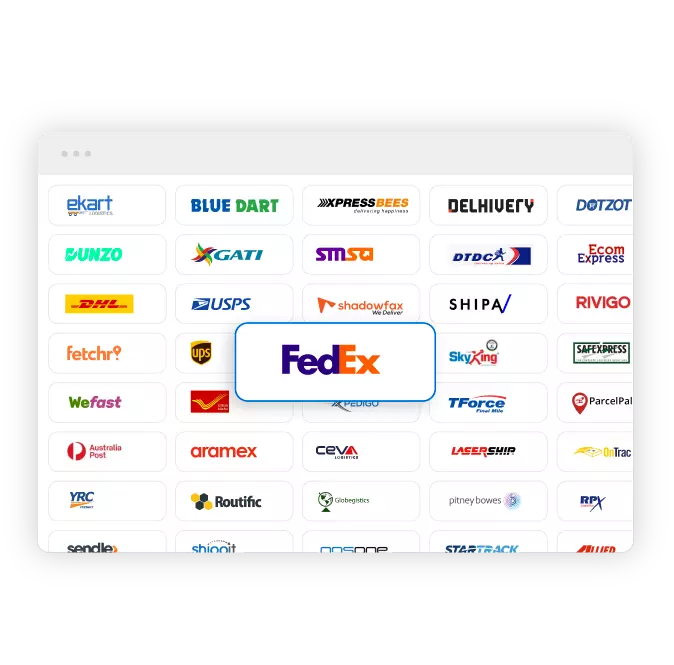 Shipping services
Super Speed/Prioritized delivery services

Free shipping available for some cargo

Bulk delivery services via land and ocean
Special services
Specialty delivery for high value goods

Offers packaging services for air freight

PopBox service provides lockers for pickups
Technology services
Online booking available for shipments

Has an Android-based App for services

Money remittance and online payment
About

JNE Express
JNE Express is a courier and logistics service provider company based out of Indonesia. It is one of the largest home-grown logistics companies in Southeast Asia. JNE was established by H. Soeprapto Suparno in 1990 and the shipping services provider is currently headquartered in Jakarta. It initially worked as a customs clearance and distribution services company for incoming packages in Indonesia. However, the provider soon diversified its business into other logistics domains. It is known for providing time-sensitive import delivery services. JNE Express is a major logistics company in the region and employs a total of 40,000 personnel.
Although the company started its operations in the capital city of Indonesia, it has since expanded its operations to all major cities and towns in the country. It currently operates a massive logistics network in the Southeast Asian nation with more than 6000 service locations spread throughout the islands. Out of its network of service destinations, JNE manages over 150 locations that have been linked to digital communications systems with the number of locations increasing. It operates 1500+ service points to process time-sensitive packages.
JNE Express offers a variety of services to businesses and individuals in Indonesia. It offers domestic as well as international logistics solutions to companies in nation, offering dedicated solutions to eCommerce businesses. Some of its most popular services include its express delivery solution called Speed Delivery, a next-day delivery solution called Yakin Esok Sampai and an affordable delivery solution called OKE (Ongkos Kirim Ekonomis).
Apart from these, JNE also offers regular shipping solutions that allow businesses to deliver a package within a period of 1 to 7 business days, a pickup service where customers can go to the nearest service centre to collect their package, and an international shipping service. JNE offers tailored solutions for online sellers in the country through its offerings such as COD JNE which allows customers to pay cash for their order at the time of delivery. It also offers specialized delivery services for high-value items which are handled directly and only by JNE Officers.
Such valuable items are shipped with extensive care and carried by hand wherever possible while ensuring the security, duration and certainty of the delivery. For businesses that require shipping services for bulk items, JNE provides trucking services within the country. Additionally, JNE also provides logistics solutions which include its surface transportation service that offers LTL (less truckload) and FTL (full truckload) options, and warehousing service that allows businesses to store large quantities of products and cargo in any of its network facilities. It also offers freight solutions for businesses.
With JNE, businesses can avail air and ocean freight services and leverage its network of over 5000 international locations. It also offers customs brokerage services for importing and exporting goods. JNE is a popular service provider and a household name in Indonesia. It has been the go-to choice for several major businesses in Indonesia for the last 3 decades. Owing to its widespread network and large workforce, JNE is capable of handling large volumes every single day. The scale of JNE makes it an ideal choice for availing of logistics services in Southeast Asia. It is also a sought-after delivery services provider for eCommerce companies in the region.
JNE Express has always been quick to adopt new technology and equip its facilities with the latest capabilities. Since it works closely with online businesses, JNE offers several API integrations that allow businesses to exchange information across platforms with hindrances. ClickPost, which is the fastest-growing logistics intelligence platform in Asia, is also integrated with JNE. It offers intuitive software that allows businesses to manage multiple shipping partners and services through a unified platform. Businesses can integrate with JNE Express using ClickPost in a single business day.
FAQs about

JNE Express
1) What is the average delivery time for JNE Express?
The average delivery time for JNE Express is 4-7 days. It also offers a more economical domestic delivery service which has a longer delivery time. Alternately, their YES service guarantees next day delivery, and the SuperSpeed service promises scheduled delivery.
2) How do I track shipments with JNE Express?
JNE Express enables you to track shipments on their website by entering the unique AWB number assigned to the order at the time of shipping.
3) How Does It Work?
You only need to integrate once with ClickPost to tie up automatically with JNE Express API integration and any other carrier you want.
| | |
| --- | --- |
| API | Description |
| Manifestation and shipping label generation API: | Order creation with the carrier is an automated 3 step process. The waybill is generated, then a shipping label, and then pickup is requested. |
| Track Shipment API: | With JNE Express API Integration, order tracking is carried out in real-time using the AWB number |
| Cancellation API | Cancel shipments created with JNE express after manifestation to increase return speed. |
| EDD API: | Let customers know when orders will reach them by displaying shipment estimated delivery date. |
| NDR Action update: | Ensures JNE Express database remains updated on all actions carried out after receiving NDRs. |
| Return Web-hooks: | Returns tracking is made easy and efficient using ClickPost's return webhooks. |
VIEW API DOCUMENTATION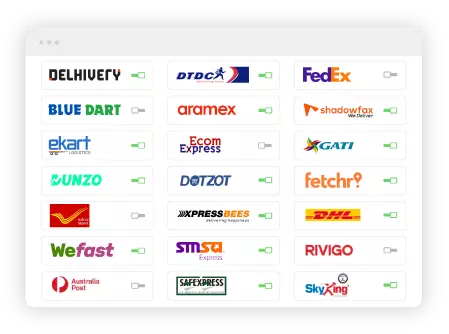 Step 1 - Select The Courier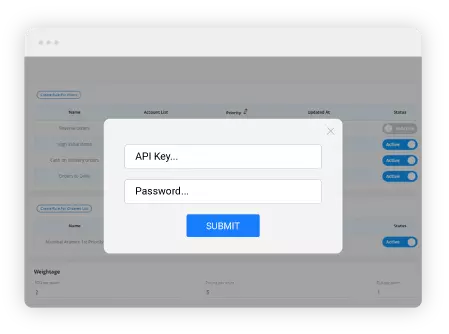 Step 2 - Enter API Key