SmartShip API Integration and Tracking
ClickPost Multi-carrier integration platform lets you integrate with 150+ carriers including SmartShip using a single API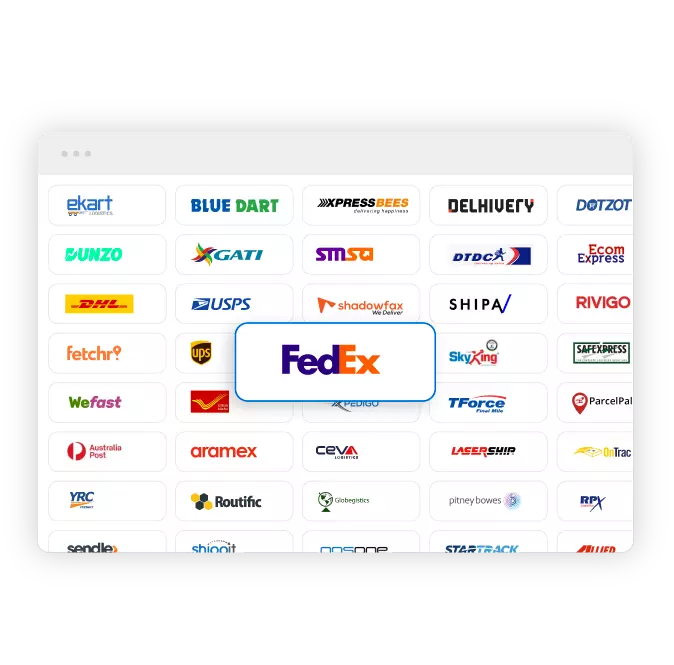 Shipping services
Guaranteed Two-day delivery

Pickup services
Special services
Insurance services

Online waybill generation
Technology services
Real-time tracking services

Text notifications
About

SmartShip
SmartShip is a favorite carrier for numerous Ecommerce companies because it offers a pin code reach larger than most other courier companies. It uses a carefully crafted network of resources strengthened with comprehensive technological solutions to fulfill shipping needs at faster speeds and cheaper rates. Since there are no limitations on the number of orders that must be delivered, SmartShip is a good choice for both small and large ecommerce companies. It offers delivery to 31000+ pin codes across the country and provides COD services in 19000+ of those, making it the largest service provider in India in terms of reach.
Shipping rates, COD handling charges and packaging rates are also among the lowest with SmartShip. Even insurance for deliveries is provided at a discounted rate. Based on the terms you have laid out with your carriers, SmartShip can help you choose carriers more effectively, thereby optimizing your overall shipping performance and reducing your shipping costs. Delivery updates with SmartShip have automatically been shared with customers thanks to the help of API integrations, which ensure customers are aware of each delivery milestone their order has crossed. With SmartShip, you can also upload all order information in bulk which enables you to track and manage those orders within minutes.
SmartShip provides a single dedicated account manager to provide customer support services. Shipments can be booked through a simple process, by making the pickup request from the comfort of your home via the SmartShip platform. Pickup requests can also be uploaded in bulk. Once the order has been prepared for delivery and the shipping label for tracking has been printed, SmartShip arranges for pickup of the order and delivers it within a timely manner. The automation provided by SmartShip ensures both you and customers know the whereabouts of any order at any given point of time.
SmartShip also offers an NDR (Non-Delivery Report) validation feature which increases the likelihood of failed deliveries being converted into successful deliveries by 20%, thereby consequently reducing RTO% as well. With low rates and fast speeds, SmartShip offers shipping solutions for all types of Ecommerce retailers out there. If you want to go live with SmartShip, you can do so in less than a day using the ClickPost courier API integration.
FAQs about

SmartShip
1) Does SmartShip facilitate shipping management?
SmartShip provides you with a mobile application as well as a web dashboard that can be accessed across multiple devices, including mobiles, tablets and laptops. This makes it easier for you to manage and track your shipments without having to be chained to your desk at all times.
2) How do I share the tracking information with my customers?
SmartShip sends a tracking/order reference number once the order has been confirmed and picked up. You can share this information with the customers so that they can track their orders. SmartShip also sends text notifications to the recipients to keep them updated about their order status.
4) How Does It Work?
The integration with ClickPost removes the need of having to integrate with each carrier and saves your time and effort.
| | |
| --- | --- |
| API | Description |
| Manifestation and shipping label generation API: | Place an order creation request with the carrier to initiate the shipping process with SmartShip |
| Track Shipment API: | View the real-time order status and update customers about the current status |
| Cancellation API | Recall the orders in transit as per the request of the customer |
| EDD API: | Display the estimated date of delivery on the product page for the customer's Pincode |
| NDR Action update: | Reduce RTOs by tracking NDR status and generating reports |
| Return Web-hooks: | Create a return request with SmartShip to handle the reverse logistics flow of the order |
VIEW API DOCUMENTATION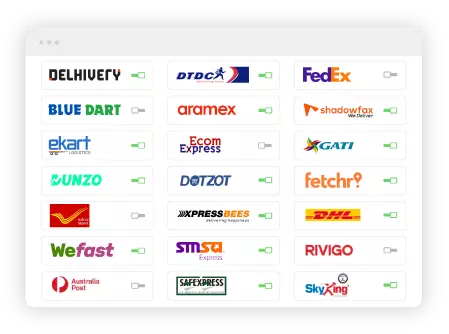 Step 1 - Select The Courier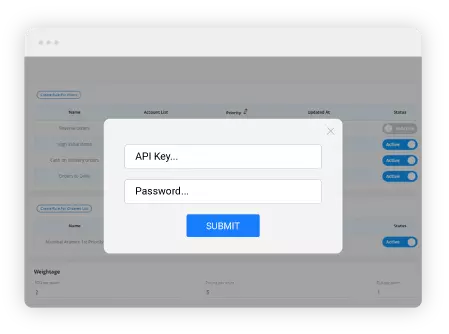 Step 2 - Enter API Key