Shipping services
Next-day Air service

UPS Second-day Delivery

LTL Land/Ocean Freight
Special services
Warehousing and Fulfillment Services

Automation High Volume Shipping Services

Pickup and Dropoff Mode (PUDO)
Technology services
Tracking Management services

Ecommerce Shipping Platform

Returns Management Software
About

UPS Shipping
There are very few major global courier delivery, logistics and supply chain management solutions providers that can claim to be as ubiquitous and as renowned as UPS. The company is well over 100 years old, having been founded by James Casey in 1907 in Seattle. It was initially known as the American Messenger Company with the United States Post Office as its sole client. It was later renamed to United Parcel Service or UPS. Today, the company is the most profitable courier service internationally, generating revenues of over US$ 85 billion in 2020 and easily overtaking other giants like FedEx. UPS operates its own airports out of America and several other companies for air freight. The UPS Worldport, the company's biggest and most strategically significant hub, is located in Kentucky State's Louisville.
The Worldport is currently the world's 5th biggest cargo handling facility and the 3rd busiest such facility in the United States. UPS is itself a member of the elite Fortune 500 club and serves a clutch of other Fortune 500 companies. The 3 major products on which the behemoth relies heavily are courier express and logistics services, plus freight forwarding. UPS has always been at the forefront of emerging technologies and incorporating them. Coupled with its unparalleled reach across the planet regardless of geographical barriers, the company is now a household name not only in the United States but globally. UPS witnessed rapid and sustained growth throughout the 1970s as it set up bases across Canada, West Germany and nearly every major European economy.
In the 1980s, UPS Airlines was introduced for faster shipments to America's 50 states and Puerto Rico. This wholly-owned subsidiary offered the company unfettered aerial access to the entirety of North America too. It is currently the USA's 10th-largest airline. In early 1992, UPS relocated its headquarters in the heavily industrialized city of Sandy Springs in Georgia. Given its technology-driven business model, UPS started tracking every surface shipment it was handling using a handheld device that came with a preloaded software called DIAD. The DIAD system depended on the manual input of pick-up and drop-off data by the company's delivery vehicle drivers.
At that time, this was a revolutionary move. Their website made its debut in 1994 and has since then undergone several changes. UPS was one of the first major companies to introduce real-time tracking mechanisms available to its clients. To further cement its place as the go-to parcel delivery agency, UPS has made several acquisitions to facilitate its supply chain operations and handle air freight without a snag. To fulfil its promise of seamless last-mile deliveries, it had scooped up Haulfast and Carryfast in 1992. At that time, both these companies were market leaders in hyperlocal solutions.
To move its operations further and incorporate newer technologies, UPS bought out LTL major 'Overnite Transportation' and rebranded it UPS Freight. In 2019, the company obtained a license from the FAA to deliver parcels using unmanned drones. UPS has also promised greener operations worldwide after it invested more than $400 million in the electric vehicle start-up 'Arrival'. Even during the Covid-19 pandemic, the company managed to garner record-breaking profits. You can now go live with UPS in just 24 hours! Start using ClickPost's UPS Express shipping and tracking API integration today!
FAQs about

UPS
1) How fast is UPS Shipping?
UPS is known for on-time express delivery services for timely deliveries. Under its Next-day Air services, you can get assured deliveries on the next day, including weekends and holidays. UPS also offers 2nd-day delivery and freight services.
2) Does UPS provide real-time shipping services?
UPS parcels come with real-time tracking capabilities that allow you to track parcels throughout the supply chain. You can access this tracking information through the UPS website. You can also use the Shipping Management Dashboard to track your orders and manage them through a single dashboard.
3) When does UPS Next-day Air deliver?
Next-day Air services from UPS deliver on the next day of shipping. If you ship with the Next-day Air standard services, the parcel will be delivered by 1030 in the morning. Next-day Air Saver services deliver between 3.30- 4 pm. This allows you to get your orders to your customers in time, especially in urgent scenarios.
| | |
| --- | --- |
| API | Description |
| Manifestation and shipping label generation API: | Place a shipping label generation request with UPS to create an order |
| Track Shipment API: | Trace your shipment with UPS's real-time tracking capabilities |
| Cancellation API | Cancel the shipping request placed with the carrier to recall the shipment to the origin warehouse |
| EDD API: | Estimate the date of delivery with your preferred delivery service |
| NDR Action update: | Check for failed deliveries to handle redelivery and NDR actions |
| Return Web-hooks: | Trigger a webhook to initiate the ecommerce returns process |
VIEW API DOCUMENTATION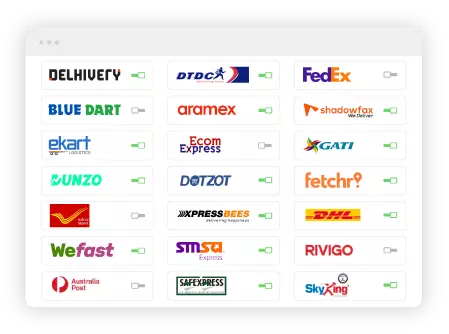 Step 1 - Select The Courier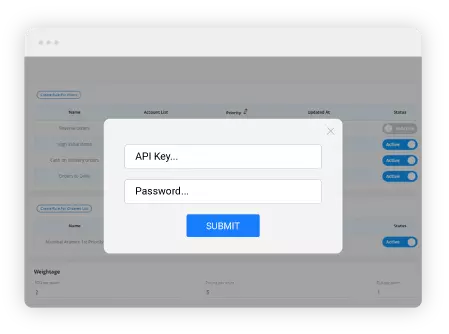 Step 2 - Enter API Key