Vinculum API
Integration and Tracking
ClickPost Multi-carrier integration platform lets you integrate with 150+ carriers including Vinculum using a single API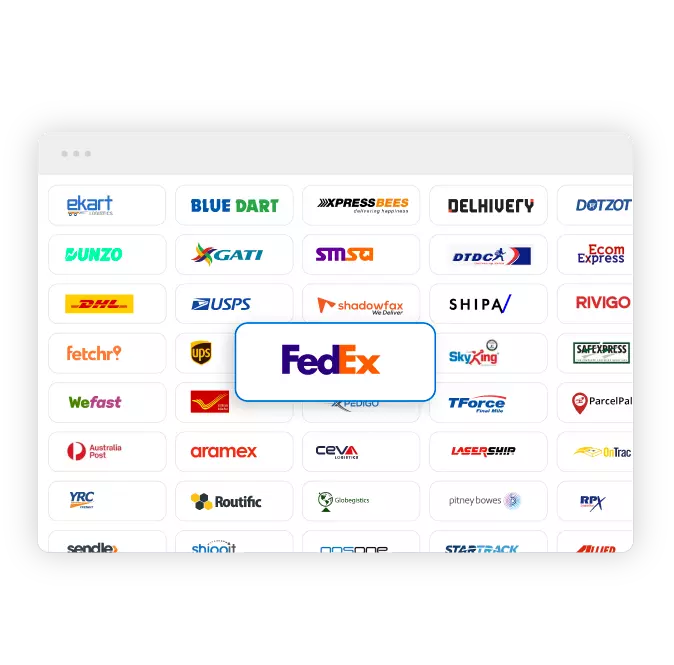 Shipping services
Omnichannel Retailing

Multi-carrier Integration
Special services
Centralized Inventory Management

Returns Management
Technology services
Pre-existing Marketplace Integrations

Warehouse management systems
About Vinculum
Vinculum is a multi-faceted global logistics virtual ecosystem that aims at giving ecommerce businesses a seamless omnichannel integration experience and giving end customers a seamless shopping experience. Vinculum is integrated with over 150+ ecommerce enablement and fulfillment partners, from inventory and warehouse management systems to selling channels and marketplaces. Through this platform, you gain access to some of the leading marketplaces across the world and are armed with listing specifications to give you greater insight into market trends as well as centralised inventory management. This means you gain access to a unified view of your inventory across all your marketplaces and selling channels which helps you avoid both overselling and underselling of stock.
Through its streamlined order management system, you can print shipping labels as well as pick and pack orders from a single dashboard where all order notifications are also made visible. And what truly makes this platform unique is there catalog management system which automates the process of listing and cataloguing your stock quickly and in accordance with marketplace requirements. You also gain access to integrations with accounting software like Tally and QuickBooks which ensure you comply with the existing domestic and international financial regulations while putting in minimal time and effort for the same.
Vinculum can also help you keep shipping and logistics costs low through careful inventory management and selective carrier allocation. In case of cross-border transactions, Vinculum's system is designed to ensure that language never acts as a barrier to maximum order fulfillment. A wide variety of regional dialects are supported by this software for natives from South East Asian countries like Thailand and Vietnam. In addition to that, the system also makes concessions to ensure orders can be accepted for payments made in a variety of currencies, all the while ensuring that the final funds reach your account in your intended currency making international order accounting easier.
You also get some major accounting benefits with the help of Vin Reco, its payment reconciliation solution that ensures you keep track of all of your payments, regardless of your order volume size and being fully mindful of complex transactions and returns. This system also helps you stay updated and compliant with the payment and fees policies of different marketplaces so you can avoid hidden or extraneous costs as much as possible. With Vin Reco, any inconsistencies or errors found in payments made by customers as well as in shipping costs can be quickly rectified and then reconciled in your accounts books. This fast financial tracking system also helps when it comes to ensuring missing inventory and refunds are claimed when orders are returned.
In case of damage to any order, Vin Reco has a reimbursement policy to cover your or your vendor's loss. One of the other major cannot-miss features offered by Vinculum is their master data management system, which allows you to maintain all relevant supply chain information in a single location for easy reference. This platform is highly flexible, enabling both B2C and B2B data to be collected and catalogued as well as data relating to product listings, and functions as a part of Vinculum's omnichannel ecosystem. Clickpost has courier & shipping API integration with Vinculum and thereby allows eCommerce companies to go-live with Vinculum in just 1 day.
FAQs about Vinculum
1) How do I track the status of my COD reconciliation that are pending with Vinculum?
All the express orders shipped with the shipping aggregator come with the COD reconciliation report. You can check this report from the dashboard of the aggregator. This report should contain information regarding the current status of reconciliation and its estimated date of completion.
2) How do I upload multiple products for the Vinculum Marketplace?
If you plan to enlist more than one product on the marketplace, you can use the CSV upload feature to make it much more manageable. Just enter the details in an excel sheet, recheck the details under the right column, and upload the excel sheet while uploading the product. All your products will be automatically added using the details provided in the sheet.
| | |
| --- | --- |
| API | Description |
| Manifestation and shipping label generation API: | Create order and manifest a shipping label for your order |
| Track Shipment API: | Track your Vinculum orders shipped with multiple carriers through a single dashboard |
| Cancellation API | Recall the shipment from multiple carriers using a single action |
| EDD API: | Estimate the date of delivery for different carrier and factor it into carrier allocation |
| NDR Action update: | Handle the execution of NDR actions with Vinculum's carrier network |
| Return Web-hooks: | Trigger a return request to initiate pickup and quality check for an ecommerce returns |
VIEW API DOCUMENTATION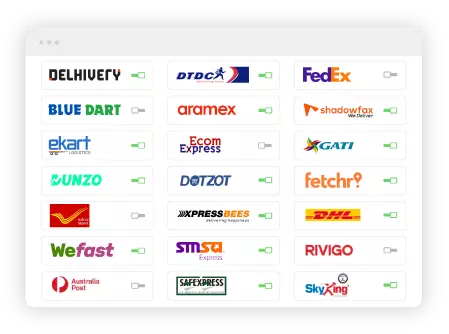 Step 1 - Select The Courier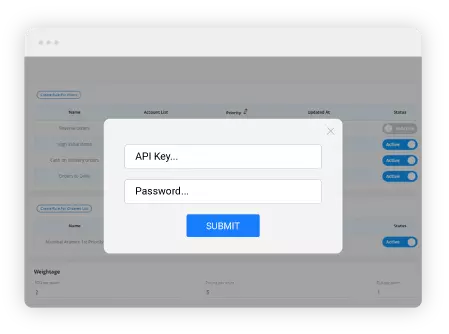 Step 2 - Enter API Key