Shipping services
Cross-Border Shipping

Tailored Solutions for Ecommerce
Special services
Presence in Global Trade Hubs

International Returns Management
Technology services
Standardised Integration Interfaces

Data Security Commitments
About

APG eCommerce Solutions Ltd.
APG eCommerce Solutions Ltd. provides cross-border delivery solutions to ecommerce firms. They are owned by Australia Post and have a global presence. APG currently operates in the following markets - Australia, U.K., Europe, North America, and Asia-Pacific.
APG offers a variety of tailored shipping solutions for ecommerce companies. Their shipping services range from semi-tracked cost-effective options to fully tracked shipments delivered through the best local couriers. Of course, you also get several shipping options in between these tiers with varying costs. They also offer a range of value-added services for international shipments. These include delivery duty paid shipping, commercial customs clearance, and localized return options.
APG eCommerce Solutions Ltd. has a strong presence in major global trade lanes. These include Asia, Europe, and the USA. This geographical advantage allows them to provide faster turnaround times for your parcels. Being a subsidiary of Australia Post, they have unparalleled reach in the Australian and New Zealand markets. APG also offers customized solutions for goods being shipped from China.
They also offer standardized integration interfaces to simplify integration with your backend technologies. Their ISO 27001 Certification reiterates their commitment to data security.
ClickPost offers end-to-end integration with About APG eCommerce Solutions. This enables you to manage the services of APG using ClickPost's powerful tech-enabled tools.
FAQs about

APG eCommerce Solutions Ltd.
1) How long does APG take to deliver shipments?
The time taken to deliver shipments vary considerably depending on several factors like the origin and destination addresses. Another important factor affecting the delivery speed is the type of shipment chosen. For example, Express shipments are delivered within 1-2 days, while Economy (untracked) shipments will take upto 14 days.
2) Is APG eCommerce Solutions Ltd. a part of Australia Post?
Yes, APG eCommerce Solutions Ltd. is owned by and a subsidiary of Australia Post. APG operates as a global end-to-end logistics company. Being a part of Australia Post, they have access to Australia Posts' assets in Australia and New Zealand, resulting in unparalleled local reach.
| | |
| --- | --- |
| API | Description |
| Manifestation and shipping label generation API: | Uploads order details into the courier partners system, provides AWB number, and generates shipping label |
| Track Shipment API: | Provides real-time shipment tracking information and sends tracking notifications to the customer |
| Cancellation API | Cancels a shipment that has been manifested but not delivered |
| EDD API: | Calculates Estimated Delivery Date based on inputted pincode and recorded carrier data |
| NDR Action update: | Instructs courier company to take action for reattempting delivery to ensure successful delivery of NDRs |
| Return Web-hooks: | Initiates the return process for delivered orders, including the creation and tracking of reverse shipments |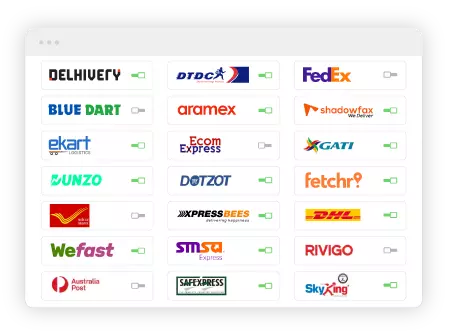 Step 1 - Select The Courier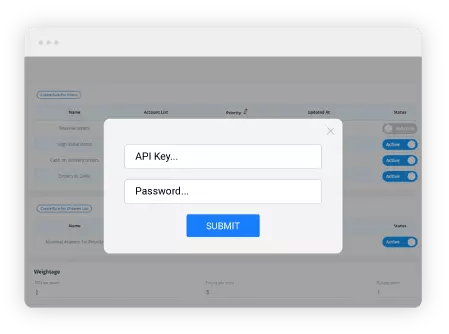 Step 2 - Enter API Key