Shipping services
Domestic and International Express Deliveries

Pan-India Domestic Shipping and Road Connectivity

Warehousing and Fulfilment
Special services
Rail Freight between Europe and Asia

Green Logistics Services

Consulting and Management Services
Technology services
Integrated Contract Logistics

DHL for Business Functionality

Visibility and Risk Management Facilities
About

DHL Express
DHL Express is one of the most widely-known players in the postal service market. It is a German logistics company that provides a multitude of services in addition to regular postage and courier facilities. It is by far one of the largest logistics companies in Europe, delivering over 1.6 billion parcels in a year. Along with its competitor FedEx, DHL is perhaps the best and most recognized international logistics provider at present.
DHL Express is a division of the German multinational logistics firm Deutsche Post, which deals with package delivery and supply chain management. Headquartered in Bonn, Germany, Deutsche Post is Europe's largest courier platform and treats DHL as a wholly-owned subsidiary.
The company DHL itself was founded in 1969 in San Francisco, United States. In the 1970s, it greatly expanded its operations around the world, initially focusing on offshore deliveries. In the 1980s, it shifted its focus toward the expansion of the domestic American market. Deutsche Post began purchasing shares in DHL in 1998, and by 2002, it had acquired all outstanding shares, absorbing DHL into its Express division. Currently, the global headquarters of DHL Express is located in Bonn as a part of the Deutsche Post headquarters.
DHL Express offers a huge suite of logistical services ranging from domestic parcel deliveries to air and ocean freight. It provides express deliveries that aim to deliver products by the next day at the latest, as well as regular parcel options that take around 1 to 5 days for domestic deliveries and up to 12 days for international shipments. The maximum weight for regular shipments is 20 kilograms, whereas for Express deliveries, it is as high as 70 kilograms.
Within its Air Freight shipping options, there are a number of programs such as DHL Same Day Jetline, DHL Air Priority, DHL Air Connect, DHL Air Economy, and so on. The Same-Day plans are by far the fastest, but they are also quite expensive and do not allow perishable items. In addition, DHL allows customers to pick and choose from a range of time-specific delivery options at their convenience.
DHL Domestic Freight, as well as DHL Road Freight options, connect several nations by road in Europe, Asia, and Africa. For instance, the DHL Domestic Freight plan in South Asia allows convenient freight pick-up and transportation to and from India and Bangladesh, connecting almost all major cities. Other road-based plans include DHL AsiaConnect and DHL AfricaLine.
The DHL Ocean and Rail Freight also allow for speedy and convenient connections between major trading centers across the globe. Cargo and freight are handled with care and delicacy, and arrangements are made for quick and smooth deliveries.
Other than cargo and parcel deliveries, DHL Express takes care of a variety of logistical functions such as warehousing, insurance, distribution, customs, and security. In such instances, logistics intelligence platforms like ClickPost can lend a huge helping hand with product fulfillment and management to ensure deliveries happen on time and without a hitch.
FAQs about

DHL Express
1) How do I track my shipment?
You can track your DHL Express shipments easily by logging on to the DHL portal and entering your unique tracking ID. Your ID length may vary from anywhere between 10 to 39 characters. You will usually receive this tracking ID from your merchant or seller. If you don't have an ID, you might want to contact the sender or seller for the same.
2) How does the Customs Clearance process work?
For international shipments, sometimes the products may get held up at Customs. All shipments usually go through a clearance process to determine their safety and associated charges. The time for customs clearance depends on the country and can vary significantly. In some countries, you may even be required to pay customs duties or taxes. In such cases, you will be contacted by the concerned individual or organization.
| | |
| --- | --- |
| API | Description |
| Manifestation and shipping label generation API: | Create order on Courier Partner, fetch waybill and shipping label and place pickup request |
| Track Shipment API: | Track your shipment using AWB and Courier Partner |
| Cancellation API | Cancel shipment manifested on Courier Partner for faster returns |
| EDD API: | Show estimated delivery date for shipments on the order checkout page |
| NDR Action update: | Updates the after NDR action directly on courier company's database |
| Return Web-hooks: | Track your return shipment using AWB and Courier Partner using web-hooks |
VIEW API DOCUMENTATION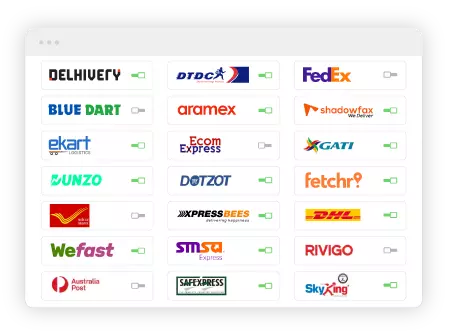 Step 1 - Select The Courier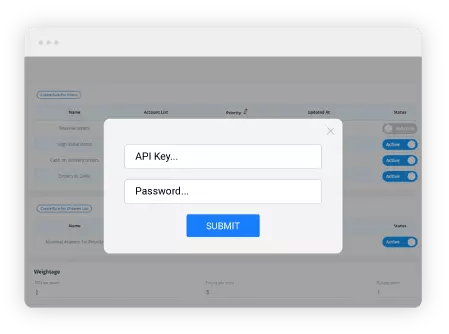 Step 2 - Enter API Key