Shipping services
Multi-channel order processing

Sustainable warehousing
Special services
Cold chain fleet

Stakeholder management
Technology services
TLCM Dashboard

MySuplyChain
About

DHL Supply Chain Australia
Today, DHL has been leading the whole logistics industry. From North America to China to APAC, it serves over 220 countries and territories. Australia is also one of them. No matter what industry you belong to (auto-mobility, retail, public sector, or healthcare), DHL Supply Chain Australia has your back for almost everything.
DHL Supply Chain Australia's main motto is to provide integrated logistics solutions without compromising efficiency and quality. To achieve this, they have solutions like clean operations, a team of supply chain specialists, digital transformation, and so on. In fact, they have employed 1 60,000 supply chain experts.
When it comes to warehousing solutions, DHL Supply Chain Australia has adopted multiple options. These include shared and dedicated warehouses, temperature-controlled solutions, cross-docking, sustainable warehousing, and more.
Apart from that, it also has an end-to-end transport system. Whether you need to outsource your entire transportation system or you need to gain short-notice access, it'll help you with everything. Moreover, for bulk pallet movements, it offers Full Truck Load, Less than Truckload, and East to West Rail Services.
Its cold chain fleet is another great option if you plan to ship pharmaceutical goods. Moreover, you'll easily get visibility over each stage of your transportation movement with Connected Control Towers(CCT).
DHL Supply Chain Australia doesn't lag behind when it comes to packaging. In this case, it has also offered some premium solutions. These include equipment selection, product line setup, sustainable packaging solutions, and more. For eCommerce businesses, too, DHL Supply Chain Australia has offered a dedicated eCommerce fulfillment service. Strategically located distribution centers, storage, pick, pack, multi-channel order processing, reverse logistics, are a few of them.
Apart from these, DHL Supply Chain has also come up with some special services. Designing is the major one among them. They'll improve material inflow and re-engineer all your supply chain processes. In fact, the DHL Supply Chain Australia will also help you manage all your stakeholders involved in the whole process.
To make your budget planning more efficient, you'll get the Total Logistics Cost Management (TLCM) dashboard. There, you can find the complete visibility of your supply chain cost.
Last but certainly not least, they offer MySupplyChain. It's a digital shipment creation and management portal. You can create shipments, track them, and schedule pickup on the go - without any hassles. ClickPost easily integrates with DHL Supply Chain Australia. You can go for this carrier API integration to avail of all these premium services.
DHL Supply Chain Australia Integrations with ClickPost: DHL, DHL India Cross Border MPS, DHL India Cross Border SPS, DHL [INT], DHL INT Non-Cross Border, DHL MPS [INT], DHL MPS Reverse [INT], DHL Reverse [INT]
FAQs about

DHL Supply Chain Australia
1) Has DHL Supply Chain Australia integrated a special service for eCommerce?
Yes! DHL Supply Chain Australia has integrated special services for ecommerce - from dedicated distribution centers, multi-channel order processing, and e-fulfillment to reverse logistics. In fact, they have hired dedicated ecommerce experts to help you throughout your shipping journey.
2) What is MySupplyChain?
MySupplyChain is a digital portal where you can manage all your inventory, order tracking, and operations without going back and forth with multiple interfaces.
| | |
| --- | --- |
| API | Description |
| Manifestation and shipping label generation API: | Generate AWB No. shipping labels and manifest a seamless forward logistics |
| Track Shipment API: | Get a milestone-wise view of your shipments |
| Cancellation API | Cancel orders immediately after getting customers' request |
| EDD API: | Show your customers the proper delivery date to enhance credibility |
| NDR Action update: | Take action on your failed deliveries and make them successful |
| Return Web-hooks: | Offer seamless reverse logistics operations to your customers |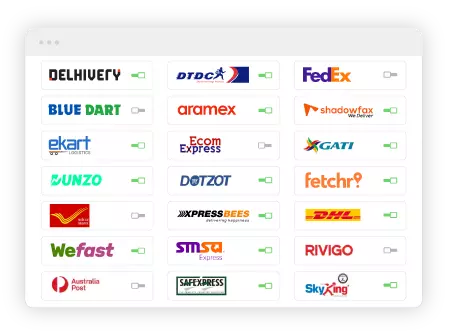 Step 1 - Select The Courier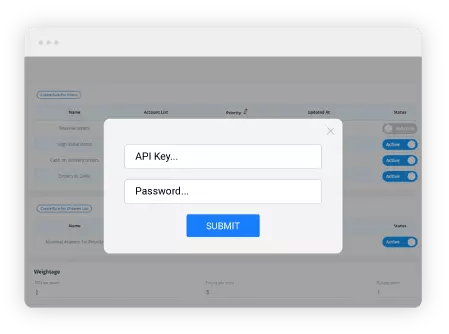 Step 2 - Enter API Key