Shipping services
7-11 days delivery

Serves 200+ countries
Special services
Low-cost International Shipping

Accepts low-value dutiable commodities
Technology services
Air Waybill based tracking service

FedEx International Mail View option
About

FedEx International MailService
FedEx International MailService is a dedicated international mailing solution introduced by FedEx. FedEx is one of the most renowned carrier service providers in the world. In fact, brands like Walmart, ASUS, and DoorDash rely on FedEx to streamline their selling process.
FIMS allows you to ship low-value and low-weight mail and documents such as letters, letter packages, postcards, books, magazines, and other printed goods. It means the acceptable items must be less than or equal to 50 lbs and valued at around US $150 for dutiable items. In case the value goes up to $400, you need written approval from FedEx itself.
As of now, FedEx International MailService is available in 200+ countries and territories across the globe. Served destinations include The Americas, Europe, Asia/Pacific, and Middle East/Africa. At the same time, FedEx partners with the postal authority of the destination country to speed up the delivery.
For collaboration with local service authorities, it eliminates the barrier of higher international shipping costs on items like apparel, beauty-related products, books, magazines, etc. Plus, FIMS offers its own packaging supplies and preprinted air waybills. So, consider it another opportunity to bring down your shipping costs.
Once FedEx hands the package off to the local postal authority, it'll then be their responsibility to deliver the package safely to the customer. However, it takes 4-7 days for premium FIMS service and 7-11 days for standard FIMS service to reach the package to the destination country's postal service. After that, the final delivery timing will vary depending on the postal service's terms and conditions.
FIMS offers the FedEx International Mail View option. It allows you to track the status of shipments, especially to those countries that scan and report postal ID data. Nevertheless, the availability of this feature may vary accordingly depending on the country's rules.
To access FedEx International Mail Service, you must have a FIMS agreement with FedEx. If you aren't aware of this agreement, you can connect with the FedEx account executive to obtain it.
So, if you want to expand your business to a wider audience, FIMS can be a frictionless and budget-friendly solution. Thankfully, with ClickPost's Courier API Integration with FedEx International MailService, you can avail this opportunity in just a few clicks.
FAQs about

FedEx International MailService
1) How long does FedEx International MailService delivery take?
FedEx International MailService mainly offers two types of solutions - Standard and Premium. While the Standard service takes 7-11 days, the Premium service takes only 4-7 days to reach the country's postal authority.
2) What if I don't see my FedEx International MailService delivery package?
Usually, you are given a FedEx International Service Air Waybill Number that you can enter on the tracking page of FedEx.com to keep an eye on your package. But note that you can't track your package until it's received and processed at the FedEx Mail Center. Sometimes, it may show received but the processing might take an extra 2 days.
| | |
| --- | --- |
| API | Description |
| Manifestation and shipping label generation API: | Creates orders, processes AWB and shipping labels |
| Track Shipment API: | Tracks the status of orders across all your carrier partners with pull and push APIs within a single dashboard. |
| Cancellation API | Immediately cancels orders as per customers' request |
| EDD API: | Provides an estimated delivery date to enhance customer experience |
| NDR Action update: | Notifies you regarding failed delivery attempts, resolves the issues and reduces the number of RTO |
| Return Web-hooks: | Initiates reverse logistics |
VIEW API DOCUMENTATION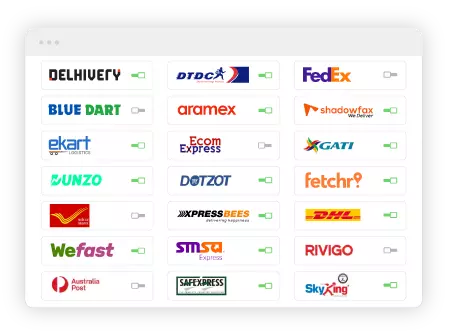 Step 1 - Select The Courier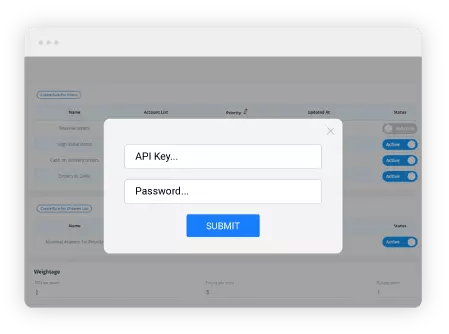 Step 2 - Enter API Key