Shipping services
12 hours delivery

Air-freight solution
Special services
Supply chain

Pin code serviceability
Technology services
Shipping cost calculator

Online tracking portal
About

Gati-KWE
Gati-KWE was born from a combined vision of Gati - India's No. 1 supply chain provider, and KWE - Japan's leading logistics service provider. Their main goal was to take local and international shipments to the next level. Now, they have been operating across 180+ countries worldwide and have reached 99% of districts in India.
From end-to-end supply chain management to flexible distribution to integrated logistics, Gati-KWE can support you on all fronts. When it comes to distribution services, it mainly offers two types of solutions - Express Plus and Express. Express Plus offers a super-fast delivery service to all the major locations in India.
Its Express service is mainly a cost-effective solution for those shipments that have a limited time frame. To make it possible, it has 16 express distribution centers and 61 distribution warehouses. Apart from that, it also provides you with door pickup & door delivery services, holiday & weekend delivery, weatherproof container vehicles, e-billings, and so on.
It provides two more services for critical shipments - Premium Plus and Premium. In the Premium Plus service, you can ship products within 12 hours. On the other hand, its Premium service will ship your packages within 48 hours. So, with these services, you can easily meet your customers' need for priority delivery. It, in turn, will simultaneously affect your brand authority.
To make the whole supply chain a success, Gati-KWE has employed a dedicated team of experts along with top-notch tech solutions for each warehouse. Be it inventory management or order management, it'll help you in all steps of your supply chain journey.
Gati's Bike Express is a top-notch service offered by Gati-KWE and it makes this company stand out from the crowd. It's mainly a specialized service that lets you ship two-wheelers safely & quickly. In fact, it has also added premium tools and technology solutions to make the supply chain and distribution services even more efficient. For example, its shipping cost calculator is great for calculating rates and shipping time.
Plus, pin-code serviceability is another premium solution to give your customers an idea of whether that particular product is deliverable in the given area. On one side, it'll promote your credibility as a seller, and on the other side, will improve customers' shopping experience.
Especially for eCommerce businesses, Gati-KWE offers air freight solutions. Since they need to reach a wider audience, this air shipping service makes it happen and helps them ship products globally. In fact, it also has a parcel courier shipping service to let you deliver small packages, mail, and important documents.
For tracking shipments, it has integrated a unique portal. Just enter the docket number there, and it'll show you the complete movement of your shipping. ClickPost offers a carrier API integration with Gati-KWE. Meaning, you can benefit from all these top-notch services with just a single click.
Gati KWE Integration with ClickPost: Gati B2B MPS, Gati B2B SPS, Gati Ecom SPS, Gati Scrap
FAQs about

Gati-KWE
1) How long does it take to ship products with Gati-KWE?
Gati-KWE has different solutions to help you with shipments as per your choice. For example, its Premium Plus service takes only one day for delivery, whereas its Premium service will ship your products within just two days. In fact, you can connect with its team to obtain hyperlocal delivery with extra costs.
2) Does Gati-KWE ship internationally?
Yes! Mainly, to make local and international shipments more accessible to businesses, Gati-KWE was introduced. Moreover, its air-freight service has especially been launched for global shipping.
| | |
| --- | --- |
| API | Description |
| Manifestation and shipping label generation API: | Create AWB, shipping labels, and manifest orders as per customers' request |
| Track Shipment API: | Get a complete view of the movement of your parcel |
| Cancellation API | Cancel orders as soon as requested by customers |
| EDD API: | Improve brand loyalty by providing the most accurate delivery date |
| NDR Action update: | Identify the reasons for failed deliveries, take action, and reduce the RTO percentage |
| Return Web-hooks: | Manifest reverse logistics by creating return AWB and shipping labels. |
VIEW API DOCUMENTATION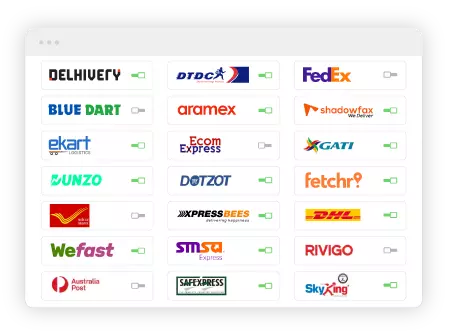 Step 1 - Select The Courier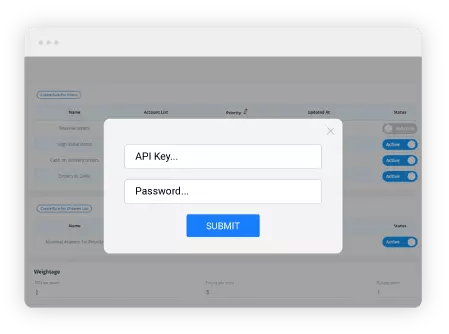 Step 2 - Enter API Key