Shipping services
Guaranteed Next Day Delivery

Ground and Economical Delivery

E-Returns
Special services
CollectShip Service

Schedulable Pick-ups

International Air Freight
Technology services
Proof of Delivery

Online Shipment Tracking

Shipping Rate Calculator
About

Loomis Express
Loomis Express is a mail and parcel shipping service situated in Canada. It offers automated shipping and delivery across Canada and 220+ countries all over the world. It delivers all domestic shipments by 9 am the next day.
It has been offering its services since the Alaskan Gold Rush in 1905. The company itself is a subsidiary and has been owned by TFI International since 2011. Its parent company, TFI International, has a wide range of subsidiary organs that all come together to provide a unified and comprehensive delivery experience to Canadian customers.
This ecommerce delivery partner offer doorstep as well as curbside delivery where customers can choose their preferred drop-off locations. All urgent packages are delivered between 9 am to 12 pm the next-day for both international and domestic addresses. These are only available in the major metropolitan cities of the country and are used specifically for urgent shipments or shipments that need to be delivered within a certain timeframe.
As a part of its Loomis Ground delivery service offerings, the company guarantees a delivery time of 1-6 business days at economical rates. Unlike the Express Delivery options, the Ground Delivery service is offered nationwide across Canada.
The Express Delivery facilities are also offered internationally, specifically to major urban centers in the US, Middle East, Europe, Africa, and Asia. Their signature offering, the Loomis Worldwide Express, promises to deliver shipments within 2-7 business days, depending upon distance and time constraints.
Furthermore, the company website has on display a diverse suite of tools that can assist in enhancing the overall delivery experience greatly. Loomis Express has a shipping rate calculator on their website which customers can use to get an estimate of their shipping costs. Another tool is the transit time calculator, which does the exact same except for delivery time instead of costs. Both clients and customers can opt for their pickup and drop-off locations well in advance.
One of Loomis Express's noteworthy features is CollectShip. It allows businesses to ship returned goods from their customer's locations back to their point of origin. Keep in mind that you will need a Loomis account in order to be able to access the CollectShip facility.
Loomis Express also allows businesses and customers to track their packages in real-time by entering the AWB number of the order ID. ClickPost is pre-integrated with Loomis Express. Ecommerce businesses looking to tie up with Loomis Express can use ClickPost's Loomis Express tracking API to access all outbound and inbound orders. Moreover, they can instantly integrate with over 350+ carriers and manage all orders from a unified dashboard.
FAQs about

Loomis Express
1) What to do if the shipment from Loomis Express is delayed?
Customers will receive a notification about the status of their delayed orders on their phones or emails. In case of a delay, the carrier will try to fulfill the order as soon as possible. Buyers will also be notified about their packages new estimated delivery date (EDD).
2) What package size or weight restrictions does Loomis Express have?
Loomis Express has the following restrictions on package size and weight- the maximum weight of a shipment is limited to 68 kilograms or 150 pounds, and the maximum length is 274 centimeters or 108 inches. The maximum length plus girth cannot be more than 419 centimeters or 165 inches. In the case of shipments containing multiple items, there are no special restrictions as to the number of items allowed.
| | |
| --- | --- |
| API | Description |
| Manifestation and shipping label generation API: | Automatically generates AWB number and prints shipping label for order processing |
| Track Shipment API: | Monitors the movement of every shipment on inbound and outbound journeys |
| Cancellation API | Cancels an order after confirmation |
| EDD API: | Displays the estimated delivery date of a package according to the pin code |
| NDR Action update: | Starts the failed delivery management process by triggering carriers |
| Return Web-hooks: | Accepts or rejects customer return requests |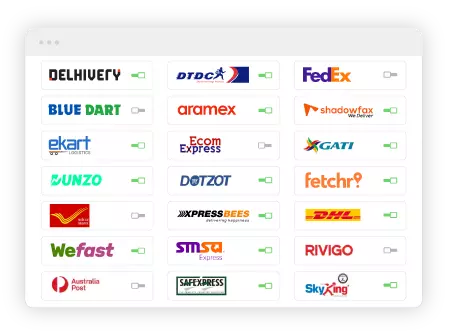 Step 1 - Select The Courier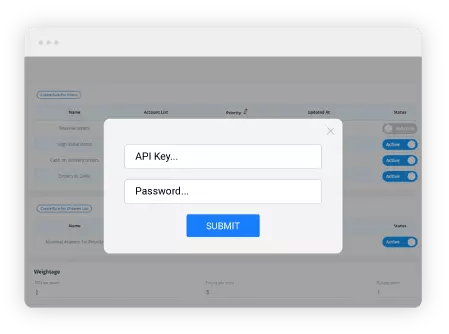 Step 2 - Enter API Key