Shipping services
90-min delivery

2-hour delivery
Special services
B2B Micro retail

Expedited COD Remittance
Technology services
Real-time tracking services

Shipping Management dashboard
About NowBike
NowBike is a hyperlocal delivery platform for enterprises and small businesses. The carrier is known for its lightning-fast on-demand delivery services that enable stores and local retail merchants to adopt the e-commerce model seamlessly. Along with this, the courier company has paid attention to the integration of technology in its delivery supply chain.
The NowBike HLD (Hyperlocal Delivery) service has completed 9 million deliveries and will continue to improve this number as it services over 1104+ merchants. Their client list includes some of the major enterprises like Amazon, KFC, Pizza Hut, and Apollo Pharmacy that have a strong presence in the Indian market. The carrier has a delivery fleet of over 1410+ riders, which enables this on-demand network from the carrier.
The carrier provides two modes of hyperlocal delivery - 90-min delivery and 2-hour delivery. These deliveries can be booked through the order hub. The NowBike API will identify and manifest the order. The software chooses the optimal rider and route for the delivery process. The pay-at-delivery model allows for a more flexible financial model to support your deliveries.
NowBike has a special service for B2B micro retailers. This enables a merchant to invest in a low-commitment switch to e-commerce and still have access to the expedited same-day delivery service. The carrier also allows merchants to avail of instant loans and delivery credits, reducing the financial strain of shipping costs. The carrier also promises a faster cash turnaround, so you are not stuck waiting for your remittance.
Another use case of the NowBike HLD services is the easier procurement of inventory. The same-day delivery model allows you to mitigate the risk of stockout, as you will receive the required supply on the same day. Real-time tracking also adds to the value of the service, as you can share this status with the customer to empower a better customer experience.
Apart from this, NowBike has a comprehensive shipping management dashboard that facilitates efficient order management and enables informed customer support. ClickPost has a courier API Integration with NowBike to enable merchants to add features like NDR management and push notifications to their customer experience along with carrier integration.
FAQs about

NowBike
1) What is the cash turnaround time at NowBike?
NowBike HLD promises early COD remittance. To avoid the lag of working capital for merchants, the carrier also enables instant credits and loans against the pending COD amount. You can also get additional short-term loans with zero and low-interest rates.
2) Does NowBike have an enterprise solution?
NowBike has a separate enterprise solution that is enabled through an API platform. This API can be integrated with your POS platform and website to enable direct delivery. The solution also comes with 24x7 support and complete automation capabilities.
| | |
| --- | --- |
| API | Description |
| Manifestation and shipping label generation API: | Request the carrier API to create a delivery request and generate a shipping label |
| Track Shipment API: | Locate the in-transit shipment to notify the customer about the current status |
| Cancellation API | Return the order to the merchant due to a cancellation from the customer |
| EDD API: | Provide a delivery date estimate to the customer to improve conversions on the product listing page |
| NDR Action update: | Use an automated journey to enable businesses to automatically resolve failed deliveries |
| Return Web-hooks: | Return the order and verify the status to process the refund to the customer |
VIEW API DOCUMENTATION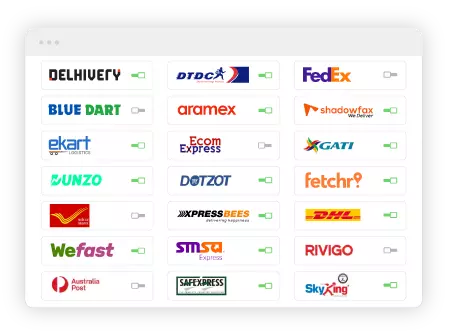 Step 1 - Select The Courier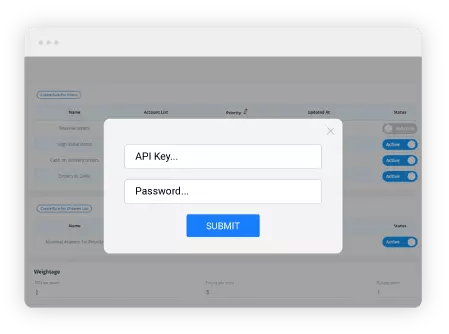 Step 2 - Enter API Key