Shipping services
4-Hour services

Sea/Air Freight
Technology services
Control Tower dashboard

API and Plugin Integration
About

Skip Express
Skip Express is a logistics service provider with a primary focus on Saudi Arabia and the Middle East areas. The services are tailored to suit the requirements of B2B and E-commerce supply chains. You can cater to your domestic and international carriers with the supply network from these carriers with its freight and last-mile delivery services.
The Skip Express is a fairly new logistics arm of the well-established Intaj Alamal Investment LLC. The Skip Express arm was founded in 2021 as an extension to the company that has over 15 years of logistics experience. Currently, the company majorly operates in the primary Saudi cities of Riyadh, Daman, and Jeddah.
The services offered by Skip Express can be majorly divided into two parts - E-commerce services and B2B Services. Under the e-commerce wing, you can avail of first, middle, and last-mile delivery services. An on-demand delivery service that allows you to deliver a package within 4 hours can also be availed in addition to these services.
As an e-commerce-specific service, Skip Express offers a ton of add-ons to the delivery service. It allows you to provide additional services through easy-to-use API and Plugins. Additionally, the carrier can also take care of the e-commerce returns process and the fulfillment process.
The Customs clearance services can be availed at the Riyadh airport for seamless international shipping. The Skip Express platform is also tied up with carrier aggregation platforms like ClickPost, Oto, Zid, etc., to enable a more holistic supply chain.
The B2B service offerings include customs clearance at all sea/air ports and storage terminals. You can ship your bulk shipments through sea or air freight along with the required SABER certifications. You can also generate regular reports and manage everything through the dashboard provided by the carrier.
The Dashboard available for both the B2B and E-commerce clients is unique in its own sense. It will allow you to extract insights relevant to the respective process and allow you to identify inefficient processes. ClickPost has a courier API integration with Skip Express to enable couriers to go ship seamlessly within Saudi Arabia.
ClickPost's Integration with Skip Express: Skip Express MPS, Skip Express MPS Reverse
FAQs about

Skip Express
1) Does Skip Express have SABER certification?
SABER certification is required for all goods that are moving through the customs system of the Kingdom of Saudi Arabia. Therefore, to support its international shipping supply chain, Skip Express will help you generate a Product COC and Shipment COC that is required to acquire this certification.
2) What is the fastest delivery time frame available through Skip Express?
The Skip Express is known for its quick, reliable first and last-mile deliveries. However, under urgencies, you can avail of a 4-hour delivery time frame from the on-demand delivery service of the carrier.
| | |
| --- | --- |
| API | Description |
| Manifestation and shipping label generation API: | Trigger an order manifestation request with the carrier and generate a shipping label for the package |
| Track Shipment API: | Track the order and send the tracking updates to the customers through the branded tracking page |
| Cancellation API | Get the order back from transit due to a cancellation request from the customer |
| EDD API: | Predict the delivery date for the customer's pin code on the checkout page based on performance data |
| NDR Action update: | Initiate NDR action to enable faster resolution of failed deliveries |
| Return Web-hooks: | Return the parcel to the nearest warehouse for verification purposes |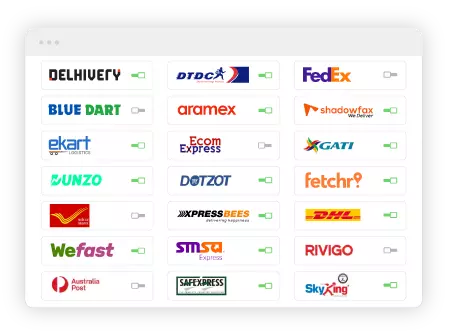 Step 1 - Select The Courier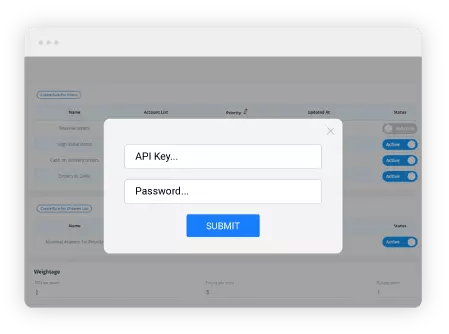 Step 2 - Enter API Key