Shipping services
Express delivery at 40000 locations

Pick-up from anywhere within 24 hrs.

Domestic and Global Air Freight
Special services
Online payments, E-PODs, Auto-MIS

On-demand late pick-up services

Freight-On-Delivery services
Technology services
GPS-enabled vehicles

Automated sorting centers

Real-time API tracking
About TCI Express
TCI Express has carved its place in the logistics industry within the express delivery niche since its inception in 1996. The company prides itself on its commitment to operational excellence and customer-centric approach. It sports about 5000 vehicles designed to carry out express last-mile shipping, with a dedicated workforce of 3500+ professionals.
TCI Express has domain expertise in air express shipping and on-ground delivery services. It has spread its presence across 704 districts in India, covering 40,000 locations with 650 owned centers. Its fast-tracked shipping services pay special attention to on-time deliveries for both B2B and B2C businesses, retail and online.
The company has an impressive portfolio of air cargo express services for both domestic and international shipping. It offers round-the-clock air shipping options in all major metropolitan cities of India within 24 hours. For Mini Metropolises and Class A cities like Pune and Jaipur within 48 hours.
It further extends door-to-door as well as airport-to-door delivery services alongside accepting cash-on-delivery shipments. TCI Express doesn't restrict itself to regular business days. Instead, it gives the option for businesses to ship on Sundays and holidays. For the benefit of eCommerce retailers, it also accepts late pickups and deliveries for overnight shipping.
Another area of expertise for TCI Express is its international air shipping facility to 208 countries with 24 air gateways. It provides 7 days of free storage for export shipments in its warehouses to facilitate seamless cross-border transportation. Furthermore, it extends bulk mailers, chartered facilities, and fast delivery with its First Flight Out Service.
TCI Express's value-added services include temperature-controlled shipping in full truckload shipping and GPS and tracking features. The vehicle capacity ranges from 1 ton to 19 tonnes. It has a special amenity for milk run and C2C shipping for high-value cargo. Its carrier's network encompassed multiple delivery and pick-up points.
For eCommerce retailers, TCI Express offers inter-warehouse and omnichannel transport, distribution of packaging materials, and COD collection. At the same time, it provides real-time tracking, which you can use with ClickPost's API and webhook integrations within 24 hours.
TCI Express API integrations with ClickPost: TCI, TCI MPS.
FAQs about TCI Express
1) How does TCI Express help with eCommerce logistics?
TCI Express offers a robust shipping system for 3500 pin codes in India, in-house packaging at its warehouses alongside barcoding, order tracking, COD reconciliation, and SMS notification services. Its vehicles are GPS-enabled, enabling time-bound shipping and deliveries on weekends.
2) Does TCI Express offer Rail Shipping Services?
Yes, TCI Express presents effective rail cargo shipping and efficient handling of bulk cargo with fast turnaround (TAT) time. As with air deliveries, TCI presents station-to-station or door-to-door transport and multi-modal shipping.
| | |
| --- | --- |
| API | Description |
| Manifestation and shipping label generation API: | Create orders and fetch AWB, and place pickup requests. |
| Track Shipment API: | Get GPS-enabled tracking information in real-time with push and pull APIs as well as webhook. |
| Cancellation API | Cancel any shipment post-manifestation and make an RTO request. |
| EDD API: | Calculate the predictive estimated delivery date for any shipment for checkout conversions. |
| NDR Action update: | Trigger an NDR protocol workflow as soon as a failed shipment is registered. |
| Return Web-hooks: | Make seamless return pickup requests with the state-of-the-art webhook calls. |
VIEW API DOCUMENTATION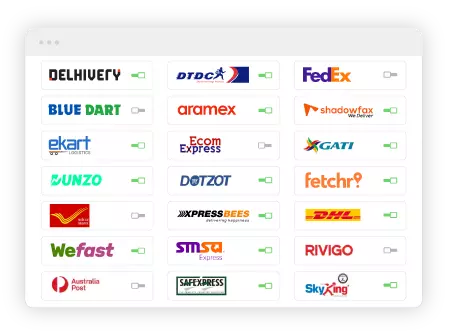 Step 1 - Select The Courier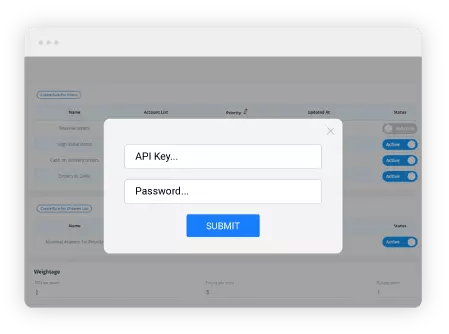 Step 2 - Enter API Key