Shipping services
Same-day delivery

Next-day delivery

B2B omni channel delivery
Special services
Deliver financial documents

Cross-docking and consolidation

Just-in-time B2B delivery
Technology services
GPS enabled tracking

Network management

Routing Facility
About

TForce Logistics
TForce Logistics has garnered a name in the last-mile express delivery niche for its wide network base in both the U.S. and Canada. It mainly offers time-sensitive shipping methods, particularly same-day and next-day deliveries with on-ground transportation. It is present in 75+ North American locations and covers 90% of the population.
TForce Logistics strives to uplift eCommerce shipping in all of the eight shipping zones of the U.S. with guaranteed fast deliveries. It offers expedited home deliveries across the U.S. and Canada. Operating with customized routes, TForce Logistics presents options for both morning and evening deliveries.
It has the option to pick up orders from either merchant's warehouse or brick-and-mortar store for convenient shipping schedules. Moreover, it can consolidate shipments in its own dockyard so that retailers can avail of flexible delivery options and better pricing options.
TForce Logistics gives ample attention to competitive pricing. It offers advanced logistics technology tools to identify the best affordable delivery method for each retailer. With its accessible distribution network of integrated metropolitan areas, TForce Logistics aims to eliminate cost barriers in last-mile logistics.
TForce Logistics also prioritizes order visibility for in-transit shipments. It extends minute-to-minute delivery updates and push notifications on its mobile application. To make things easier, you can get automatic updates on time by integrating with ClickPost APIs.
Alongside the eCommerce vertical, TForce Logistics has robust B2B shipping solutions. This includes their special restocking services, customizable delivery needs for each buyer, and just-in-time delivery. It also caters to businesses' requirements for customized routing and backup service help.
TForce Logistics specializes in transporting small and large parcels, skids, and bulk bins. It presents various fleet options as well as access to cross-docking warehouses. It has a proven track record in store replenishment services, especially for same-day or next-day deliveries, which it operates for 7 days a week.
Its list of B2B shipping includes distribution centers to store transport and store-to-store services alongside an overnight replenishment facility. Alongside B2B shipping, it has a firm grasp over bulk cargo shipping, which is just right for furniture and appliances eCommerce stores.
Its white glove service allocates two persons from its team and box trucks for the heavy lifting of bulky shipments from warehouses or retail outlets. TForce Logistics understands business priorities and thus offers flexible pick-up and delivery hours. It makes shipping a transparent process with complete shipment visibility and electronic invoicing.
TForce Logistics also has a specialized offering for the light assembly and installation of products in customers' homes. At the same time, it offers reverse logistics services- product pickup from customers and safely transports the bulky shipment back to the store.
TForce Logistics nexus also includes a financial courier service for transporting financial documents. It offers bulk mail collection, check sorting, pickup and routing amenities, and after-hour service for unattended pickup or deliveries.
It has designed a complete set of tools for accountability. This includes a GPS tracking system, elevated liability coverage, and chain of custody monitoring systems in place. ClickPost comes integrated with TForce Logistics, allowing businesses to onboard with the carrier within 24 hours to start shipping!
TForce Logistics API Integrations with ClickPost: TForce, TForce MPS.
FAQs about

TForce Logistics
1) Where is TForce Logistics located?
TForce Logistics has two headquarters. One is in Dallas in Texas, U.S., and the other Brampton in Ontario, Canada. The carrier is present in over 27 states in the U.S. and all the provinces of Canada.
2) What are the specialties of TForce Logistics?
TForce Logistics primarily offers same-day and next-day deliveries for eCommerce and B2B shipments and financial logistics services. Its specialty includes fleet outsourcing, distribution, stock replenishment, cross-docking, forward stocking, and home deliveries of bulk orders.
| | |
| --- | --- |
| API | Description |
| Manifestation and shipping label generation API: | Generate shipping labels and Airway bills for single-piece and multi-piece shipments. |
| Track Shipment API: | Get GPS-enabled tracking updates in real-time with push and pull APIs. |
| Cancellation API | Seamlessly cancel any order even after its manifestation with the carrier. |
| EDD API: | Predict estimated delivery dates for customer conversion at checkout. |
| NDR Action update: | Plan an NDR flow in case of failed deliveries. |
| Return Web-hooks: | Place return pickup requests with webhooks enablement. |
VIEW API DOCUMENTATION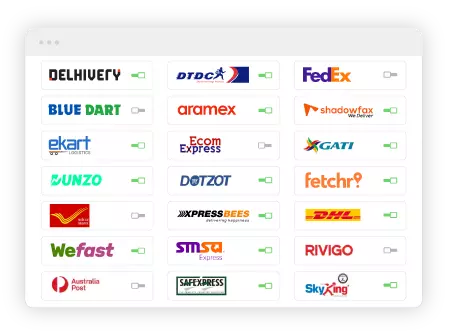 Step 1 - Select The Courier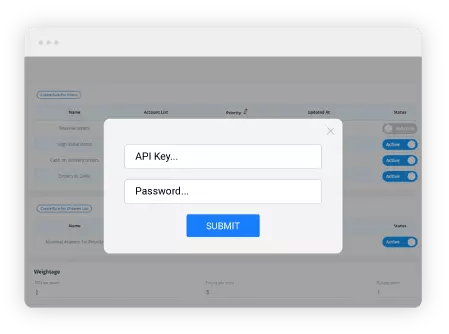 Step 2 - Enter API Key