Shipping services
Air and ground freight services

Express shipping for urgent deliveries

Multimodal shipping services
Special services
E-commerce multi-channel fulfillment services

Warehousing and distribution facilities

Freight consolidation and customs clearance
Technology services
Import/Export technologies and software

3D printing services at an industrial level

Electronic Data Interchange (EDI) solutions
About UPS Mail Innovations
UPS Mail Innovations is a subsidiary of United Parcel Service (UPS), an American dream and arguably the world's largest company dealing in shipping and supply management. UPS Mail Innovations handles the deliveries of flat mail packages and lightweight parcels weighing less than 1 lb in various countries around the globe.
UPS broke into the shipping landscape in 1907 when Claude Ryan and Jim Casey founded the American Messenger Company. With the company's expansion beyond Seattle in 1919, it was rebranded as United Parcel Service. This name is now associated with the biggest shipping company delivering to every address in the United States. Over the years, UPS expanded its network beyond the United States. Aided by the introduction of its airline, UPS is now a proud delivery service operating in over 220 countries.
UPS Mail Innovations is an enterprise of UPS Supply Chain Solutions, which provides services to streamline the supply chain management systems of multiple companies. Not only does the company aim to keep global supply chains up and running smoothly, but it also simplifies the delivery process for your domestic and international shipments.
UPS MI partners up with the United States Postal Service (USPS) in the US and handle shipping labels and sorting of qualified mail to make your delivery process hassle-free and efficient. With a complex network of over 22 processing facilities, software, and technology, UPS Mail Innovations boasts of its ability to deliver parcels within two days from their pickup.
UPS Mail Innovations offers services like freight shipping, express shipping, warehousing and distribution, and post-sales logistics, among others. In addition to its freight and logistics services, the company offers freight consolidation, supplier management, transportation management, multi-modal and multi-carrier cargo insurance, customs brokerage, and mail tracking.
UPS has also partnered up with Fast Radius to provide automated 3D printing at an industrial scale. Having amassed a lot of experience in shipping and logistics, UPS helps businesses grow by handling their supply chains and providing insights to make them more efficient and economically profitable. ClickPost has API integrations with UPS, and UPS Mail Innovations, by extension, for the shipping process right from API tracking to estimated delivery date API.
FAQs about UPS Mail Innovations
1) How do you integrate with UPS Mail Innovations for shipping?
UPS Mail Innovations provides a simple form detailing information about your business and its needs on its website. Additionally, you can also call them for specific services such as air freight, supply chain solutions, ocean freight, post-sales logistics, etc., and their team would help you in setting up your account.
2) What is the difference between UPS SurePost and UPS Mail Innovations?
While UPS Mail Innovations best handles packages weighing less than 1 pound, UPS SurePost deals with packages weighing 2 to 20 pounds. Moreover, UPS SurePost is more suited for non-urgent deliveries, while UPS Mail Innovations typically has a faster delivery estimate.
| | |
| --- | --- |
| API | Description |
| Manifestation and shipping label generation API: | Create order on Courier Partner, fetch waybill and shipping label and place pickup request |
| Track Shipment API: | Track your UPS Mail Innovations shipment using AWB and Courier Partner |
| Cancellation API | Cancel shipment manifested on Courier Partner for faster returns |
| EDD API: | Show estimated delivery date for shipments on the order checkout page |
| NDR Action update: | Updates the after NDR action directly on courier company's database |
| Return Web-hooks: | Track your return shipment using AWB and Courier Partner using web-hooks |
VIEW API DOCUMENTATION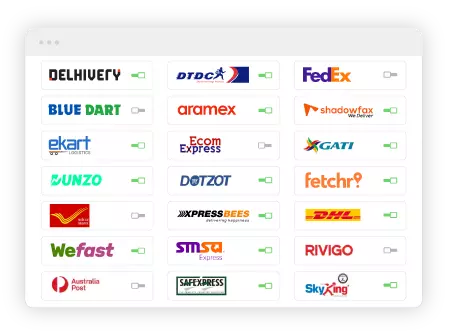 Step 1 - Select The Courier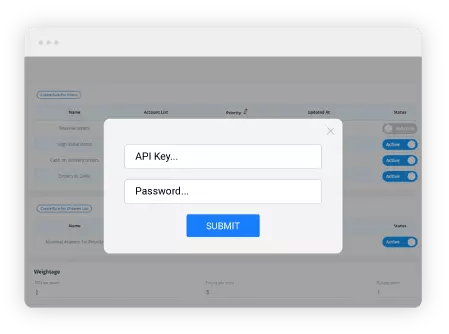 Step 2 - Enter API Key