Shipping services
Same Day Delivery

Next Day Delivery

Hyperlocal Delivery
Special services
Cost-optimized Warehousing

Custom SOPs and SLAs

Inventory Distribution Technology
Technology services
Warehouse Management Software

RFM Data Analysis

Demand Forecasting and Inventory Planning
About

Wherehouse
Wherehouse is a dedicated third-party logistics (3PL) solution provider for reliable warehousing and inventory management needs within India. Its specialization lies in streamlining order fulfillment for same-day deliveries across the country. Wherehouse focuses on improving a business's control over its fulfillment strategy and providing cost-effective amenities.
Wherehouse is active in 20+ high-density urban centers with a network of over 2500 warehouses. With technological endowments designed to optimize the supply chain, Wherehouse enables retailers to operate a fulfillment plan tailored to their unique shipping needs. This includes analyzing brand data to identify customer clusters and forecast demand across India.
Similarly, it extends easy website integrations, custom SLAs (Service Level Agreements), and SOPs (Standard Operating Procedures) to ensure consistent and quality warehousing. One of the best use cases of Wherehouse is that brands with high-inventory count can solely rent an entire warehouse. It also gets benefit from Wherehouse's custom pricing policy, personalized shipping framework, and exercise control over SKUs.
Additionally, Wherehouse provides brands with its proprietary WMS in-house picking, and packing as soon as an order is placed online. With Wherehouse, businesses get access to a wide network of hyperlocal delivery partners that they can partner with using one point of contact.
Wherehouse taps into the growing need for efficient inventory management; thus, it offers its in-house smart inventory management tool. It contains predictive algorithms for smart inventory distribution, storing them at the right warehouse in the right amount. This functionality especially comes in handy when shipping at the hyperlocal level.
Alongside inventory distribution, Warehouse's technology also has a built-in feature for order splitting powered by Deep Learning algorithms. This helps businesses make smart decisions about inventory splitting for cost optimization. Its warehouse and inventory management tools can doubly help eCommerce companies with brand and demand aggregation tasks.
Coming to its pricing policy, Wherehouse presents unique fulfillment solutions for B2B retailers at fixed prices. These include- box-in-box-out fulfillment and unit-in-box-out fulfillment. For storage, it has a three-tiered service: unit-wise storage costs 2 INR, storage per square foot is priced at 25 INR, and one unit pallet at 450 INR.
Similarly, it offers same-day fulfillment and delivery at 42 INR/order and next-day fulfillment at 35 INR/order. It also offers customer notifications via SMS (priced at 1 INR per order notification) and Whatsapp (priced at 6 INR per in-box notification).
Overall, Wherehouse is a feature-rich platform with standard warehousing solutions, proprietary technologies, and time-bound shipping services. Its infrastructure offerings are well-suited for businesses looking to unlock business growth in hyperlocal, next-day, and same-day deliveries. Now businesses can onboard with Wherehouse within a day via ClickPost API.
FAQs about

Wherehouse
1) What are the best offerings of Wherehouse?
Wherehouse is best known for its warehousing and fulfillment services for B2B businesses with a network consisting of 2500 warehouses. It also sports smart technological features such as inventory management and a proprietary WMS.
2) What is the Pay-As-You-Go model of Wherehouse?
Warehouse offers a flexible pricing policy whereby businesses can pay per their use of its fulfillment and delivery. They can either pay per unit cost that starts at 5 INR or opt for per order that starts at 10 INR. At the billing stage, businesses will be charged according to their shipment count or units sold.
| | |
| --- | --- |
| API | Description |
| Manifestation and shipping label generation API: | Automatically manifest orders with carriers and generate shipping labels. |
| Track Shipment API: | Get real-time order tracking with robust push and pull APIs. |
| Cancellation API | Cancel orders without any hassle with a single cancellation API. |
| EDD API: | Predict accurate delivery dates with a few inputs. |
| NDR Action update: | Trigger NDR protocol to combat failed deliveries and reduce RTOs. |
| Return Web-hooks: | Seamlessly place return order pickup requests with return webhooks. |
VIEW API DOCUMENTATION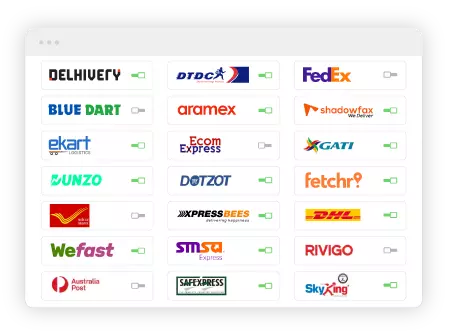 Step 1 - Select The Courier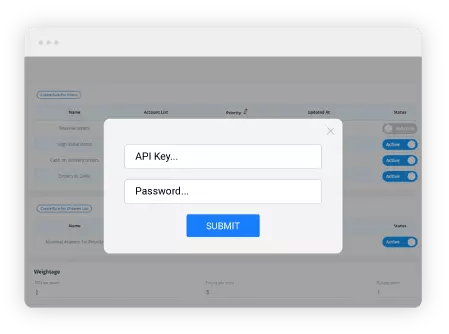 Step 2 - Enter API Key