Shipping services
Same-day delivery

Air Cargo
Special services
Proof of delivery

Inventory Management
Technology services
Track and Trace service

Address Verification Service
About

Zodiac
Zodiac Express is a 25-year-old veteran of the logistics industry that promises near-perfect delivery accuracy. It is one of the few carriers in the Indian market that can promise almost zero defects in delivery. The carrier is capable of handling every type of shipment, from bulk documents to Air Cargo.
Zodiac Express is responsible for the delivery network of many renowned companies from the telecom, retail, and banking sector. This includes some of the big names from the Indian market, like Hindustan Unilever, Bennett, Coleman & Co., Outlook, HDFC Bank, IDBI Bank, Airtel, etc.
The Zodiac Express services include a priority delivery service in selected pin codes. You can even deliver the parcel on the same day to these locations. This allows you to serve your most valuable customers faster and better. You can even enable reverse logistics for these customers as well to enable a better returns experience.
The domestic courier services by Zodiac Express enable you to break free from the restrictions of selected pin codes. You can cater to a national customer base and enable a much better delivery supply chain. You can even ensure supply to your distributors with the help of Air cargo services and logistics services.
Additionally, Zodiac Express has a hoard of value-added services. This includes inventory and document management, as well as other delivery-related services like proof-of-delivery. Along with this, cash-on-delivery services are also available for you to offer a better range of payment options on your website.
Zodiac also enables you to reduce your RTO percentage by using address verification and correction logic. You can easily manage your PODs and RTOs in a separate dashboard. ClickPost has a logistics API integration with Zodiac Express to enable a much better delivery express for e-commerce businesses in India.
FAQs about

Zodiac
1) Does Zodiac Express have address verification?
The value-added services of Zodiac Express have an address verification and correction service. This service has been developed with the goal of reducing RTOs due to wrong/fake addresses.
2) What are the types of delivery services available with Zodiac Express?
Zodiac Express offers three main types of courier delivery services - Same-day delivery service, Express Delivery Service, and Standard courier service. Apart from this, it has specialized delivery services for cargo and bulk documents.
| | |
| --- | --- |
| API | Description |
| Manifestation and shipping label generation API: | Manifest the shipping request with the carrier to generate a shipping label |
| Track Shipment API: | Use the AWB number to fetch the current status of the shipment |
| Cancellation API | Locate the shipment and initiate an RTO to process a cancellation request |
| EDD API: | Estimate the delivery date on the product listing page based on the performance data for the carrier |
| NDR Action update: | Communicate with the customers automatically to resolve the failed deliveries |
| Return Web-hooks: | Return the parcel to the warehouse for verification so that the merchant can process the refund |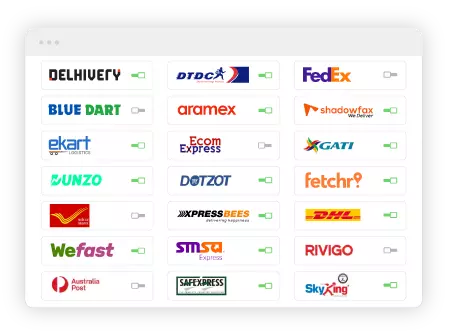 Step 1 - Select The Courier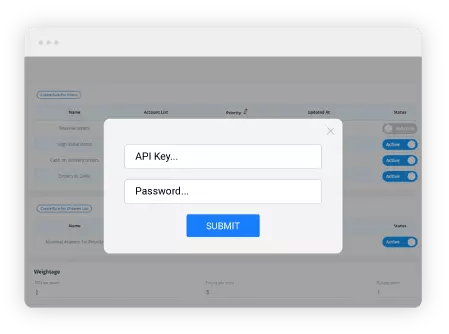 Step 2 - Enter API Key