Shipping services
Last Mile Delivery Optimisation

B2B & B2C Deliveries

Real-time Order Tracking
Special services
Geo-fenced Route Optimisation

Wave planning & Scheduling

Workflow Congestion Management
Technology services
Automatic Incentive Calculation

Detailed Performance Analytics

Automated Warehouse Management
About StackBOX
StackBOX is a SaaS based sales and distribution platform for online and offline retailers. It is headquartered in Bangalore, Karnataka, India. A large part of retailing is ensuring a glitch-free supply chain. StackBOX's unique offering provides a way for merchants to improve their supply chain operations while increasing bottom line sales. StackBOX sits at the heart of all business operations, coordinating sales and marketing efforts with closed deals and efficient order fulfillment.
The supply chain segment offers last mile delivery route optimisation for faster deliveries and lower fuel expenditure. It also helps drivers reach their destinations through the shortest routes while avoiding all traffic jams and bottlenecks. This transportation management system (TMS) offers superfast next day and same day B2B and B2C deliveries.
Ecommerce companies can outsource storage and warehousing to StackBOX for higher inventory visibility, faster stock turnover, and an overall leaner value chain. Depending on their budget and specific needs, brands can opt for either their automated or manual warehouses. However, it pays to know that manual warehousing or inventory management is nowhere near as effective as an automated one. Several factors like human errors, delayed processes, etc., play a part in reducing the efficiency of a manually operated storage unit.
With StackBOX's supply chain service, ecommerce vendors have end-to-end control and visibility of how items are stored, their expiration dates and the highest-selling products. It gives businesses free access to several ERP integrations and plans warehouse storage roadmaps for intelligent resource management. It also looks after purchase orders and sales orders and tallies all items for uncomplicated fulfillment. What's more, the control tower takes note of how delivery vehicles and shipments are moving and prepares detailed analytical reports to enrich business performance.
Under the Sales Cloud segment, StackBOX helps online retailers find the best consumer markets for specific product types and helps create a marketing plan for booming growth in those regions. It builds user personas to address pain points and increase coverage by identifying low and competition markets.
It also helps ascertain which sales mode might be best for a certain business type based on metrics like average bill value, total sales, market type, age group, etc. This activity is especially useful in determining the type and number of sales representatives needed at any physical outlet. On the other hand, this teaches online businesses to target specific customer profiles in their advertising campaigns.
In all, StackBOX is a powerful ally to have in your ecommerce strategy. ClickPost comes pre-integrated with StackBOX. If you want this sales and distribution powerhouse for improved business operations, start using the ClickPost StackBOX API integration today!
FAQs about StackBOX
1) Does StackBOX have a mobile app for users?
Yes, StackBOX has a cloud-native mobile app for ecommerce sellers to manage their supply chain and sales activities on the go. Similar to the desktop app, it allows full transparency to users. Clients can monitor outbound, inbound and reverse shipments and make changes to orders.
2) Which industries benefit the most from StackBOX's logistics planning feature?
Logistics planning is an essential part of every business. However, StackBOX's range of services have been known to be a game changer for the FMCG, D2C, B2B, pharma, food & beverages, and ecommerce industries.
| | |
| --- | --- |
| API | Description |
| Manifestation and shipping label generation API: | Signals order processing by initiating the generation AWBs and shipping labels |
| Track Shipment API: | Enables live track and trace of all shipments from origin to destination |
| Cancellation API | Cancels an order after confirmation |
| EDD API: | Estimates the approximate date of delivery based on pin code and zip code |
| NDR Action update: | Quickly reacts to failed deliveries by triggering an NDR response |
| Return Web-hooks: | Enables customers to return unused products |
VIEW API DOCUMENTATION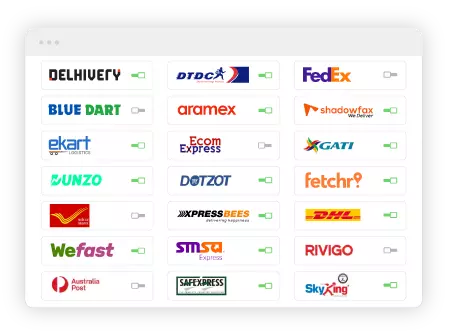 Step 1 - Select The Courier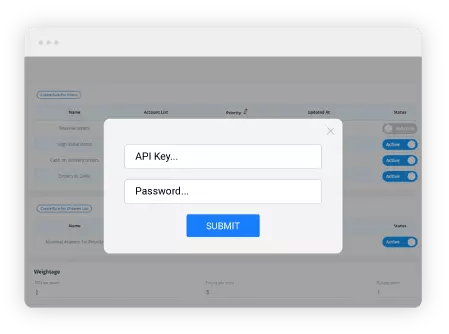 Step 2 - Enter API Key