Go live in 1 day with any new shipping partner
With carrier APIs pre-integrated through ClickPost, all you need to do is enter your credentials.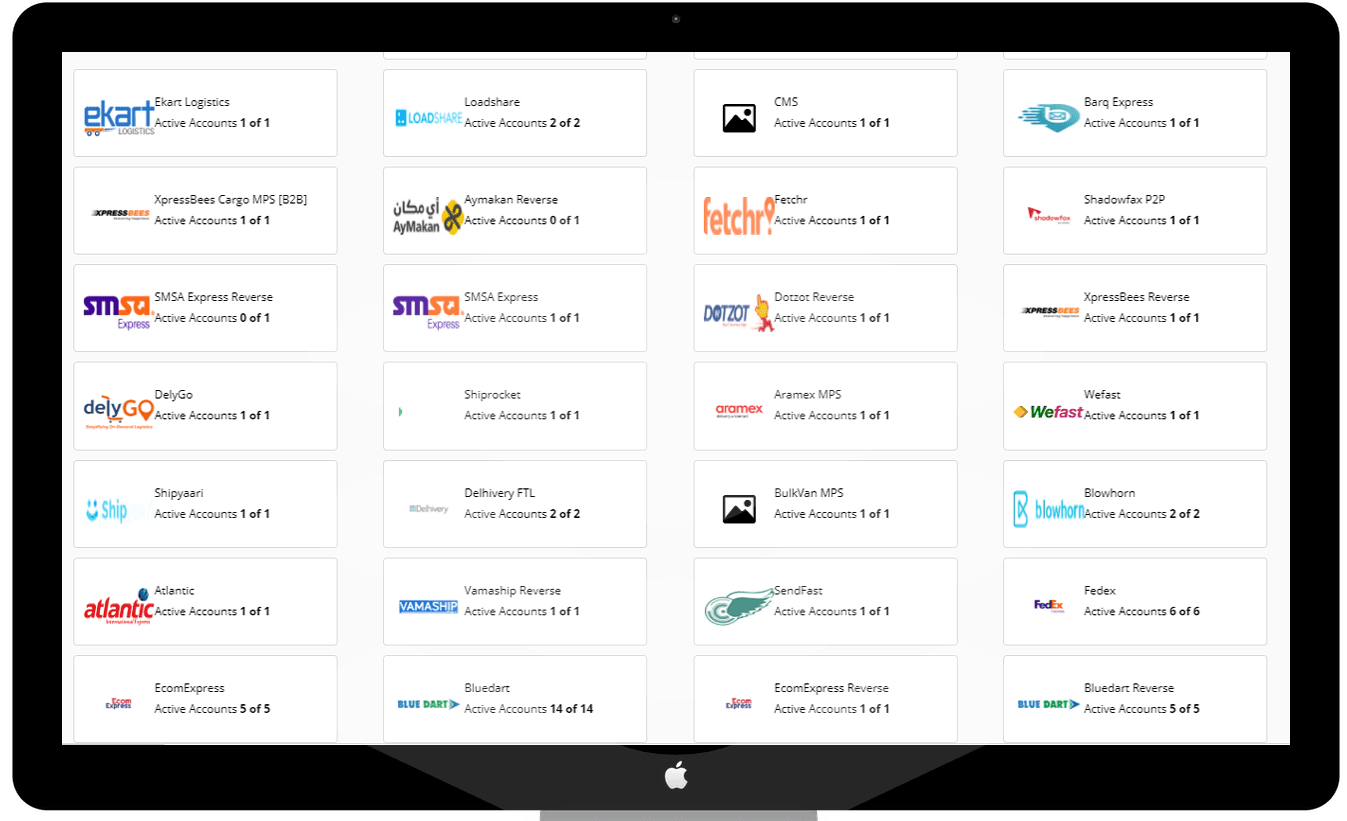 List of APIs Offered by Courier Partners
Every shipping partner has a long list of Shipping APIs that need to be integrated before you start sending shipments with them:
EDD (Estimated Delivery Date) API

Shipping label generation API

Whatsapp Optin-Optout API
About ClickPost Universal API
For any e-Commerce company, the biggest challenge when it comes to managing multiple carriers is API integrations. Integrating with each shipping partner is a time-consuming task because it requires API documentation. This leads to slow operations and high technical costs, the bane of any major ecommerce operation. To solve this, ClickPost has integrated with 400+ carriers and API integration platforms at the backend to provide you with a single API to access global carriers.
Here are the APIs offered by ClickPost
1. Serviceability API
Check the delivery cost, TAT, and Pincode serviceability of any integrated carriers.
2. Recommendation API
Get a list of recommended carriers based on your business priorities, fixed rules, and historical data.
3. EDD (Estimated Delivery Date) API
Predict the estimated time for delivery of any shipment in accordance with respective carrier SLAs.
4. Order Creation API
This API lets you create an order with a carrier (and cancel it), fetch an AWB, and request pickup.
5. Shipping label generation API
Generate a shipping label during order manifestation or create a new shipping label.
6. Tracking API
Using the generated AWB, track the shipment in real-time with the respective carrier.
7. Order Cancellation API
Cancel shipments quickly with carriers to ensure faster and safer returns as well as higher stock availability.
8. Pickup Request API
Get a prioritized list of shipping partners to handle pickup of the shipment from the appropriate warehouse.
9. Whatsapp Optin-Optout API
If you receive a customer communication regarding Whatsapp optout/optin, this API updates your backend via ClickPost.
10. NDR Action Update API
Ensures direct updates to carrier databases and yours to update any action on failed deliveries.
11. Customer Feedback API
Displays a range of customer feedback and operations feedback on your tracking page.
12. Return Webhooks
Track return shipments with the same speed as forward shipments using Carrier updates and AWBs.
Benefits of Using ClickPost for ECommerce Courier API Integration
1. Full control over contracts with all shipping partners - no need for shipping aggregators or individual WMS.
2. Go live with a new courier in just 1 day.
3. No added investment in API integrations or maintaining APIs.
4. Immediate access to all new APIs offered by carriers (QC for returns, hyperlocal deliveries, etc.).
5. No middleman or platform which ensures quick resolution of all the eCommerce shipping queries.
6. Multiple advanced features to reduce shipping costs, lower RTO, and improve the shipping experience for customers.
7. Multi-channel communication to customers with real-time notifications - reduces WISMO calls and improves CX.