WhatsApp eCommerce Integration
ClickPost Multi-carrier integration platform lets you integrate with 150+ carriers including Fedex using a single API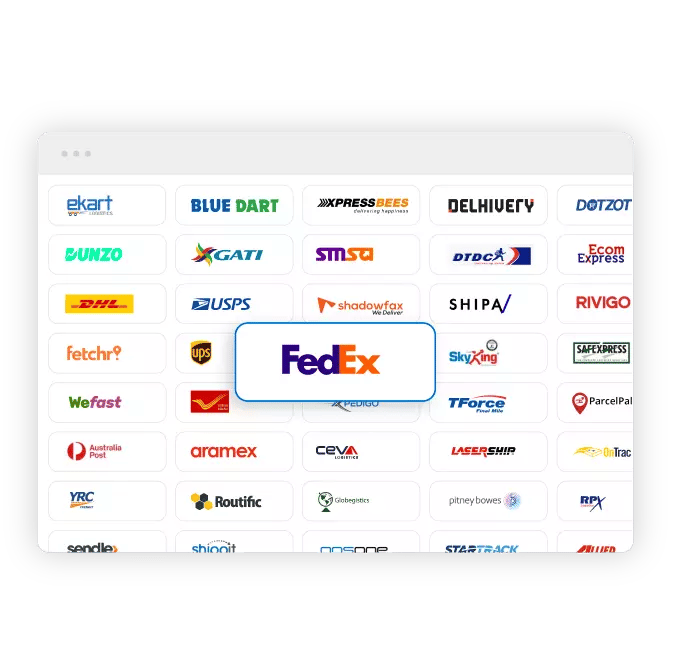 1) Overview
A few years back, launching an exceptional product was enough to lure customers. But with the passing of time and more development, customer experience took the lead. Today it's the primary factor driving every eCommerce sale.
Customers nowadays are more observant of how brands entertain and connect with them. They long for a personal touch, and whichever eCommerce platform promises them a better overall customer experience, they are inclined towards them.
If you are struggling to find ways to connect with your customers, you're in the right place. In this article, we will tell how a Whatsapp eCommerce Integration can work wonders for your eCommerce platform and help you build a loyal customer base.
2) Whatsapp's contribution to the eCommerce Industry
Founded by Jan Koum and Brian Acton, Whatsapp was initially a messaging application to connect people. Within four years of its launch, it garnered a huge fanbase of 200 million active users. Later, after being acquired by Facebook Inc. (now Meta Platforms), the software launched Whatsapp Business in 2018 to help small-scale business owners offer customers professional support and communication using the solutions present over the platform.
The addition of this new feature alone gained the company an extra 5 million users. Countries like the USA, China, and Europe, whose customers actively use eCommerce platforms to make purchases, started investing in WhatsApp Business Solutions, making it a huge success. Soon after, the company introduced Whatsapp Business API, aimed at large-scale business owners to keep track and actively cater to their customers.
Being one of the most used platforms, Whatsapp Business helped many new eCommerce owners establish their businesses. Whereas for existing users, Whatsapp eCommerce integration made customer retention possible, giving them an effective return on their investment.
3) Types of services offered by Whatsapp
For merchants and e-tailers, there are two types of Whatsapp Business Solutions-first being Whatsapp Business and the second is Whatsapp Business API.
3.1) Whatsapp Business
By using the Whatsapp Business app, small or mid-scale eCommerce owners can keep in touch with their customers. They can solve their queries, update them about their order location, help them place return requests, send multimedia messages, notify them about upcoming offers and discounts and get feedback for improvement.
Since the feature focuses on small and mid-scale online sellers, it can only be used by a maximum of four people. Plus, keeping in mind Whatsapp's strict policies, online sellers can only connect with existing or potential customers with their consent.
3.2) Whatsapp Business API
As mentioned earlier, Whatsapp Business API is aimed at large-scale eCommerce owners who deal with numerous customers at the same time, hoping to provide a better customer experience to each of their eCommerce platform users.
With this feature, online sellers can link their websites with Whatsapp and offer customers solutions at their fingertips. However, there are some twists here. The Whatsapp Business API has no interface of its own. Therefore, online sellers will have to rely on an omni channel communication platform to use it.
Moreover, the API solution comes with two primary messaging functionalities-
a) Whatsapp Template Messages
These are paid automatic notifications sent to customers by the eCommerce platform.
b) Whatsapp Session Messages
These are free messages designed to enable customer support. The moment a user starts a conversation, this feature replies and assists them with their problem. A new session activates every time a user sends a message and lasts for 24 hours. In case a merchant or e-tailer fails to reply within the 24-hour frame, they will have to re-initiate the conversation using the paid WhatsApp template message.
4) The Hows to Whatsapp eCommerce Integration
Since Whatsapp supports only online mobile platforms, integrating it directly with a website like the popular messaging app Messenger is difficult. Therefore, merchants and e-tailers should rely on Whatsapp's own API link or use a direct app trigger call to link the software with their eCommerce platform.
In the post below, we will discuss the ways of achieving a successful Whatsapp eCommerce integration for a website with credible and tested methods.
Here's how online sellers can go about it.
4.1) Integrating Whatsapp Business to the website using a hyperlink
Online sellers can integrate Whatsapp Business into their website using hyperlinks easily, provided they follow the steps given below.
a) Open your website or targeted webpage you wish to edit.
b) Type in the text to be clicked by the users.
c) Hyperlink the target text with the link attached- https://wa.me/yournumber/
d) If you want to add a default message along with the text while hyperlinking under the command (https://wa.me/yournumber?), type "text=" followed by your message and add %20 in place of empty/white spaces.
For example-text=I%20love%20the%20watch%20you%20offered%20for%20sale
e) Similarly if you want to receive specific texts from a customer after he/she has clicked on the button on your website, add the link as- https://wa.me/?text=urlencodedtext
For instance, https://wa.me/?text=urlencodedtext
text=I%20want%20to%20enquire%20about%20the%20rented%20place
4.2) Use a chat widget
A better way of integrating Whatsapp Business with your website than hyperlinking is adding widgets or buttons to it. Here's how you can make that happen.
a) Open the WhatsHelp website on your web browser.
b) Click on Widget to see the list of supported instant messaging platform buttons.
c) Under the "Choose messaging apps" section, scroll down and click on Whatsapp
d) Enter your Whatsapp No. along with your country code
e) Scroll down a bit and add necessary details like logo, icon color, greeting message, etc.
f) Type-in your email address and get the code for the Whatsapp widget.
g) Copy the code at the place where you want to see the widget on your website backend.
4.3) Integrating Whatsapp Business link to Trigger the WhatsApp App for Android
As the name suggests, this feature works, especially for android users. You can link your Whatsapp Business account by doing as follows.
a) Just as you hyperlinked your website above, replace the link in the third step to whatsapp://send? followed by any text you want to add.
5) Top Whatsapp eCommerce Integration benefits and use cases
An amazing customer experience involves more than just delivering products on time and receiving feedback. It incorporates every second the customer has spent on the eCommerce platform, starting from the moment they came in contact with it.
Here are the different stages of the customer journey and how a Whatsapp eCommerce Integration can help online sellers face them.
5.1) Gaining customers
Gaining customers has never been simpler. With Whatsapp Business API, merchants and e-tailers can follow a prospective customer from their web or mobile browser and convert them into a successful one by using the methods below-
a) Chat Bubble
Instead of following the usual trend of chatbots where an on-site assistance bot sits in one corner waiting to be noticed by the customers, eCommerce owners can create a Whatsapp chat bubble on their website and invite customers to have a one-on-one conversation with them.
b) Campaign ads CTA
Another great way of acquiring customers is by adding a click-to-WhatsApp approach to your paid campaigns. This feature will allow your customers to directly get in touch with you on Whatsapp post clicking on ads instead of a landing page.
c) Product/category page button
Last but not least, online sellers can enable notifications for customers through a channel they use frequently, making them aware of any recent developments on their eCommerce platform.
5.2) Providing incentives while selling
eCommerce owners can convert a prospective or existing customer into a successful one by incentivizing sales using the two methods below-
a) They can offer discounts while engaging with customers on a Whatsapp chatbot.
or
b) They can direct them from a landing page or coupon pop-up to a Whatsapp chatbot, which will ask a few questions before offering vouchers to them.
In both cases, online sellers can track when and how the customer uses the voucher or discount in purchasing on their eCommerce platform or even follow up with them in case they didn't use it.
5.3) Offering personalized experiences
As soon as eCommerce owners come across a customer on Whatsapp, they get hold of their phone number, location, and sometimes even user id. These can be used to offer a more personalized experience to the customer.
For instance, when online sellers know the region their customers belong to, they can offer catalogs in their regional language or even converse with them in the same way.
5.4) Quizzes
Quizzes have persistently engaged people of all ages. Therefore, using them on eCommerce platforms is the most entertaining way to know customers and their preferences.
By using quizzes on their Whatsapp chatbot, online sellers can ascertain basic or detailed information about their customers.
5.5) Offering product and purchase suggestions
Offering product or purchase suggestions is still new to the Whatsapp chatbot. Though Facebook Messenger allows merchants and e-tailers to create product carousel options in a conversation, the Whatsapp chatbot restricts users to do so.
5.6) Help guides
Many customers expect a solution to their problems within minutes. Now, for a human to understand and find ways to help customers isn't possible in a short time. That's why eCommerce owners rely on Whatsapp chatbots to serve customers quickly.
5.7) Product Finder
Often after visiting eCommerce platforms customers look for a product they came across at a particular time. Generally, it takes browsing through numerous pages to find a particular result, especially if the customer has not wishlisted the product.
However, by using a Whatsapp chatbot, they can get those results quickly.
5.8) Tackling abandoned cart
Shopping cart abandonment is a common problem faced by many eCommerce owners. Despite sending constant emails and reminders to customers, online sellers fail to get the desired results. But with messaging marketing, they can turn this situation around.
5.9) Sending transaction confirmations and notifications
Every customer is hesitant about purchasing an eCommerce platform. When they get confirmations about their order and frequent tracking notifications on an end-to-end encrypted platform like Whatsapp, they feel secure.
5.10) After-sale support
eCommerce owners' job doesn't end with making a sale. Instead, it starts from there and goes on to how the seller can retain the customer for a long time.
To achieve that, merchants and e-tailers should provide customers with after-sale support and even get feedback.
6) The best Whatsapp eCommerce Integration platform- ClickPost
Being an eCommerce logistics intelligence software, ClickPost focuses on improving customers' post-purchase experience. It offers multiple shipping and tracking services to merchants and e-tailers and helps them with customer retention and increasing ROI.
The company comes with a unique contribution history to the eCommerce industry, with some of the biggest eCommerce giant's names attached to it. Here's how ClickPost promises to assist online sellers with Whatsapp eCommerce Integration.
ClickPost's Whatsapp eCommerce Integration
ClickPost offers a five-step framework for eCommerce owners to make the most of their Whatsapp Business.
a) It customizes all Whatsapp messages for different categories.
Online sellers can send customized Whatsapp messages to their customers by making tweaks here and there.
b) Offers a single dashboard to merchants and e-tailers for ease in monitoring operations.
Sellers can manage all communications from a single dashboard without worrying about neglecting any prospective or existing customers.
c) Offers detailed reports on the message status of all recipients.
eCommerce owners have access to the data of all Whatsapp communications, irrespective of whether they are successful or unsuccessful. They can even ascertain the issues behind undelivered messages and make necessary changes to convert them.
d) Helps analyze the status of different Whatsapp messages using numerous timelines.
Sellers can use numerous timelines at the same time to analyze where a Whatsapp message sent to the customer stands on their marketing criteria.
e) Provides all additional reports to maintain records of Whatsapp communications.
Merchants and e-tailers get access to other detailed reports, including the number of messages sent, delivery status of messages, interactions with customers, and vice versa.
7) FAQs about Whatsapp eCommerce Integration
Going through the article, if you still feel unsure about certain topics, here are a few frequently asked questions (FAQs) about Whatsapp eCommerce Integration to help you out.
7.1) Can I automate Whatsapp messages?
Yes, you can automate Whatsapp messages for your eCommerce platform by using an omni channel communication platform.
7.2) What are the benefits of Whatsapp eCommerce Integration?
By integrating your website with Whatsapp, you can build better customer relationships and get access to a wider range of prospective customers, and much more.
7.3) In what ways can I use Whatsapp eCommerce Integration?
You can use Whatsapp eCommerce Integration to acquire customers, incentivize sales, offer personal experience, provide tracking and return notifications and much more.
8) Conclusion
Whatsapp is an ever-expanding platform that, when clubbed with eCommerce platforms, can give sales results like never before. It can build long-lasting customer relationships and provide product-related information at customers' fingertips.
Whatsapp eCommerce integration has an extremely bright future for both renowned industries and also merchants and e-tailers who're just entering the eCommerce world. We hope sellers use the platform to the fullest and provide a seamless customer experience along with making more profits in the future.
API

Description

Manifestation and shipping label generation API:

Create order on Courier Partner, fetch waybill and shipping label and place pickup request

Simplified explanation:

Track Shipment API:
Track your shipment using AWB and Courier Partner
Cancellation API
Cancel shipment manifested on Courier Partner for faster returns
EDD API:
Show estimated delivery date for shipments on the order checkout page
NDR Action update:
Updates the after NDR action directly on courier company's database
Return Web-hooks:
Track your return shipment using AWB and Courier Partner using web-hooks
VIEW API DOCUMENTATION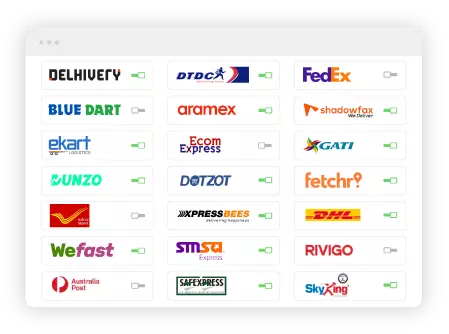 Step 1 - Select The Courier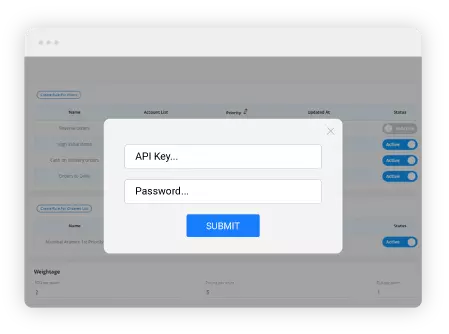 Step 2 - Enter API Key
Data driven carrier recommendation engine

Go-live with a new carrier in just 1 day

Generate shipping labels across carriers from a single dashboard

Get real-time zipcode serviceability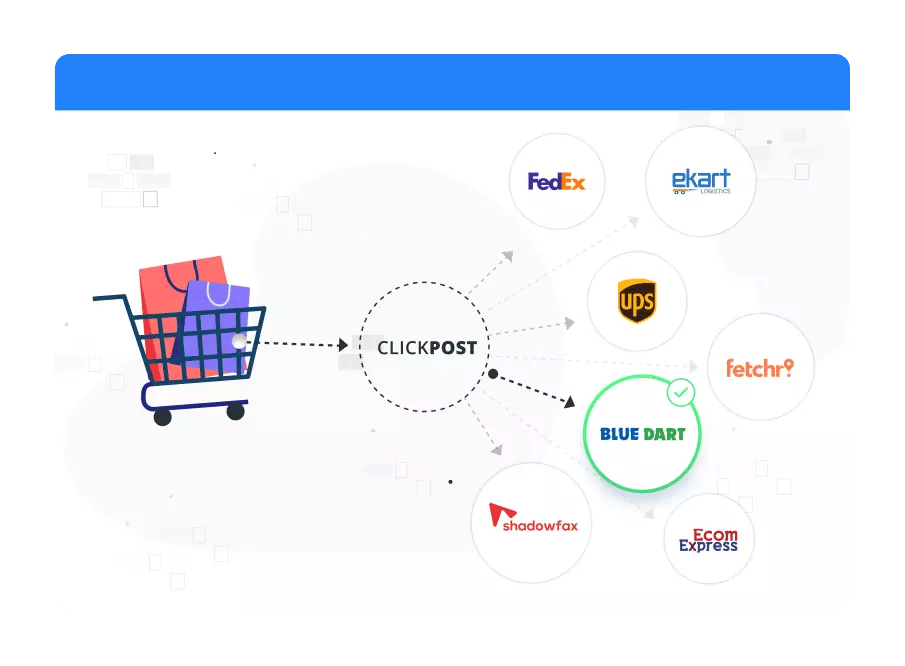 Integrated tracking portal

Enable milestone-specific communication

Enable multiple communication channels

Generate additional sales from tracking page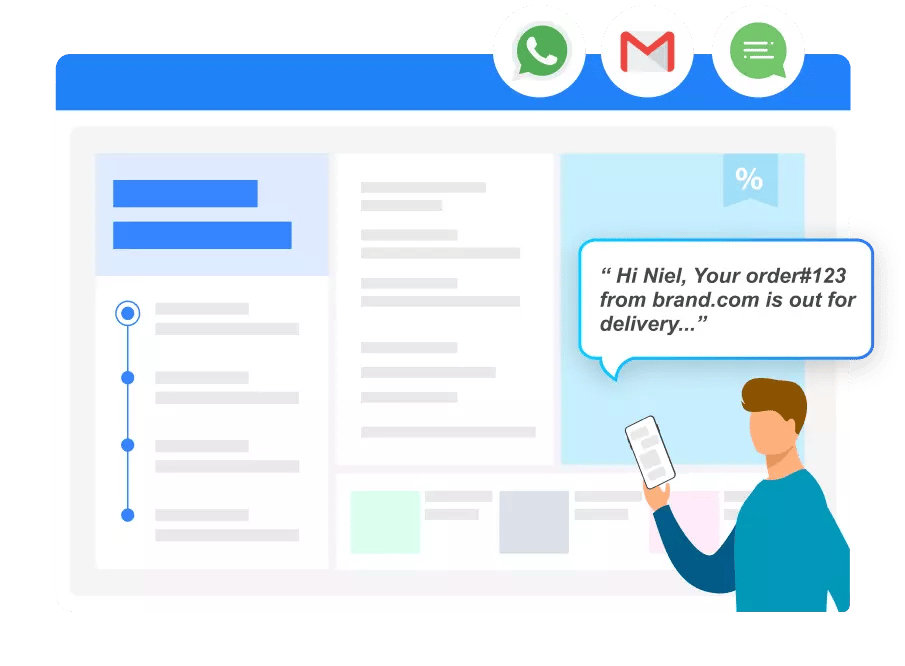 Enable customers to place return requests easily

Automated Courier Allocation for Reverse Pickup

Automated Pickup Exception Management

Track Returns