eCommerce Logistics and Supply Chain Management
The COVID-19 outbreak has exposed the vulnerabilities of global supply chains as each one of us became overly dependent on third party suppliers. Be it international or domestic, or even in-house operations, supply chains have been disrupted due to nation-wide government-imposed restrictions, further disrupting logistics. Case in point, eCommerce businesses.
Increased border controls and customs regulations are resulting in longer wait times. Both in terms of the products or raw materials becoming available to eCommerce businesses for selling, and last-mile fulfillment.
In addition to the above, the pandemic has resulted in the rise of anti-globalization. As per current forecasts published, there has been a 13-32% decline in merchandise and about 40% reduction in direct foreign investment.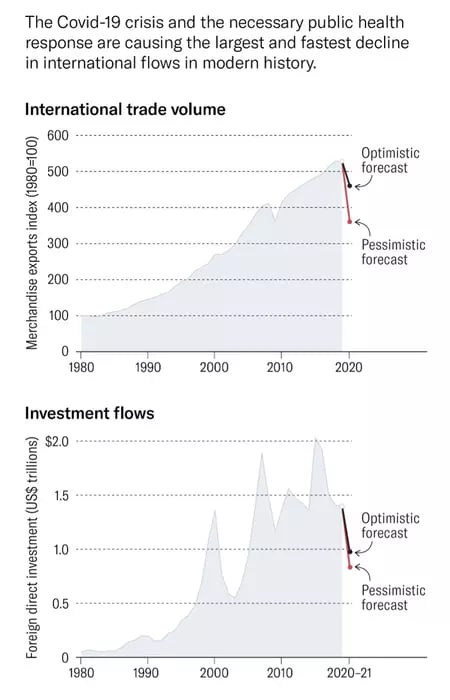 Now what did not change during this period, are consumer expectations. More so, driven by their past interaction with industry leaders like Amazon, Walmart, and Alibaba.
But they too suffered the impact of COVID-19 disruption across their eCommerce supply chain and logistics. For that matter, in April 2020, Amazon received 800,000 negative reviews, twice of what it was in April 2019. The eCommerce giant saw many of its loyal customers walk out to the likes of Walmart, who eventually too did crack under the pressure of expectations.
Supply chain and logistic management - What went wrong?
The evolution of e-commerce happened in parallel with globalization.
The e-evolution disrupted supply chains, storage businesses, and customer experiences.
And there began the problem.
1. Lesser flexibility in supply chain
As consumer demands increased, eCommerce businesses started to focus more on optimizing their supply chains. Businesses chose to either minimize their inventory to certain localities or partner with international suppliers to source their product lines and raw materials.
But this decades-long focus on supply chain optimization to minimize costs, reduce inventories, and drive up asset utilization removed buffers and flexibility to absorb disruptions. The outbreak of COVID-19 only brought out these vulnerabilities in the framework, resulting in global shocks.
According to a survey by the Institute of Supply Management, the lead times of inventory have nearly doubled for US retailers alone. Owing to no air and ocean freight movements, supply shortages have now compounded globally.
2. Regionalization of manufacturing
According to the World Trade Summary of 2000, there were five prime exporters of the world: US, Germany, Japan, China, and France.
But by 2019, as per Statista, China moved to the top slot.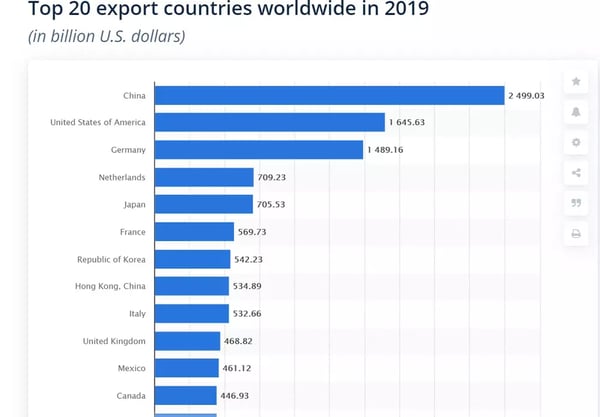 Yet, due to skilled labour and ease of doing business, a large part of the world's production shifted to China.
In the last decade alone, the export capacity of China increased by 12 times.
Tech giants like Apple source 66% of its components from countries like Taiwan and China. They have 380 of the total 809 production facilities in China. The focus on cost-cutting has always been obvious.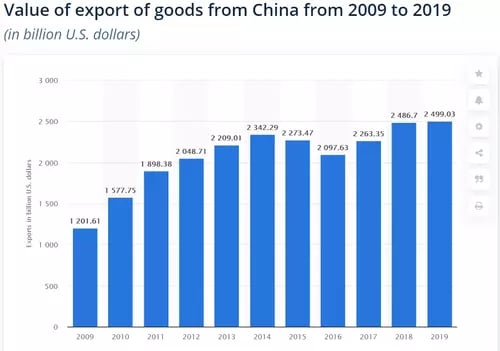 But with the COVID-19 outbreak, the Institute of Supply Management also reported the following observations:
Manufacturing facilities in China are now operating with 56% lesser storage capacity and labour
62% of the respondents experienced delays in order reception
More than half are not receiving enough information about their supplies
Goods movement within China is experiencing delays
Goods loading at ports has also been seeing delays
57% noted longer lead times for Tier-1 China-sourced components
The average lead times are now more than double compared to the end of 2019
3. On-demand manufacture
Think about dropshipping or those print-on-demand eCommerce businesses. Even the most basic necessities like groceries and toiletries were being manufactured and sold based on actual demand. This helped eCommerce businesses employ less manpower to take care of its storage, which served as an effective money-saving measure.
But with the pandemic, things changed. Right from consumer demands to how seamlessly raw items or products would flow from one supplier to the next to assemble an order to the last-mile delivery, everything began to see delays.
4. Lack of supply chain digitization
Shockingly, the supply chain model for most eCommerce businesses either still follows the paper and document trails in eCommerce operations, or are still partially dependent on it.
Transactions across the productions and supply chains have been paper-based since the late 90s. From ordering more stock to locating the air and sea freight, a lot of eCommerce operations still involve long paper trails. While the approach seemed effective in the pre-COVID-19 times, it no longer is as there is a lack of physical communication and touch bases in the supply chain now.
5. Lack of customer communication
Another aspect that was not taken into consideration while setting and optimizing the supply chain management and logistics, was customer communication. Since last-mile deliveries mostly never saw delays, most eCommerce businesses relied on simply order confirmation, order shipped and order successfully delivered as their touch base communication with customers.
But with COVID-19, there arose a need to keep customers in the loop. With most of us making impulse purchases or simply stocking up items, the customer's order anxiety got real. It was no longer just restricted to fun posts on social media and quickly resulted in an increase in WISMO (where is my order?) calls.
Simply put, the pre-COVID-19 supply chain and logistics management were proven to be ineffective - during and hence, after the COVID-19 outbreak.
What did not work during the pandemic, will not work when the pandemic is the parameter redefining how things function.
Building resilience in supply chain and logistics for the new normal
The world after COVID-19 will be different, and supply chains will obviously have to be better. Supply chains and logistics have to be more flexible and disruption proof. All the systems and hierarchy of operations will need restructuring and new architecture.
Here's an overview of how the new supply chain network will look as compared to the traditional supply chain framework that failed to work:
1. Improve supply chain visibility
The only way to be able to respond to sudden changes in the supply chain and logistics is to get complete visibility on it. Companies will need to use a control tower to get a real-time view of all the eCommerce operations. This will require integrating their supply chain network, logistics market information, inventory, demand forecasts, capacity constraints - internally and externally, to bring all data onto one platform.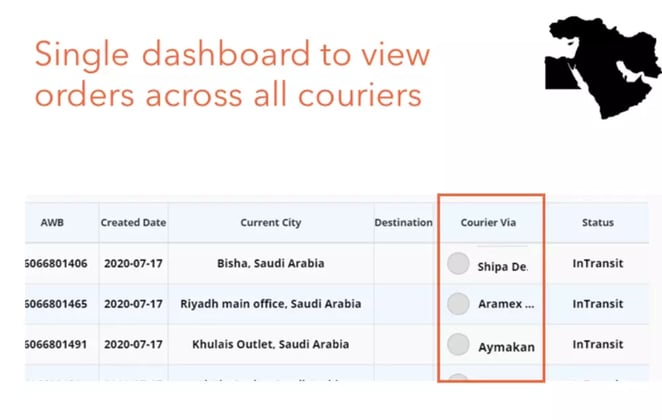 The new supply chain and logistics framework will push companies to prioritize data to enable end-to-end fulfilment. Visibility on the complete supply chain and logistics network will help remove the information fog which made it difficult for eCommerce businesses to access risks or plan for contingencies.
2. Assess risks and landed-costs
In addition to better visibility on their supply chain and logistics network, eCommerce businesses will also need access to intelligence to fuel their efficiency at fulfilment. Investing in risk assessment tools that are powered by artificial intelligence and machine learning, will enable their network to continually assess risks, identify common patterns, find solutions or opportunities from the data to make eCommerce operations more efficient.
Similarly, eCommerce businesses will also need to consider adding landed-cost tools to their stack. These tools can help them rapidly model alternate supply chain and logistics strategies, such as going to an alternate source of supply in case of shortage or rerouting around a port to avoid delays.
3. Increase logistics flexibility
eCommerce businesses will need to proactively look for ways to repurpose their supply chain and logistics assets, inventory and capability to meet the increased demand in the market they're addressing. At the same time, they will also be required to take charge of helping local communities address the impact of COVID-19.
Some of the things eCommerce businesses will need to proactively look into include balancing their supply and demand on micro and macro levels. For example, reallocating their fleets and inventory to high-demand locations and customer segments, leveraging online freight platforms, collaborating with extensive holding and logistics services, increasing contactless deliveries with more order pickup, delivery and payment options.
4. Ensure consumer visibility and communication
With consumers choosing to buy even their day-to-day essentials online, there is an increase in demand for visibility and communication from eCommerce businesses. They don't just want to have access to the best of products or deals anymore. The new-normal consumer wants everything from regular updates to easy return and refund processes to become more convenient.
Think about having placed an order for a medication you might need the next week. Now imagine getting absolutely no intimation from the online store on the order status. You're either going to be fretting over its timeliness or making calls to the business to ask for visibility on where you order is.
Consumer order anxiety is at its peak at the moment. While the consumers are aware of the potential supply chain and logistics delays that may occur now, eCommerce businesses will need to remain in close touch with them throughout the order journey. Proactively notifying customers about their order status and potential delays in fulfillment, will help eCommerce businesses keep customer order anxiety at bay, boosting engagement and loyalty. This will also present more opportunities to delight the customer and sell more, despite the challenging scenario.
Adding a branded tracking page on the eCommerce website and automating order status notifications can help address this consumer anxiety. It can also help businesses reduce their WISMO calls and reduce RTO.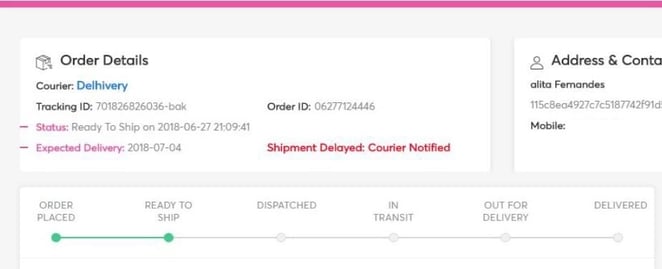 Even Amazon has remained transparent about delivery dates from day one. The eCommerce giant suspended their prime delivery services on noticing supply chain and logistics delays, early on. Despite having received 800,000 negative reviews from online shoppers, Amazon still made billions of dollars in revenue by giving consumers complete visibility with clear communication.
With the disruption of the old supply chain and logistics framework, the future of stabilizing eCommerce operations lies in comprehensive and proactive modelling. Businesses will need to focus on understanding their supply chains and logistics more deeply, identify weak points and reconfigure the framework to build resilience.