It's here, that time of the year again. When "Winter Is Coming" is no longer a reference to a popular fantasy TV series, but actually a real thing. When consumers are looking forward to converting their wishlist to purchases. And when eCommerce retailers are looking to grab a piece of the biggest sales pie the year has to offer. In case you weren't able to guess it yet, we're referring to the fact that the holiday season has arrived.
Right from the first week of November, with a spike during the BFCM days, to the end of the year, eCommerce sales are always soaring, and how! In February 2020, as COVID took hold of the United States, eMarketer predicted the 2020 holiday season total retail spend to increase by 3.4% to $1.042 trillion and eCommerce spend to increase by 13.9% to $156.69 billion. So, this year will especially be one where eCommerce sales explode to even more far-reaching heights.
Despite this being good news for online retailers, it's not as charming and jazzy as it sounds, thanks to the numerous challenges that germinate from this increased demand and raised consumer expectations. From people wanting expedited delivery to vendors wanting quick and easy returns' processes, challenges to be faced by online stores during the holiday season can truly be excruciating.
In this article, we'll dive deep into the world of the eCommerce shipping and delivery challenges faced by online retailers, along with ways they can solve these.
Logistics and delivery challenges during holiday season sales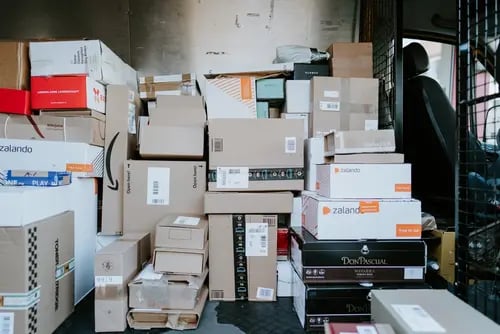 Challenge #1: Heavy Rush And Increased Demand For Expedited Delivery
With the advent of the holiday season, if there is one thing we can say for sure, it's this: people go above and beyond with their shopping during this part of the year, and more often than not, it's something last-minute they need.
However, their expectation of receiving their order at their usual delivery speeds, if not expedited. So, in order to cater to such last-minute deliveries, one of the biggest challenges faced by eCommerce brands is to provide expedited and/or priority shipping during rush hour periods (which, believe it or not, can be experienced the majority of the duration during this time).
As an eCommerce store, your best way to overcome this obvious issue is to find courier partners who you can count on for ramping up their operations during the critical needs of such hours while ensuring it keeps your unit economics intact.
Most of the popular shipping partners, from FedEx to DHL, are well renowned to be able to provide the same and have helped thousands of eCommerce brands in the past. But it's a good practice to get a logistics integrator in place instead who lets you work with multiple courier partners, and helps you assign orders to those that can address the need of the hour.
ClickPost integrates with 120+ shipping partners. Check them out here.
Challenge #2: Finding The Logistics Partner Best Suited For Your Order Deliveries
When it comes to eCommerce logistics companies, there are a ton of options out there, which is surely a boon for online retailers, but if not leveraged carefully, might as well become a bane. Let us look at how that could happen.
Imagine you have partnered with six of the most reliable logistics partners in your country, and they all have their network laid out well and supply chains running most efficiently. However, what one provider might be good at, say cost-efficiency, the other may not be. While one may give you faster delivery for a specific location, it might not be the best at dealing with some remote locations. Such challenges are very real, and very troublesome.
Now, as an online-first business, you can't be expected to sort these things out manually. Surely, your time can be better spent working on your business model instead of trying to guess which logistics partner to go with.
Thanks to the innovation in logistics intelligence and shipping management tech, you can very much rely on letting an AI-powered courier allocation engine choose the best courier partner for every order, helping you improve increase fulfilment rate, reducing the return to origins (RTO), optimize logistics cost, and reduce delivery times, among other benefits. Here's how a logistics recommendation engine works.
Challenge #3: Irregularity In Online Store Cash Flows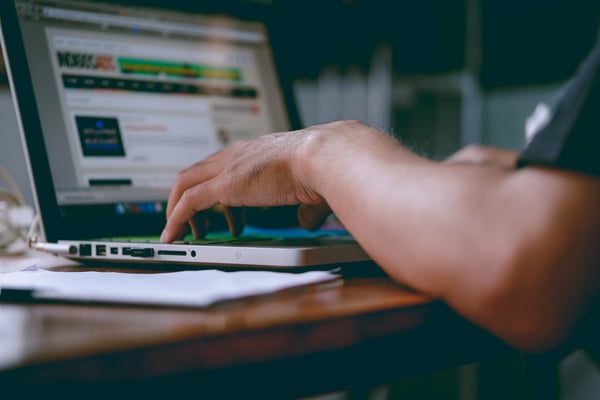 Here's a scenario if you are an online shopper (chances are very high that you are): when was the last time you did not choose a certain payment mode for a certain purchase at an online retailer in order to maximize discounts, cashback, membership points, and other rewards?
I'd say you probably don't even remember. That's how primitive and instinctive choosing a payment mode for a consumer has become nowadays. Shopping on Amazon? Amazon Pay Credit Card. Buying an iPhone? Apple Card. Buying groceries at Macy's? Macy's Card.
The consumer is spoilt for choice, and this results in eCommerce stores having to provide for numerous payment modes, which in turn ends up in creating an irregularity in terms of the flow of the cash. Depending on the various vendors and merchants, from Paypal to American Express to banks and other financial institutions, it can be a while before actual payments start reflecting in your books, or better, in your accounts.
While this challenge is perennial, the solution for it lies in being judicious in making the financial decisions for your company. From ensuring you are lining up your payments, to planning for worst-case scenarios and exigencies, the onus lies on you for making sure you always keep a tab on the transactions going in and going out.
Struggling to choose a payment partner for your store? Here's a guide that might help.
Challenge #4: Secure Shipping And Order Fulfilment
The purchases that your customers make during the holiday season are precious, to say the least, both in terms of monetary value, and otherwise. No seller would want their order to get damaged or lost during transit, and neither would any customer like to be informed of the same, for obvious reasons.
According to reports by Shopify, on an average, one in every ten packages are damaged or lost in transit, hampering eCommerce store's outbound product, their brand's customer relationships, as well as their business's profit margins. Ideally, every online seller would want one hundred per cent of their orders to be fulfilled securely, and on time.
However, the reality is far from ideal. As more and more online brands sell and ship fragile items such as ceramics, electronics etc. there needs to be a better way for them to cut losses and cost occurring because of such shipping uncertainties. And it's not as if a solution to this problem doesn't exist, it's just overlooked most of the time.
Savvy eCommerce brands have leveraged the benefits of shipping insurance for their orders. By subscribing to their courier vendors' shipping insurance, they are able to protect every package sent.
Most shipping vendors supply standard full coverage for 1% of the stated value of the product with a $1 minimum and are also known to process claims quickly and efficiently. The coverage of such insurances includes worldwide package protection against damage, loss, theft, and more.
Pro tip: If you sell high-end, luxury products, it's also a good idea to nudge shoppers to purchase insurance when they're making a purchase from you.
Challenge #5: Improper Order Tracking For Customers
Let's face it: when a customer places trust in your online store by choosing to buy from you even though they have a myriad of options to choose from, you have got to uphold their faith in your brand. Imagine placing yourself in the boots of a buyer who spent their hard-earned money to buy something, only to find out that they are no longer in control of their order when they are interested in knowing the status of their purchase.
And since we don't live in an ideal eCommerce world yet, deliveries, despite being expedited can sometimes take longer than necessary or required. In such a case, do you just let your customer be at the mercy of the updates you want to send to them? Or go a step ahead and provide them with an order tracking experience which keeps them engaged to your brand as well. We thought you would choose the latter.
As an eCommerce store owner, we don't need to tell you what happens when your shoppers are unable to track their orders - it results in an uptick in the number of WISMO (Where IS My Order) calls, and that really isn't a pretty metric to have for numerous reasons. For starters, it chokes the bandwidth of your support team in having to cater to calls which could have been easily automated than being able to look into more pressing issues other customers might be facing. So, this one really is a no brainer.
Again, thanks to shipment intelligence tech out there and the innovation spurring in the domain, as an eCommerce store, you can now easily get unified shipment tracking to receive detailed order tracking from all of your courier partners on a single portal, and enable communication to customers as and when their product reaches different milestones as decided by you with automated order status alerts on SMS and email.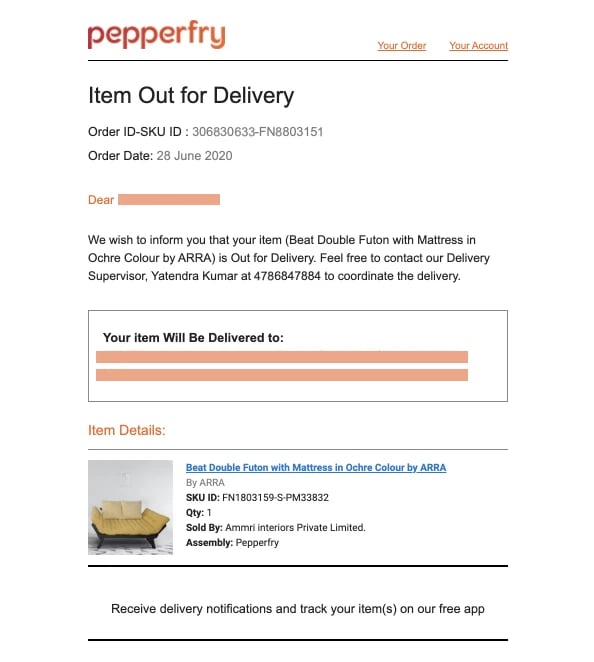 Don't believe us? Read all about post-purchase anxiety here.
Another tactic that you will see most fast-scaling online brands use, is implementing a branded order tracking page. It lets their customers check their order status at any given point in time, without waiting for an alert of having to call someone for the same.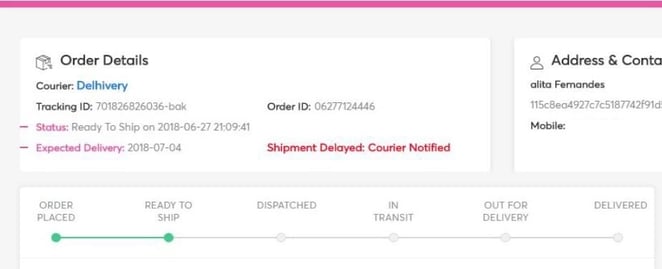 Enable automated order status alerts and a branded tracking page with ClickPost. Reach out to us for a demo.
Challenge #6: Increase In Return To Origin (RTO)
Nothing can be more frustrating for an online seller than getting their products returned, either because of customer dissatisfaction, damage, or non-fulfilment of delivery. However, if there's anything which can make this ordeal even more troublesome, is to lack the right infrastructure to facilitate returns in a smooth and seamless way.
Since most deliveries during the holiday season are sensitive for time to delivery, there is a higher chance for increased return orders and non-deliveries than your usual day. Therefore, as an online retailer, you must be prepared to tackle these challenges and take action in minutes to avoid any further disappointments.
There are numerous ways through which you can ensure reducing the return requests placed on your store, or if that won't be possible, then how to make the experience of returning products a delightful one for the customer. Remember, at this point, if you don't provide an experience which is intuitive, you could break their trust forever.
PS. Did you know that purchase regret is the number one reason for a high RTO? Read about how you can tackle it here.
To know how you can implement a self-serve return request platform and manage NDRs effectively, reach out to ClickPost here.
Challenge #7: Safe Delivery To Comply With Covid-19 Precautions And Norms
Thanks (but no thanks) to the current pandemic, eCommerce retailers such as yourself now have another challenge to steer clear of, and it just might be one of the most important ones. All through 2020, the entire world has struggled with making sense of the situation, devising ways to fight it, making sure the stoves are burning and the economic machine keeps on running.
Much of it has been made possible due to the efforts of frontline workers, followed by the unsung heroes of the crisis - the delivery and shipping personnel. With the ramp-up in sales of everything online, these are the folks who had to put their health and sometimes even lives on the line to ensure they are doing their job in keeping the cycle running - from delivering essentials to now eCommerce being back at its full steam.
And now, in the holiday season, it becomes more imperative than ever, for eCommerce stores, as well as consumers both, to take utmost precautions to keep themselves safe from the risk of catching the virus.
One of the major inventions which most eCommerce stores have deployed has been Contactless Delivery, a method which minimizes the human touch required in the delivery of a package. So, as an eCommerce store, the onus comes on you to ensure you are choosing a delivery partner who has their personnel equipped with the know-how of the same.
Capturing A Piece Of The Online Sales Pie With Predictability
The eCommerce pie is one that keeps on giving (or increasing in size, for the lack of a better reference), and surely, for online sellers to be able to capture a bigger piece of this pie, would need to do something more, better than their peers and competition.
As a starting point, making sure you keep the shipping and delivery challenges we discussed above at bay is a good way to go about things. While you do have a starting point, make sure you tailor these according to the specific category or vertical you operate in to find out challenges which are exclusive to your brand.
Happy selling and happy holidays!