Shipping services
Offers rail, road, sea and air transport

Handles single and bulk order shipment
Special services
Discounts on accounting and Tax software

Offers reverse logistics and tracking services
Technology services
Various ecommerce integration services

Automated carrier selection and tracking
About

Amazon Transportation Services (ATS)
Amazon's exponential growth in the past 1 year is astounding - with a whopping new income of $11 billion and selling ten billion products to hundreds of millions of customers worldwide. With more than 2 million eCommerce stores already on the Amazon platform, integrating your shipping software will help you tap into the vast network that Amazon offers. You'll be able to grow your customer database, expand service offerings for existing customers, and increase profits - paralleling their success. Amazon has been a powerhouse in the e-commerce market since their inception.
They offer many features and benefits to customers, but integrating with them is no easy feat for small businesses due to its steep cost that can quickly transform into large monthly fees. It does not include time needed from developers or other staff members on your team. Integrating Amazon's API requires specialized knowledge of experienced programmers who have done similar integrations before.
So hiring just one developer will set you back thousands in salary alone each month along with additional costs associated with potential six-month contracts at a minimum (alongside all those costly tech expenses). Also, transportation and shipping API integration with Amazon is a long-term process. It requires constant improvements and bug fixes, but there's good news: you can avoid the headache through ClickPost.
Thanks to their unified API integration tool, ClickPost developers will be able to integrate your software with 50+ platforms in no time. Furthermore, when working with ClickPost it won't matter if new updates come out or bugs need fixing. This is because shipping API integration helps you to integrate through them all of that will happen automatically. Integrating your shipping management software with multiple eCommerce platforms and marketplaces like Amazon gives you access to a huge database of over 1 million potential customers.
It saves you an incredible amount of time and money, increases revenue opportunities by providing more customer options, as well as allows for better marketing strategies in the future. ClickPost offers Amazon Transportation Services Tracking and API Integration to help eCommerce businesses go live in just 1 day.
FAQs about

Amazon Transportation Services (ATS)
1) How to track orders with Amazon Transportation Services?
Amazon is known for its speedy order tracking services. Using a tracking number provided by ATS, you can track a single order on the carrier's website. You can also integrate with Amazon Transportation Services (ATS) API Integration using Clickpost, a shipping software, to track orders in a single location.
2) What modes of Transportation does Amazon use?

Amazon provides courier services on a global basis using air, road, rail, and sea. Modes of transportation used by Amazon can vary from sprinter vans to branded trailers on road and 5000+ ocean freight containers. Boeing 767 aircrafts are also employed for transportation of cargo.
| | |
| --- | --- |
| API | Description |
| Manifestation and shipping label generation API: | Create an order with ATS (Amazon Transportation Services) through production of an AWB and a shipping label. |
| Track Shipment API: | Using the unique assigned number for the order, you can automatically track the order during shipping. |
| Cancellation API | Canceling shipments is made easy and automated with this API to speed up returns. |
| EDD API: | Display the estimated delivery date (EDD) for customers after they input their pincode. |
| NDR Action update: | On receipt of an NDR notification, all action taken thereafter is updated to the Amazon Transportation Service Database. |
| Return Web-hooks: | To ensure all tracking updates for returns are provided in real-time, web-hooks go a long way. |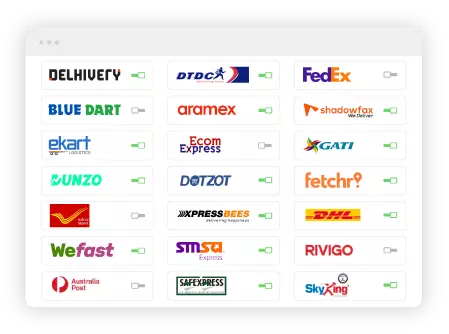 Step 1 - Select The Courier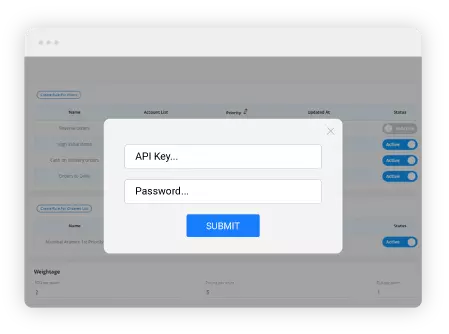 Step 2 - Enter API Key