Fareye API
Integration and Tracking
Get Direct integrations with AWB, Shipping label, Tracking, Cancellation, NDR, Returns API of Fareye using ClickPost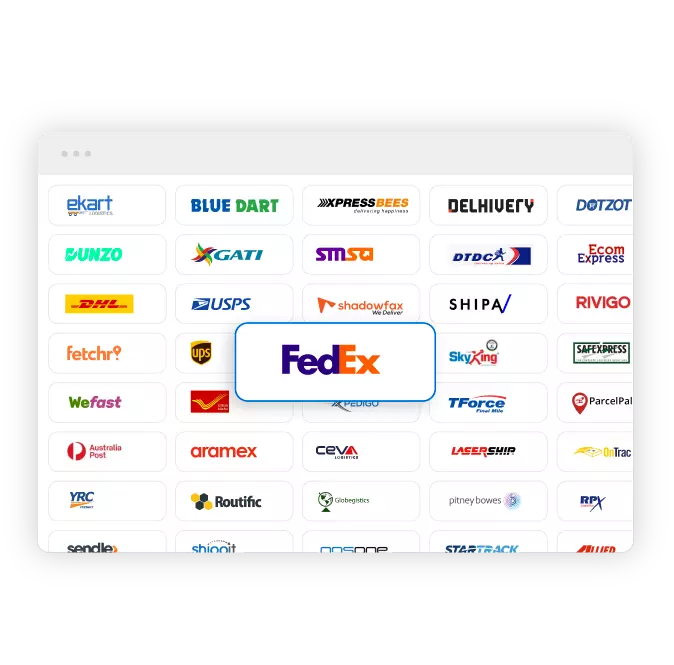 Shipping services
Self-service and flexible schedule delivery

Accurate ETA for orders and return shipments

Multimodal transportation options globally
Special services
Enables own fleet management

Outsourced/crowdsourced fleets

Multiple fleet management options
Technology services
Route optimization and shipping visibility

Automatic order allocation and dispatch

Electronic proof of delivery on handover
About Fareye
Fareye is a SaaS (Service as a Software) company that uses a low code platform to provide Ecommerce businesses with an intelligent delivery management experience. With Fareye, ecommerce businesses can scale up their shipping operations with ease. This is supported by a platform that lets you go live with new logistics partners quickly as well as process orders for shipping with greater speed and information accuracy. Fareye is especially well known for its flexible range of services, providing three major delivery management services. With the help of plug-and-play integrations, this logistics management platform helps ensure over 5 million orders are fulfilled daily by ecommerce businesses tied up with their 17+ partnered companies.
It's Intelligent Delivery Orchestration provides a last mile delivery software that works for companies in the B2B, B2C and D2C sectors. The goal of this software is to enable costs to be minimised and optimal operational efficiency for delivery processing, courier allocation, determination of delivery routes using machine learning and real-time order tracking. With the help of this software, both customers and delivery agent drivers gain greater visibility of your delivery operations on a day-to-day basis. This particular last mile delivery software is fully customisable, can be automated for numerous different tasks and enables you to receive e-proof of delivery after each order is completed.
It enables courier productivity to be improved tangibly over time using automation and visibility to better predict potential SLA breaches. Speaking of visibility, Fareye also provides access to a visibility software which covers your end-to-end supply chain operations. This is extremely useful for multi-stakeholder collaborative efforts involved in the delivery process as it enables you to optimise customer experience through information accuracy.
This visibility platform is popular because it clubs together supply chain visibility and logistics visibility to give you a single location for determining the best transportation operations to meet customer demands. This system equips you to regularly monitor your carriers' performances and ensure they adhere to their SLA terms. The data collected by this software can be shared across multiple systems integrated with your Ecommerce enterprise.
And all aspects of your supply chain can therefore be more easily managed from a single space called the Control Tower. From there, you can note any deficiencies or difficulties arising at any point in your supply chain and plug the hole. Fareye's final product offers an Intelligent Customer Experience. This feature focused on determining customer preferences so as to improve brand engagement and loyalty. The goal of this platform is to help you create closer connections with your customers and properly manage your supply chain operations. Clickpost has courier API integration with Fareye and thereby allows eCommerce companies to go live with Fareye in just 1 day.
FAQs about Fareye
1) How does Fareye Tracking work?
Fareye tracking works in a multitude of ways. The first enables you to track individual orders using each order's unique tracking number on Fareye's platform. You can also integrate with the tech-enabled dashboard to track all your Fareye orders. Integrating with a shipping software can give you access to tracking updates from multiple carriers, including Fareye.
2) What is Fareye Connect?
Fareye connect is the alternate name for the logistics platform and dashboard provided to ecommerce businesses for tracking orders shipping with Fareye. Using this dashboard, Fareye optimizes and automates last mile delivery and tracking.
| | |
| --- | --- |
| API | Description |
| Manifestation and shipping label generation API: | Fareye will handle your shipment once you create the order with them to print the shipping label and waybill |
| Track Shipment API: | Using Fareye API integration, you can track your shipments end-to-end journey in actual time |
| Cancellation API | Don't take cancellations lightly. Quickly cancel orders with your carrier so you can get them back sooner |
| EDD API: | In case of order cancellation, automatically cancel the order with the carrier as well |
| NDR Action update: | Enable immediate and automated updates to the carrier for all post-NDR activities |
| Return Web-hooks: | Returns can be tracked as effectively as customer deliveries using return webhooks |
VIEW API DOCUMENTATION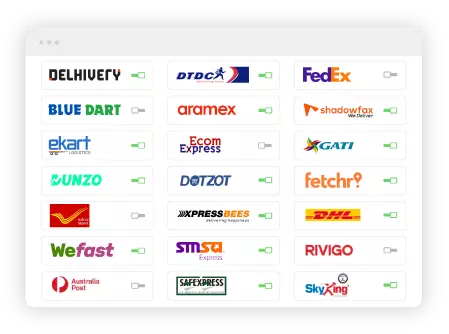 Step 1 - Select The Courier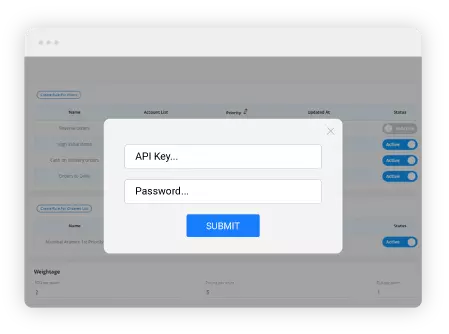 Step 2 - Enter API Key