FedEx API Integration and Tracking
ClickPost Multi-carrier integration platform lets you integrate with 150+ carriers including FedEx using a single API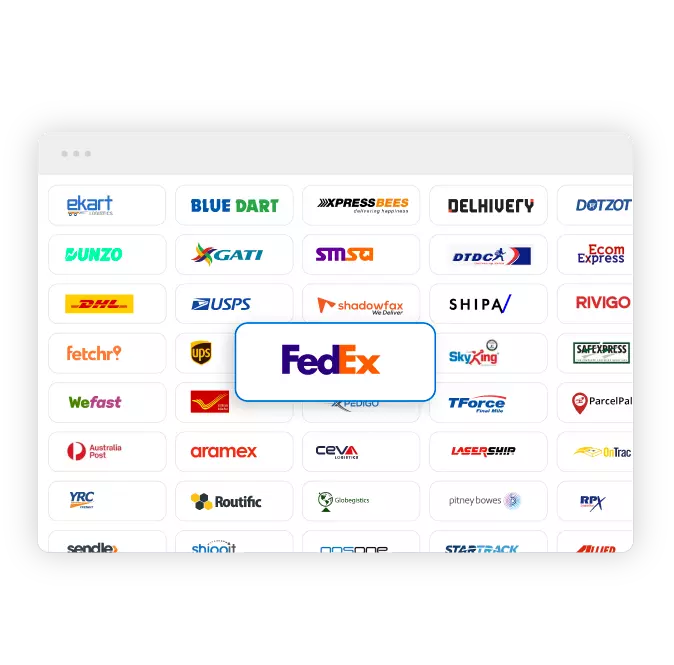 Shipping services
International Express and Priority Services

9 AM / 10 AM/ 12 PM Next day delivery

Priority and Expedited Shipping Services
Special services
Schedule and Manage PickUps

Packaging and Shipping Supplies

Global Returns Services
Technology services
Real-time tracking services

Delivery Management Platform

FedEx Mobile Application
About

FedEx
FedEx is one of the most popular courier services provider companies in the world. It was established in 1971 by Frederick W. Smith and was known as Federal Express at the time. The company was the result of a term paper written by Smith during his time at Yale. His paper outlined several problems faced by the logistics industry, especially with time-sensitive shipments, and proposed a solution which later became FedEx. FedEx became fully operational in the spring of 1973 with a workforce of 389 people and 14 commercial aircraft. FedEx was soon the poster child of fast deliveries and went on to expand to surface shipping, freight, services, logistics and more. By 1984, FedEx had entered foreign markets in Europe and Asia, with regular flights to European destinations starting in the year that followed.
As FedEx spread its international presence it began acquiring carriers and with Tiger International's integration, it became the world's largest cargo-only commercial airline in the world. This was followed by another major event a decade later when it famously adopted the name "FedEx". FedEx is one of the world's largest logistics companies with operations spanning more than 220 countries and territories around the world. It made $69 billion dollars in revenue in the year 2020 and claims to connect almost 99% of the world's Gross Domestic Product (GDP). FedEx handles an average volume of 12.5 million packages every single day through its Express, Ground and Freight arms. It employs more than 600,000 people worldwide under its six subsidiaries and parent operations. It owns 650 aircraft operating out of 650+ airports around the world to provide Express deliveries globally.
FedEx also owns more than 200,000 motor vehicles to deliver packages and help support its 0n-ground infrastructure. It owns and operates 13 air shipping and 39 surface operations hubs as well as 600+ ground shipping facilities. FedEx receives over 100 million monthly visitors and 400 million daily tracking requests on its website. FedEx operates through its six subsidiaries which handle different aspects of the logistics process. It provides air cargo services and overnight, time-definite, delivery services through FedEx Express which operates the largest fleet of wide-body commercial cargo-only aircraft and one of the largest overall aircraft fleets in the world. Its surface operations are handled by FedEx Ground which manages a large number of trucks to provide time-sensitive and affordable surface delivery solutions.
FedEx allows businesses to track their orders and extend such capabilities to their customers by providing an advanced shipment tracking system that can be used to know the location of a package using a unique tracking ID. Apart from these, it offers freight and several logistics services as well as dedicated eCommerce solutions for companies. For eCommerce companies, FedEx offers several services including order shipping and fulfillment, custom and branded packaging, platform integrations and more. It also offers value-added design and printing solutions to companies allowing them to create customized business cards, manuals, menus, presentations.
In its 50 years of operations, FedEx has been recognized as one of the market leaders in the shipping label and logistics industry. Today, it is one of the most popular choices for eCommerce companies around the world to ship products. Its presence in both the B2C and B2B sectors has allowed it to create a unique logistics network that spans across continents, industries, and scales. Since internet penetration has increased significantly over the last 2 decades, FedEx has supported several eCommerce businesses in reaching their customers through a suite of tailored solutions for these online sellers. ClickPost has a courier API integration with FedEx and allows eCommerce companies to go live with FedEx in just 1 day.
FAQs about

FedEx
1) Where can I find the invoice for shipments with FedEx?
If you are subscribed to the FedEx Billing by Email service, you will receive all your invoices in your email in PDF format. Otherwise, you can download the invoices from the shipping management dashboard or the shipping section of the FedEx website.
2) How to reschedule a FedEx Delivery?
If a customer has requested a change in the delivery timeline, you can use the FedEx delivery manager application to request a delivery rescheduling manually. You can also contact support for the same.
3) How do I book a shipment with FedEx?
There are three main ways to book a shipment with FedEx. You can book a shipment with FedEx through the Shipping section of the website, where you can choose the service and receive an estimate for the shipping process. You can also book a shipment from the FedEx app on your phone or visit one of FedEx's locations or depots to book the shipment.
| | |
| --- | --- |
| API | Description |
| Manifestation and shipping label generation API: | Manifest a shipping label to initiate an order request with FedEx |
| Track Shipment API: | Use real-time tracking services of FedEx to locate your parcel in transit |
| Cancellation API | Request the cancellation of the shipment in process |
| EDD API: | Display the estimated delivery date for a particular pin code |
| NDR Action update: | Initiate an NDR sequence to handle failed deliveries |
| Return Web-hooks: | Initiate a reverse logistics request as per the request of the customer |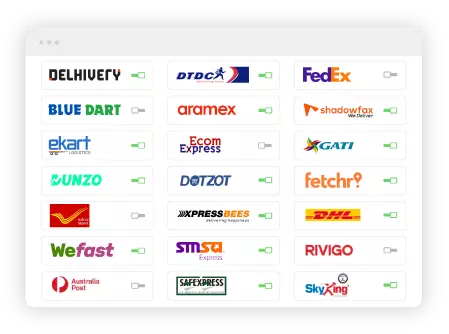 Step 1 - Select The Courier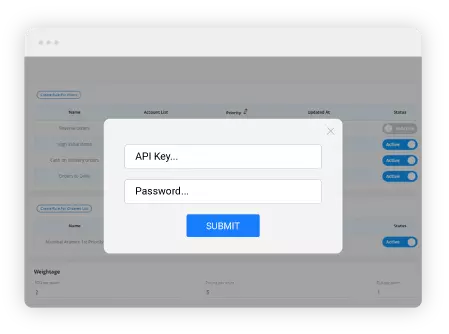 Step 2 - Enter API Key