Shipping services
Domestic doorstep pickup and drop services

Offers same-day. Next-day and 2-3 day delivery

Business Reply Service for ecommerce shipping
Special services
Domestic and International express mail services

Provides customs clearance services

Bulk shipments for express and international delivery
Technology services
Access to an Online Postal Box Service

Provides real-time and history tracking

Offers a range of agency banking services
About

Posta Kenya
Posta Kenya, also known as the Postal Corporation of Kenya, is a government-owned postal and courier service provider company based in Kenya. It was established in 1999 by an act passed by the Parliament of Kenya. PCK was formerly a part of the Kenya Posts and Telecommunications Corporation which later became two entities, out of which Posta was responsible for handling the postal services of the country. The company later expanded into shipping and other logistics services. Posta Kenya is one of the largest logistics companies in Kenya. It operates through a wide network of outlets, post offices and agencies. Presently, PCK manages a total of 31 head post offices in the country. It also runs more than 623 postal and courier outlets and over 204 sub-post offices (0r agencies) in the African nation.
It is also a major employer in the country with a workforce of more than 4,000 personnel. Posta Kenya was initially a postal service provider in the country with courier services as an additional offering. However, the company has expanded since its establishment and currently offers a variety of logistics solutions to individuals as well as businesses in the country. Posta Kenya's offerings include domestic & international mail as well as business reply & bulk mail services. It offers regular as well as expedited mail delivery services. Posta Kenya's logistics solutions include cargo services. It offers air and sea freight services to businesses as well as surface transportation.
Businesses can avail of FCL (full container load) or LCL (less container load). It also offers bulk cargo shipping services. Along with the above, PCK also offers customs clearing and brokerage services to businesses. Posta Kenya's courier service solutions include its EMS (expedited mail service) which allows businesses to make time-sensitive shipments to over 75 countries. Its EMS express delivery solution is offered through 285 centres spread across the nation that accept packages. It also allows businesses to make bulk shipments within the country and offers attractive bulk rates based on volume.
PCK provides parcel services in Kenya through its network of 450 offices in the nation. Its parcel delivery service is capable of delivering items within 2-3 days and can be used to ship items up to 50 kilograms in weight. The parcel service offered by Posta Kenya can also be used to send items to other countries and can deliver items in a period of 5 to 13 days. Posta Kenya works closely with businesses in the country and offers several tailored solutions depending on their requirements. It offers a merchant services solution that allows companies to avail of value-added services provided by PCK at affordable prices.
Since Posta Kenya is the national carrier of the country, it is a major player in its logistics market. It has a wide network and a significant workforce enabling it to handle large volumes of orders. Owing to its domestic as well as international reach, it is a popular choice for businesses that seek logistics solutions in Kenya. Posta Kenya promotes the use of technology and allows businesses to connect with its platform through API integrations.
Through integration, businesses in Kenya can manage and track their orders without any hurdles. ClickPost, the leading logistics intelligence platform, is integrated with Posta Kenya. ClickPost allows businesses to manage their orders, shipping partners and other logistics services through a unified platform. Businesses can integrate with Posta Kenya through ClickPost in one day.
FAQs about

Posta Kenya
1) How long does POSTA Kenya take to deliver parcels?
The average shipment handled by Posta Kenya can take 5-10 days to deliver by air, and 7 to 60 days by road or rail, subject to a port consolidation period. Express delivery services can be availed to ensure delivery within 1-3 days, depending on your requirements.
2) How do I track my packages from Posta Kenya?
Parcels from Posta Kenya can be tracked by simply entering the tracking number of the parcel in the tracking bar on the Posta Kenya platform. However, if you've integrated with the Posta Kenya API through a shipping software like ClickPost, you'll be able to track parcels with Posta Kenya automatically.
3) How Does It Work?
Just hop on board with ClickPost, and we'll get you tied up with the Posta Kenya API Integration, along with any other carrier integrations you need.
| | |
| --- | --- |
| API | Description |
| Manifestation and shipping label generation API: | Generate an AWB and shipping label to create an order with Post Kenya. Then place the pickup request. |
| Track Shipment API: | Post Kenya API Integration ties up with ClickPost to enable |
| Cancellation API | Cancel any shipment to promote faster returns, even after manifestation. |
| EDD API: | Customers can view the estimated delivery date (EDD) of orders on the checkout page |
| NDR Action update: | Any and all activities done after receiving an NDR is automatically notified to Post Kenya |
| Return Web-hooks: | Receive regular and real-time tracking updates for returns using webhooks. |
VIEW API DOCUMENTATION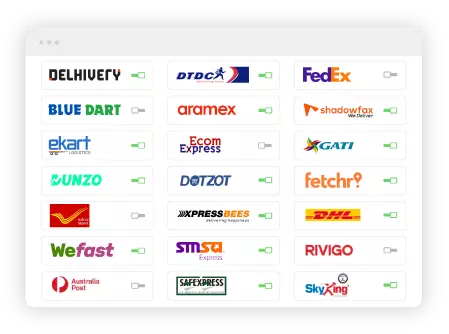 Step 1 - Select The Courier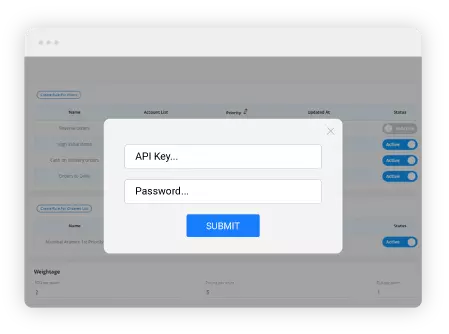 Step 2 - Enter API Key