SafeXpress

API Integration and Tracking

ClickPost Multi-carrier integration platform lets you integrate with 150+ carriers including SafeXpress using a single API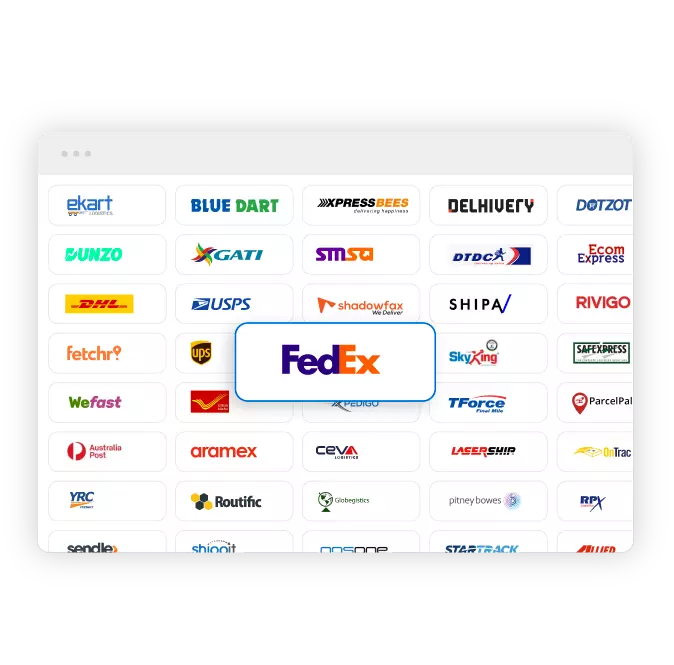 Shipping services
Stock2Shelf Vendor Shipping

Surface Express Services

Air Express Services
Special services
3PL Services

Reverse Logistics

Fulfilment Services
Technology services
Virtual Warehousing Services

Shipping Management Portal

Tracking Management Portal
About

SafeXpress
SafeXpress is a renowned logistics service provider company headquartered in New Delhi. It was established in 1997 as a logistics and supply chain management company, and has since expanded its operations into the eCommerce shipping and fulfillment domains. It has been a popular choice for businesses in India to avail shipping services and has served businesses from several industries for the past 20+ years. Safexpress is one of the largest shipping and logistics companies in India with a fleet of more than 7500 GPS-enabled motor vehicles. Its fleet travels more than 10,00,000 kilometers every single day to deliver products across the country.
It has a reach of 31,161 pin codes in India and operates a total of 1,886 routes for its shipping and 3PL operations. Safexpress helps manage logistics for more than 5000 businesses in India and delivers over 134 million packages for them every year. Safexpress owns a total of 62 logistics parks that are situated in close proximity to several National Highways of India. The facilities offer more than 18 million square feet of warehousing and storage space to businesses with another 3 million square feet of space under development. Its logistics parks provide a secure and convenient way for businesses to keep their products stored and ready for dispatch on-demand.
Safexpress offers a variety of services to businesses in India including distribution, fulfillment, warehousing, consulting, supply chain management and other logistics services. It works with a variety of industries such as apparel, healthcare, automotive and engineering to provide logistics solutions all over the country. Safexpress' offers solutions for both individual and business needs. For eCommerce companies in India, it offers several fulfillment solutions such as goods receipt, outbound logistics, packaging, kitting or assembly, warehouse and inventory management, stock reporting, reverse logistics and more.
It also offers consulting services to companies seeking logistics solutions to help them plan their distribution requirements, resources, warehousing needs, after-sales services along with provisions for documentation support. Safexpress also provides feeder warehousing solutions for retail eCommerce businesses to keep track of diminishing stocks and help replenish them well in time. Safexpress has been a popular choice for businesses seeking logistics solutions in the country for the past two decades.
It has allowed businesses to scale with ease while also helping sellers reach customers in remote areas of India. Its vast infrastructure, wide range of services and wide coverage have allowed several businesses to scale with ease. The company has played a role in the development of the logistics sector in the country by connecting various parts of India through surface transport. Since Safexpress offers a range of services to eCommerce businesses, it uses technologies to make the process of order fulfillment easier for businesses. For this reason, it allows simplified integration with their platform in order to extend tracking, managing and reporting capabilities to businesses. ClickPost has courier and tracking API integration with Safexpress and allows eCommerce companies to go live with Safexpress in just 1 day.
FAQs about

SafeXpress
1) Does SafeExpress provide packaging services?
SafeExpress offers Campus2Home services, allowing students to shift their goods from college to home quickly. Under this service, the carrier offers a 20 kg box for free to make a move more convenient. Apart from this, SafeExpress does not provide any other packaging services.
2) How to get GST invoices from SafeExpress?
SafeExpress offers GST support services. In order to obtain the GST invoices from the carrier, you will need to go under the GST Support section of the website. Under this section, you will find the Create GST invoice and the Download GST invoice option.
| | |
| --- | --- |
| API | Description |
| Manifestation and shipping label generation API: | Create a shipping request with the carrier and generate a shipping label |
| Track Shipment API: | Track your shipments with SafeExpress and forward the latest updates to the customer |
| Cancellation API | Cancel the shipment and initiate an RTO process |
| EDD API: | Estimate the date of delivery for a pin code |
| NDR Action update: | Request and initiate NDR actions to resolve the failed delivery attempt |
| Return Web-hooks: | Approve and create a return request SafeExpress |
VIEW API DOCUMENTATION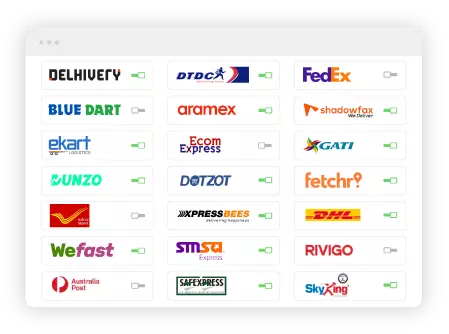 Step 1 - Select The Courier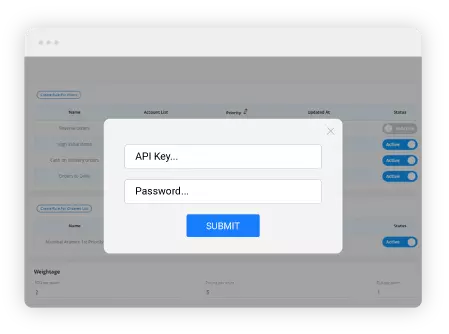 Step 2 - Enter API Key