Shree Maruti

API
Integration and Tracking
ClickPost Multi-carrier integration platform lets you integrate with 150+ carriers including Shree Maruti using a single API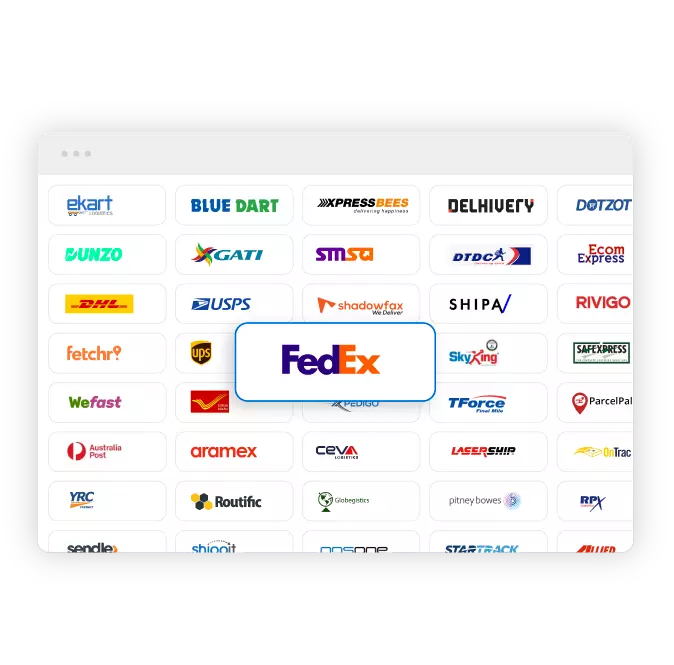 Shipping services
Next-day delivery

Domestic Express

Domestic Cargo
Special services
Pickup Services

Luggage Free travel

Bulk Shipping
Technology services
Track and Trace service

Monitoring and Analysis

Management Dashboard
About

Shree Maruti
Shree Maruti Courier Service is one of the biggest and most reliable courier service providers in the Asia Pacific or APAC region. It was founded by the noted entrepreneur Rambhai Mokariya in Gujarat's Porbandar city in 1985 What was initially a very small organisation with a handful of employees and few services has grown over the years to become one of the premium courier and logistics solutions specialists. In 1987, the company was incorporated as a Private Limited company and started expanding. By the early 90s, it had breached the borders of Gujarat and was doing brisk business in the surrounding states. Today, Shree Maruti Courier Service boasts of over 1600+ company-owned outlets dotting the country.
Leveraging this extensive network and strategic collaborations with smaller, city-based players, Shree Maruti Courier Service provides end-to-end logistics solutions and has penetrated the tier 2 and tier 3 zones as well. It specialises in express and same-day deliveries across India and has more than 5,000 trained experts manning their respective posts across the supply chain. The company also has 20 regional offices located strategically which act as hubs for specific zones. Shree Maruti Courier Service has over 2,500+ fulfilment centres across India, some of them being local partnerships. It also has an extensive presence in its home state of Gujarat and can reach out to its remotest corners relying upon its 'Satellite Points.' Shree Maruti Courier Service also serves 22 major international markets not only in the APAC region but also across Europe and North America. In both its domestic and international markets, the company is reputed for offering value-for-money courier services.
Shipments can be picked up on demand and delivered within 24 hours intra-city. For outstation destinations, the company offers an 'Express Delivery' service via roads and railways. There is a 24x7 service for individual and enterprise clients. For international shipments, Shree Maruti Courier Service offers air freight services. The company divides all types of shipments under 2 broad categories for smoother operations. They are 'Dox' and 'Non-Dox'. Almost all consignments which have no monetary value fall under the 'Dox' category. It comprises mostly time-sensitive legal, non-legal and general correspondence and documents which have a notional value. All other shipments fall under the 'Non-Dox' category. Shipments that may require customs clearance also form a part of the latter category.
Shree Maruti Courier Service provides real-time tracking to its clientele via its website. The interface requires only the shipment or AWB number to be typed in. The company's intra-city 'Dox' shipments are in great demand and are mostly used by private and PSU banks. Their clients include the SBI, HDFC Bank, Bank of Baroda, ICICI Bank and RBL Bank. Ultratech Cement and Airtel also use their services. You can now go live with Shree Maruti Courier Service in just 24 hours! Start using ClickPost's Shree Maruti Courier Service Express shipping and tracking API interaction today.
FAQs about

Shree Maruti
1) What are the types of goods prohibited in Shree Maruti's parcel services?
Shree Maruti does not allow any liquid, semi-liquid or gaseous materials in its parcels. Along with this, the carrier does not have the capabilities to handle goods that are perishable or radioactive. Corrosive or powdered substances are also not allowed. Along with this, any commodity that is not permitted by state or national laws cannot be sent through Shree Maruti's services.
2) How does Shree Maruti charge you for its services?
The carrier either charges you according to the actual weight or the volumetric weight of the parcel, whichever is higher. While the actual weight is checked by the carrier before pushing it forward in the delivery supply chain, the volumetric weight of the parcel is calculated by the formula length x breadth x height divided by 5000.
| | |
| --- | --- |
| API | Description |
| Manifestation and shipping label generation API: | Create an order request and generate a shipping label |
| Track Shipment API: | Trace your shipment through the Track and Trace service of Shree Maruti |
| Cancellation API | Cancel the delivery request and recall the shipment as per the sender's preference |
| EDD API: | Estimate the date of delivery with various Shree Maruti's services based on the delivery location |
| NDR Action update: | Flag a failed delivery to initiate NDR protocol |
| Return Web-hooks: | Initiate a pickup request to process an ecommerce return |
VIEW API DOCUMENTATION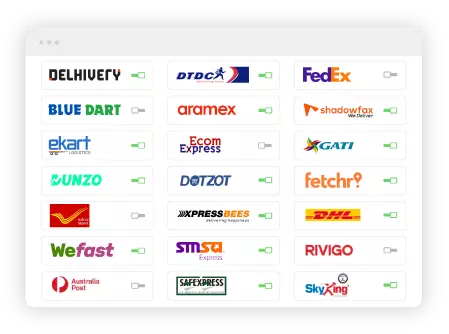 Step 1 - Select The Courier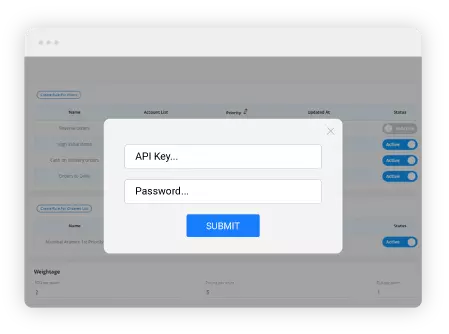 Step 2 - Enter API Key