Top Logistics Companies in Bangalore
The most comprehensive analysis of Logistics companies in Bangalore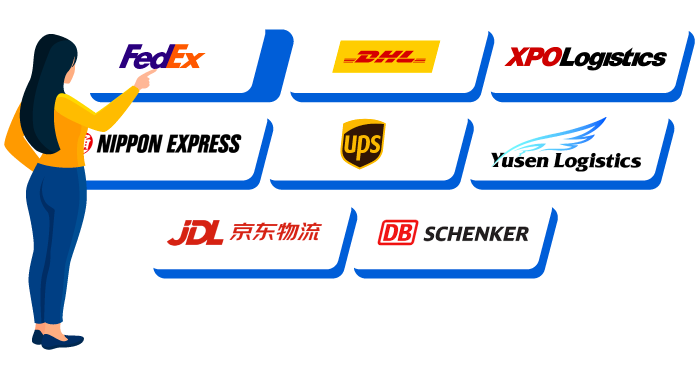 Logistics companies are the backbone of many e-commerce businesses. Bangalore contributes 87% revenue of the state and is populated by internet and tech-savvy people with a significant e-commerce presence. With a diverse population and so much pressure on delivery times and customer satisfaction, it's essential to find a logistics provider that will fit your needs and execute consistent operations day in and day out.
Today's logistics companies use automated tools and complete digitization to execute end-to-end supply chain operations. With the help of our research team and multiple market reports, we've compiled a list of logistics companies in Bangalore that can offer you everything from warehousing services to distribution services.
For your goods to be delivered as quickly as possible, you need a shipping partner with proven experience. With these 3PLs at your side, your business can capitalize on an expanding market.
This blog post is to help your company find the best logistic companies in Bangalore. The following carriers will be able to provide you with all of your shipping and delivery needs, from handling product launches and other large projects to fulfilling orders daily.
2.1) Bluedart
Blue Dart is a premium logistics service provider that was started in 1983. It covers an expansive network of logistics services domestically, with extensive operations in Bangalore. Some of the services include:
Domestic shipping

Warehouse management

Last-mile delivery

Order tracking

Custom packaging

Industry based logistics

International shipping

Temperature-controlled logistics
Bluedart is armed with more than 12,000 employees across India. With their wealth of international shipping experience and connectivity to 220 plus countries, Blue Dart is a reliable logistics partner that ensures customers can easily avoid any hassle when importing or exporting goods. Moreover, they also offer accurate order tracking and express last-mile delivery services.
Further, you can avail yourself of optimization of delivery services, including express delivery, slot-based delivery, and Cash on delivery (COD). On top of that, it provides weather-resistant packaging, making Blue Dart an industry leader and a go-to for various businesses in Bangalore.
2.2) DHL
DHL is a global logistics and supply chain management company with a consolidated presence in India. It started in India in 2001 and offers services including:
Freight forwarding

Warehousing solutions

Expedited delivery services

Real-time order tracking

Pick and Pack

Last-mile delivery

International shipping

Performance Analytics
DHL is a one-stop shop for e-commerce shipping solutions with tailor-made services for transport and warehouse distribution. It caters to diverse industries like healthcare, pharmaceuticals, energy, manufacturing, etc.
It offers specialized packaging and temperature-controlled facilities. They also provide proactive shipment monitoring and automated responses to help manage various partnerships. Furthermore, international shipments with DHL are well-calibrated operations that provide customers with top-notch tracking capability with comprehensive security protocols.
2.3) DTDC
DTDC is a well-established and dependable logistics company in Bangalore that started in the garden city in 1990. Initially a courier service, DTDC is now a more focused shipping provider with extended reach in Bangalore, supported by 430 operation facilities in India.
LTL and FTL shipping

Live order tracking

Last-mile delivery service

Warehouse fulfillment

Specialized shipping

International shipping

Supply chain solutions
DTDC offers 24/7 security for warehouses with temperature-controlled facilities and advanced quality check protocols. Moreover, it provides custom packaging and next-day delivery with COD available.
It also has a dedicated returns management system to manage the return and exchange of products. Furthermore, they provide seamless cross-border shipments with an international presence in 10,000 locations.
2.4) FedEx
FedEx is one of the most sought-after logistics and supply chain companies globally and has garnered a solid reputation in Bangalore. FedEx has been in India for more than 20 years, some of its services include:
Freight shipping

Standard and Premium delivery

Warehouse solutions

International shipping

Live Track and Trace

Returns Management

International shipping

Integrated Logistics
FedEx offers competitive prices and fast deliveries to meet the requirements of your e-commerce business. Customers can avail themselves of flexible delivery services with options for rescheduling and redirecting packages. Moreover, it also offers accurate real-time order status with end-to-end visibility and timely notifications. FedEx packaging has user-friendly options that are ready to use and a self-sealing design.
Furthermore, they offer a wide range of specialized services for shipping goods, including dangerous items like firecrackers and toxic gas, with an international presence in 220+ countries.
2.5) Aramex
It is a multinational courier company, and Delhivery acquired its operations in 2019 for executing domestic supply chains. Some of the services they offer include:
Freight forwarding

Same Day and Next Day Delivery services

Order tracking capability

Free freight analysis

Last-mile delivery

International shipping

Ecommerce solutions
Aramex is situated in 37 strategic locations in India and has been of reliable service in Bangalore. Their dedicated app, Fastway, helps e-commerce companies manage all their business operations in one dedicated portal.
With proof of delivery (POD) and a safe place option for unavailable customers, Aramex enables you to manage delivery exceptions efficiently. And they also offer comprehensive returns management and insurance plans.
2.6) Safe Express logistics
A reputed and experienced logistics provider, Safe Express, was started in 1997 to provide time-definite deliveries and comprehensive warehousing solutions in Bangalore and throughout India. The services they offer include:
Consultation services

Warehouse management

Last-mile delivery

Reverse logistics

Inventory management

International shipping

Green Logistics
They cater to industries like healthcare, FMCG, consumer electronics, automotive, engineering etc., providing specialized solutions. They optimize pick-up with reliable services and accurate returns management. Safe Express also has integrated IT systems for operational efficiency.
Furthermore, logistics services like stock2shelf, vendor management inventory, and virtual warehousing never miss a beat in end-to-end supply chain efficiency.
2.7) Ecom Express
Ecom Express is a technology-based logistics service provider that was started in 2012. They have an impressive presence in Bangalore and service more than 27,000 pin codes in India. Some of the services they offer are-
Warehouse distribution

Doorstep delivery

Reverse logistics

Fulfillment centers

Cash on Delivery
Ecom Express provides an improved order fulfillment process with automated tools and data sciences. They offer express delivery services with a quality-controlled reverse logistics management system.
Moreover, they have integrated artificial intelligence and machine learning systems for decoding inaccurate addresses and scheduling accurate delivery dates. Ecom Express has a fulfillment center space of 1,008,000 sq ft across the country.
2.8) Atlas logistics
It is another trusted logistics company in Bangalore that was started in 1999. They offer a young expert team that utilizes modern technology and the latest supply chain fulfillment operations methods. They offer services including:
Warehouse distribution

Freight management

Supply chain solutions

Order tracking

Custom packaging

Industry based logistics

Insurance policy
They offer customized solutions for catering to various industries with specialized packaging. Atlas logistics also utilizes technological solutions for comprehensive warehouse management with order tracking and a reliable insurance plan.
Additionally, they provide cost-effective prices for an extensive rail network and on-road transportation systems. On top of that, they are capable and well equipped for handling bulk transportation and heavy cargo with expert teams.
2.9) Kintetsu World express
This is a well-known package delivery company in Bangalore that was started in 1997. It is a part of Kintetsu, which is a global conglomerate. It is a one-stop shop for logistics solutions with services that include:
Freight services

Warehouse distribution

Insurance

Industry based logistics

Custom packaging

Order tracking

Last-mile delivery
This shipping company caters to automotive, aerospace, pharmaceutical, manufacturing, and engineering, including unique goods with specialized solutions. They also cater to industries like aerospace, automotive, energy, healthcare, electronics, etc., with industry-specific solutions.
Kintetsu has an employee strength of 418 people with 18 offices. Furthermore, they offer comprehensive warehouse solutions with 24 strategically placed warehouses throughout India.
2.10) Zinka logistics
It is another dependable freight shipping company headquartered in Bangalore, focusing primarily on trucking services. It was founded in 2015. And some of their services include:
Freight services

Trucking infrastructure

Fleet management
They deliver innovative solutions with a modern fleet of well-maintained transportation vehicles supported by highly able human resources. Zinka logistics is spread across 2000+ locations with a fleet of more than 12000 trucks. They utilize data analytics to match operations with the best possible trucking system.
3. How to Choose the Best Logistics Company in Bangalore For Your Ecommerce Business
By now, you have a decent idea of the kind of services 3PLs provide. You may have also started shortlisting these Bangalore logistics companies for your online store. But before you finalize your shipping partner, we would like to share a few things every e-commerce company must consider before selecting a courier service provider.
3.1) Price of services
The aim of every online business is to streamline its shipping operations while remaining profitable. Every logistics provider comes at a cost; what you're willing to pay depends on the required services and your budget.
While global shippers like FedEx and DHL provide all-around logistics solutions, they also cost more money. Before signing the contract, always talk to your provider about hidden charges and value-added items.
3.2) Number of serviceable pin codes
Choosing the courier with the most serviceable locations will benefit you and your customers. You will be able to target larger markets, sell more products, and won't disappoint customers who live in remote places.
Most of the logistics providers discussed above have delivery locations listed on their websites. Check the location finder section to see whether your chosen courier company delivers to the areas you want to target.
3.3) Availability of real-time order tracking
If you want more customers coming to your store, you must send them real-time order status notifications. Online shoppers want to be constantly alerted of their order's whereabouts. Therefore, choose a 3PL that can provide live track and trace facilities. Research suggests that real-time order tracking helps brands provide customers with a much better post-purchase experience.
3.4) Responsive customer care
Every e-commerce seller knows that shipping products do not always go as planned. Orders can be delayed, lost or broken in transit. If a customer receives a damaged product or has a query about late shipments, they would want to talk to someone.
An e-commerce company must ensure that its selected logistics company has responsive customer support to answer customer queries. Doing so will save it from unwanted WISMO (Where Is My Order) calls.
3.5) International shipping
Whether you already sell to international customers or plan to do so, you must hire a logistics provider with cross-border and international shipping capabilities.
While selecting your international logistics provider, check whether they handle customs clearance, duties, etc. Be sure to discuss shipping rates for international services.
3.6) Shipping insurance
Shipping insurance is essential for all online sellers because accidents in transit can result in huge losses. However, it's an absolute must for e-commerce companies dealing in expensive items like jewelry, luxury products, furniture, medical equipment, etc. Most courier service companies provide at least 50% insurance on overall costs.
3.7) User reviews
Checking customer reviews is one of the best ways to see if your chosen logistics company is as good as it says on paper. You can check out user reviews on review sites like g2, Capterra, TrustRadius, etc.
Post the pandemic crisis, every logistics company and E-commerce business is scrambling for new strategies and revival methods to accommodate the shifting horizon in global e-commerce. So, online businesses and logistics companies in Bangalore, with their 3PL network, are determined to shape the country's future supply chain operations.
Moreover, in the present scenario, essential items have been among the more substantial frequencies in shipping, and small enterprises are reviving gradually. While food/cold storage has been a crucial part of the supply chain, mid-range consumer tech gained much momentum even before the pandemic hit.
And the extraordinary impact of logistics companies on e-commerce systems can be witnessed in the global distribution and reach patterns and the transaction tilt from B2B to B2C. Therefore logistics companies are making room for highly evolving business practices with the help of automated tools and ample human resources. So let this article guide you in selecting the best logistics company in Bangalore for your business.
5.1) Which are the best supply chain companies in Bangalore?
Bangalore's best supply chain companies are FedEx, DHL, DTDC, and BlueDart.
5.2) What are the best last-mile delivery companies in Bangalore?
Bangalore's best last-mile delivery companies are Aramex, Safexpress, Ecom Express, and DTDC.