The Complete Guide
Best Shopify Apps For Clothing Store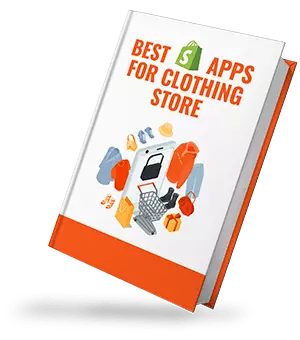 The apparel industry is one of the most competitive industries in the world. It's not hard to see why - with so many retail stores now online, it can be difficult for any single brand to stand out from the crowd. To make clothing stores more appealing, there are a number of Shopify apps that you should consider installing on your site. But we know it's easier said than done because of the sheer number of fashion store apps available on Shopify.
After all, fashion makes up the biggest chunk of the e-commerce industry. To help you stay focused on making your online store live, we have curated a list of the best Shopify apps that will help every clothing store. Our list includes apps that will make your store look prettier, offer accurate sizing charts, simplify shipping and overall run a tight ship.
So, without any further ado let's jump right into the list and find out more about the Shopify apps that can help businesses that sell clothes online!
1. Oberlo - Dropshipping App
4.8
Oberlo is an AliExpress dropshipping app built by Shopify. It is hugely popular among clothing store retailers for the shipping and delivery features that make running a Shopify clothing business a breeze.
Key Features:
Source products from suppliers and have them send them over directly to the customers.

Manage orders and track delivery in real-time

Automate bulk order shipping with only a few clicks.
Pros:
You can give your online clothing store a unique feel and look with customizable store design options like photo books, color schemes, etc.

Oberlo is available in 6 different languages.
Cons:
Businesses often complain about inefficient customer service.

Problems like order not syncing, inventory mismanagement, no notifications, often crop up with Oberlo.
2. PageFly Landing Page Builder
5
An online clothing store needs to look picture perfect to attract the most customers. PageFly Landing Page Builder is a Shopify app that helps fashion stores design an online selling platform that looks remarkable. With this Shopify app, you will not need to hire any website designers to build you a top-notch website.
Key Features:
Unlimited access to eye-grabbing templates, hero banners, pagination, accordion, images, video, etc., for an immediate jumpstart.

Create FOMO in online shoppers with sale season countdown, last in-stock notifications, price drop and more.

Advanced styling available with HTML, CSS Editor, etc.
Pros:
The PageFly app features a page convert program that helps eCommerce businesses convert their existing page into a PageFly page at no additional cost.

Excellent customer helpdesk, called the Dream Team, helps with onboarding and all customer queries.
Cons:
The PageFly app is known to malfunction with high volumes of website traffic.

The app seems to face some problems with Shopify 2.0.
3. AfterShip Order Tracking & SMS
4.4
AfterShip is one of the most trusted order tracking and SMS Shopify apps. For fashion and clothing store businesses, AfterShip can streamline the entire shipping and tracking process and also provide real-time order tracking updates to customers.
Key Features:
Add the AfterShip track button to your clothing store's header and footer to make tracking orders easy.

Increase opportunities for cross-sales with a branded order tracking page.

Get access to 900+ carrier integrations and provide accurate Estimated Delivery Dates (EDDs).
Pros:
Sends regular analytics reports on customer feedback, order fulfillment percentage, order delays, etc.

Allows SMS scheduling based on customer time zones.
Cons:
Automatic carrier allocation does not work properly with a high number of orders.

Non-English users have found other language translations less than perfect.
4. Kiwi Size Chart & Recommender
4.3
Kiwi Size Chart & Recommender is an extremely useful Shopify app for clothing stores. The problem of product returns is rampant in the fashion and apparel industry. This Shopify app for clothing stores allows businesses to create elaborate size charts based on several metrics.
Key Features:
Create generic or customized size charts from images, videos, tabs, etc.

The ML-powered app uses age, gender, weight, and body type to recommend accurate clothing sizes.

Import size charts from different stores onto a single platform.
Pros:
The Kiwi Size Chart Shopify app features an automatic unit conversion system that saves a lot of time.

Great design and chock-full of features.
Cons:
Customer support is limited.

It might be incompatible with certain website themes and features.
5. Growave - Loyalty, Wishlist, +3
4.6
Growave is sort of a one-stop destination for clothing store retailers for all their marketing needs. This clothing store Shopify app takes care of several things at one like loyalty programs, wishlists, user-generated content, product reviews, photos, and more.
Key Features:
Reduce cart abandonment with attractive Wishlist features and reminders.

Grow by referrals from product reviews with photos and other UGC.

Spoil VIPs and repeat customers with gift cards, rewards and boost sales.
Pros:
Allows one-click social logins to Facebook, Instagram, Google, Twitter, and more.

Integrates with several useful Shopify apps like Shopney, Klaviyo, PageFly, Gorgias, etc.
Cons:
Some of the Growave customers find issues with technical support and loyalty programs.

The app can be slow to load in some cases.
6. Spin-a-Sale
4.4
Spin-a-Sale is a Shopify app that brings an element of gamification to your online clothing store. This interactive email pop-up app for Shopify engages shoppers and drives conversion.
Key Features:
Display email pop-ups to visitors once they've lingered on your store for a while.

Identify shoppers that seem to have lost interest with targeted pop-ups.

Automatically generates discount coupons for customers based on their order history.
Pros:
Very user-friendly and compatible on all devices such as laptops, desktops, tablets, etc.

Import subscriber details from Shopify customer lists.
Cons:
Many users don't find it value-for-money because of lack of many features.

Many customers were charged for the app even after uninstalling it.
It can be hard to know where to start when it comes to choosing the best Shopify app for clothing stores. There are so many options out there, and they are all claiming that their product will have you taking over the fashion world in no time. But which is the best option? We've narrowed down the top 5 things to consider when selecting the best Shopify app for your clothing store business.
1. Cost-effectiveness of the Shopify Clothing Store App
To determine how cost-effective an app is, weigh its cost against the benefits it will provide. If the price seems too steep for the features on offer, that is not an app you want to choose for your clothing business. Since most fashion store Shopify apps provide some kind of a free trial, it's best to try out a few before buying one to see which fits the bill perfectly.
2. Availability of Real-Time Order Tracking
Ecommerce businesses thrive on customer loyalty and trust, and you can't have one without the other. Enabling real-time order tracking and updates to customers on their phones and emails via a Shopify app can help strengthen the brand-customer relationship. It will also keep you posted in case of delays or failed deliveries.
3. Industry-Specific Features
A clothing store needs a varied mix of Shopify apps to provide the best shopping and shipping experience. First, it needs an app that makes your store design look fabulous. Then, you need apps for offering various payment gateways and order tracking. Lastly, you need a Shopify app for clothing stores that creates a buzz around your business with user-generated content like reviews, photos and more.
4. Proper Size Charts
The number one reason for returns in the fashion industry is ordering the wrong size. Since customers cannot try on clothes before buying as they do in a physical store, it's even more important for a clothing store brand to use proper sizing charts and size recommendations. The best size charts or recommenders are ones that are intuitive and recommend sizes based on body shape, age, weight, height, etc.
5. Customer HelpDesk
All technological devices and software can face glitches, bugs, and downtimes. To help you when such a thing happens, your clothing store must use Shopify apps that come with decent customer support. A customer service team also helps in the initial days of getting used to the app.
The key to a successful ecommerce clothing store is finding the right balance of different apps that work for your business. From store design and website builder apps like PageFly to loyalty programs and size charts apps like GroWave and Kiwi, there's a lot an ecommerce clothing business can achieve with Shopify apps.
All ecommerce businesses need to take their branding seriously, but no single Shopify app can meet all your clothing store business' requirements. A clothing store retailer must incorporate a mix of Shopify clothing store apps to give the best shopping experience to its customers.
If you're still unsure about what's right for your business - it doesn't hurt to try out different options! Our list of the best shopify apps for clothing stores can help you get started! You won't know if an app is good until you give it a test drive so don't be afraid to experiment with new tools in order to find the perfect fit for your business needs.