Shipping services
Same and Next day deliveries

99.9% reach in Canada

Pickup service
Special services
Mobile Quick Stop for Optimized pickup

Special Holiday shipping with a guaranteed send-by date

Customs support and Brokerage

Returns and reverse logistics management
Technology services
Integrated Solutions for ecommerce businesses

Tracking and Management dashboard for deliveries

Purolator EDI for business intelligence
About Purolator
Purolator is Canada's number one courier company in reach and fleet size. It provides shipping, freight, and courier solutions for businesses and individuals looking to ship parcels in the American and Canadian regions. It offers business solutions for retail and ecommerce sectors that allow these businesses to use their network to provide a seamless delivery experience to customers. Tracking, estimation, and pickup services are provided for shipments and freight for optimised operational efficiency.
Purolator was initially incorporated as Trans Canada Courier company in 1967. After that, the company was acquired by Purolator filters, thus giving the company its unique name. The Canada Post bought the majority stake in the company in 1993. Canada Post owns about 91% of the company, while Rainmaker investments own 7%. The remaining two per cent is distributed among private and public shareholders.
The company is known for its reach in the Canadian and American regions. The carrier has about 99.9% reach in the Canadian region, including some of the most remote regions of the Great White North. The company operates its network through 175 operational facilities supported by 3350+ courier vehicles. The company is the largest in terms of owned assets and fleet size in Canada. Purolator has revoluntized deliveries in Canada with their unique programs and services that fulfil even the small needs of the customers.
In the Shipping department, the company allows you to calculate an estimate before you create your order. You can track your shipping and freight orders. This feature comes in handy in the ecommerce sector as the customers want to know where their order is at all times. Along with this, the company provides pickup services for parcels and business solutions for ecommerce and retail businesses.
Purolator started a 'mobile quick stop' initiative in 2018, allowing the company to add mobile locations for pickups. The company's one of the very carriers in Canada that can guarantee same-day and next-day deliveries all seven days of the week. ClickPost has a tracking shipping and tracking API integration with Purolator that allows you to avail the carriers' services and other essential services like NDR management and returns management.
FAQs about Purolator
1) Can I obtain an estimate before booking a shipment with Purolator?
Purolator does allow you to get an estimate of your shipping cost before booking an order. To get an estimate, you must go to the 'estimate time and cost' section under the shipping tab on the Purolator website.
2) What are the maximum dimensions of the parcel Purolator accepts?
Purolator has limitations on the size of the parcels it can handle. According to the official website, the carrier does not accept your parcel if any dimensions exceed 42 inches and if the parcel volume exceeds 10,000 cubic inches. Along with this, the package's weight must be below 50 pounds.
| | |
| --- | --- |
| API | Description |
| Manifestation and shipping label generation API: | Create order on Courier Partner, fetch waybill and shipping label and place pickup request |
| Track Shipment API: | Track your Purolator shipment using AWB and Courier Partner |
| Cancellation API | Cancel shipment manifested on Courier Partner for faster returns |
| EDD API: | Show estimated delivery date for shipments on the order checkout page |
| NDR Action update: | Updates the after NDR action directly on courier company's database |
| Return Web-hooks: | Track your return shipment using AWB and Courier Partner using web-hooks |
VIEW API DOCUMENTATION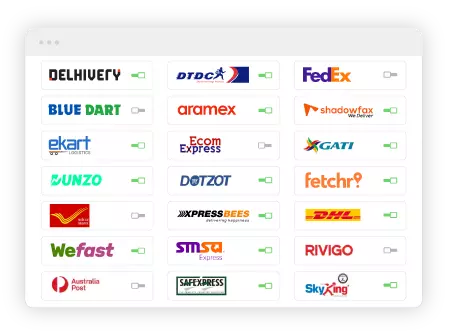 Step 1 - Select The Courier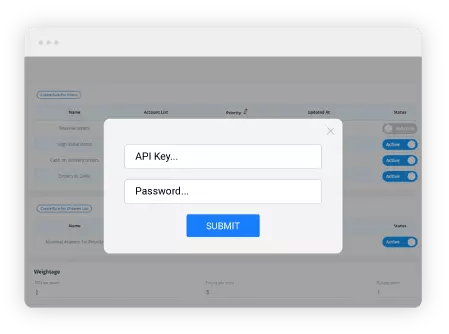 Step 2 - Enter API Key