1) What is AfterShip Tracking Software
AfterShip is an end-to-end order tracking software that provides first-class logistics services to ecommerce companies. It integrates with all major online shopping carts to import all order data onto a single dashboard. From there, businesses can track orders in real-time and send updates to their customers. The AfterShip app, available on both Android and Apple iPhone/iOS devices, can be fully customized to suit every ecommerce business.
2) Introduction About AfterShip Branded Tracking Page
Branded Tracking Page is a premium shipping solution that allows ecommerce businesses to give their customers a branded post-purchase experience. AfterShip offers easy integration of a branded tracking page to your existing online store. A branded tracking page is a valuable asset in increasing the after-sales satisfaction of customers. It drives revenue for ecommerce businesses by giving brand-building opportunities and increasing organic visibility and reach.
3) What is the AfterShip Branded Tracking Page?
The AfterShip Branded Tracking Page allows you to create your own brand-specific tracking page with your store's logo, URL and colours. A branded tracking page not only increases customer engagement, but it also helps increase footfall and organic traffic. The branded tracking page by Aftership offers real-time track & trace with the option of sending automated order status updates to shoppers.
4) How Does the AfterShip Tracking Page Work?
The AfterShip Tracking Page works by integrating all online storefronts and carriers with your ecommerce business. After setting up your branded tracking page, every time a customer clicks on a tracking link they will be redirected to your brand's tracking page instead of a carrier's. This enhances brand positioning and makes your customers want to further engage with your online business.
5) Top 10+ Key Features of AfterShip Branded Tracking Page
AfterShip's branded tracking page can truly revolutionize the way your customers perceive your ecommerce company. Let's take a look at the features that make AfterShip's branded tracking page such a winner among its competitors.
5.1) Order Visibility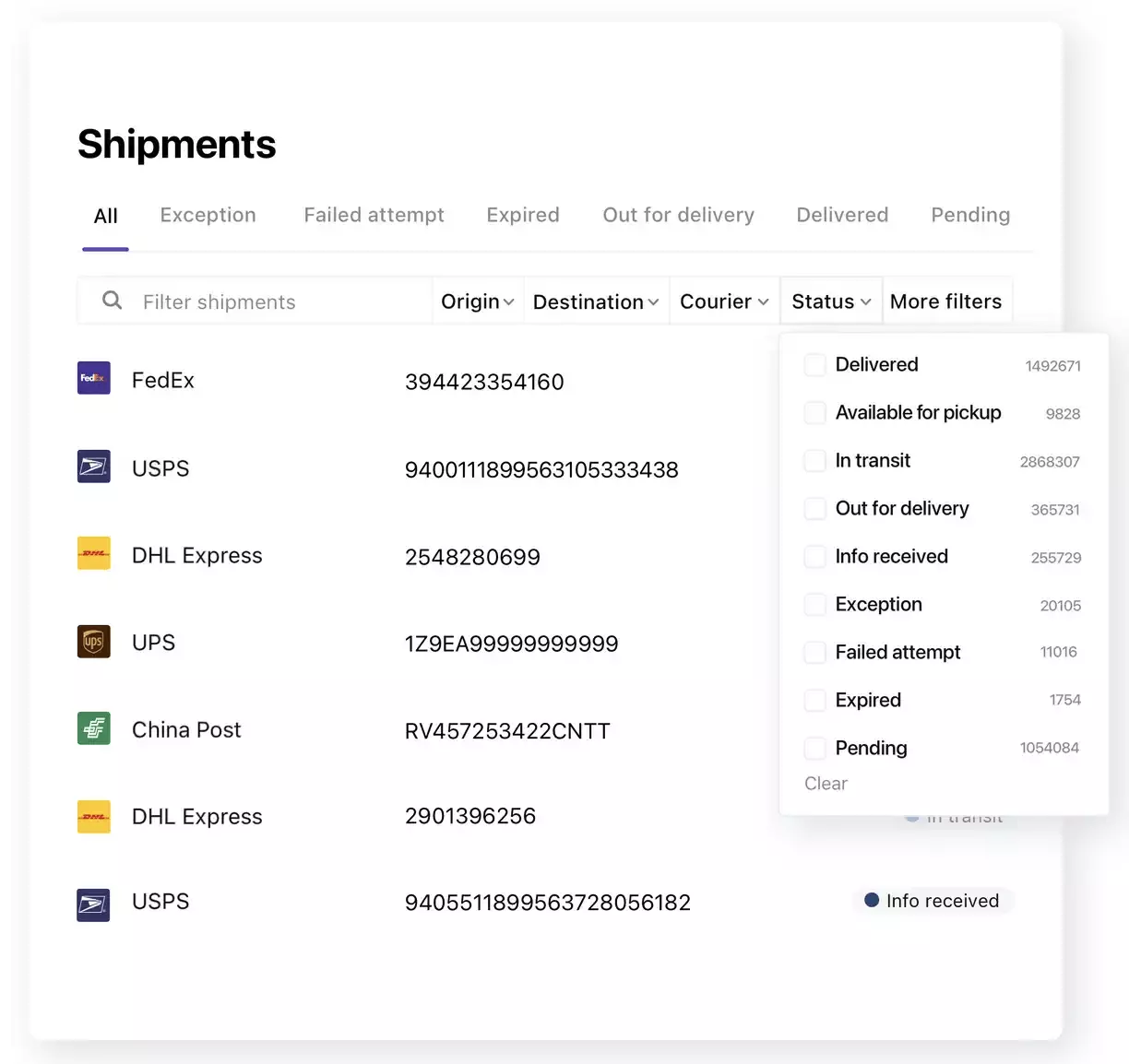 A good part of working with the AfterShip branded tracking page is that it enables all order data shared by integrated online marketplaces to be viewed and managed from a unified dashboard. Ecommerce businesses and their customers can track the live location of their shipments all through the journey. Companies can also use shipping filters to view specific orders by dates, carrier, location, status, etc.
5.2) Redirect Delivery
The tracking page allows customers to make sudden changes to delivery addresses with a single click. The updated address is immediately notified to the commerce company and the carrier. The estimated delivery time can also change with the change in address.
5.3) Language Localization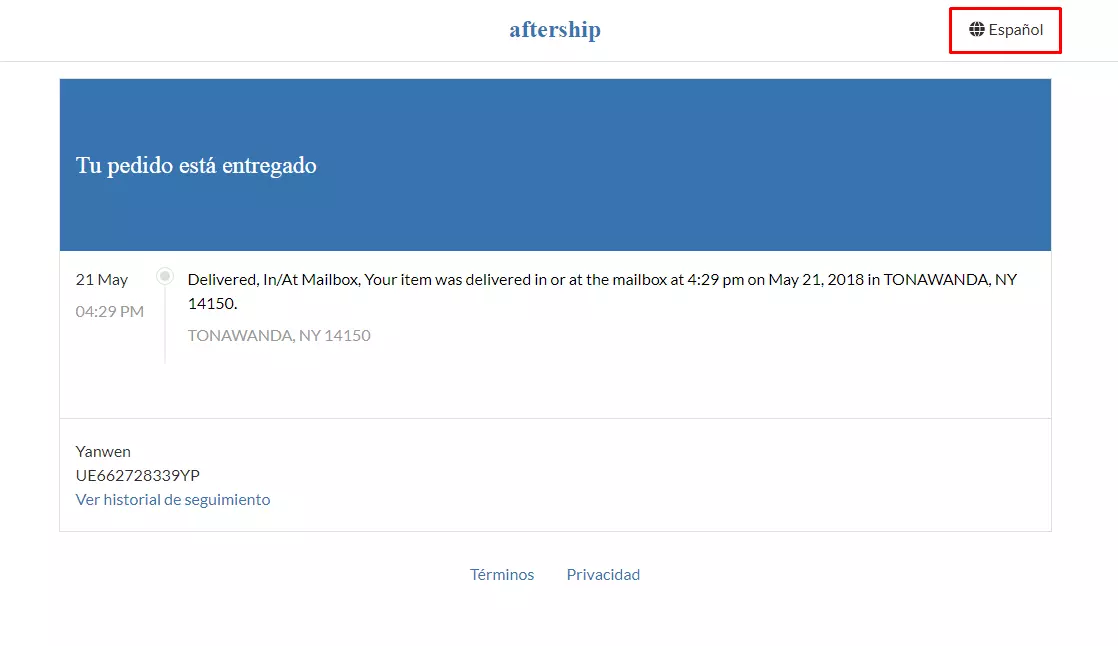 The AfterShip branded tracking page supports over 180 languages and can be customized entirely depending on the destination country. All order updates, via email or phone, will be sent in the same language as the branded tracking page. This feature provides a holistic experience for customers from all over the world.
5.4) Live Instagram Feed
Make customers stay longer by integrating your brand's Instagram page right onto your tracking page. Humans are visual beings and this is the best opportunity to showcase all the cool product images.
5.5) Customisable Tracking Pages
AfterShip's branded tracking page lets you create your own brand image even post-shopping. From introducing cool graphics and brand colours to adding featured images and logos, you can design a novelty post-purchase experience.
5.6)Analytics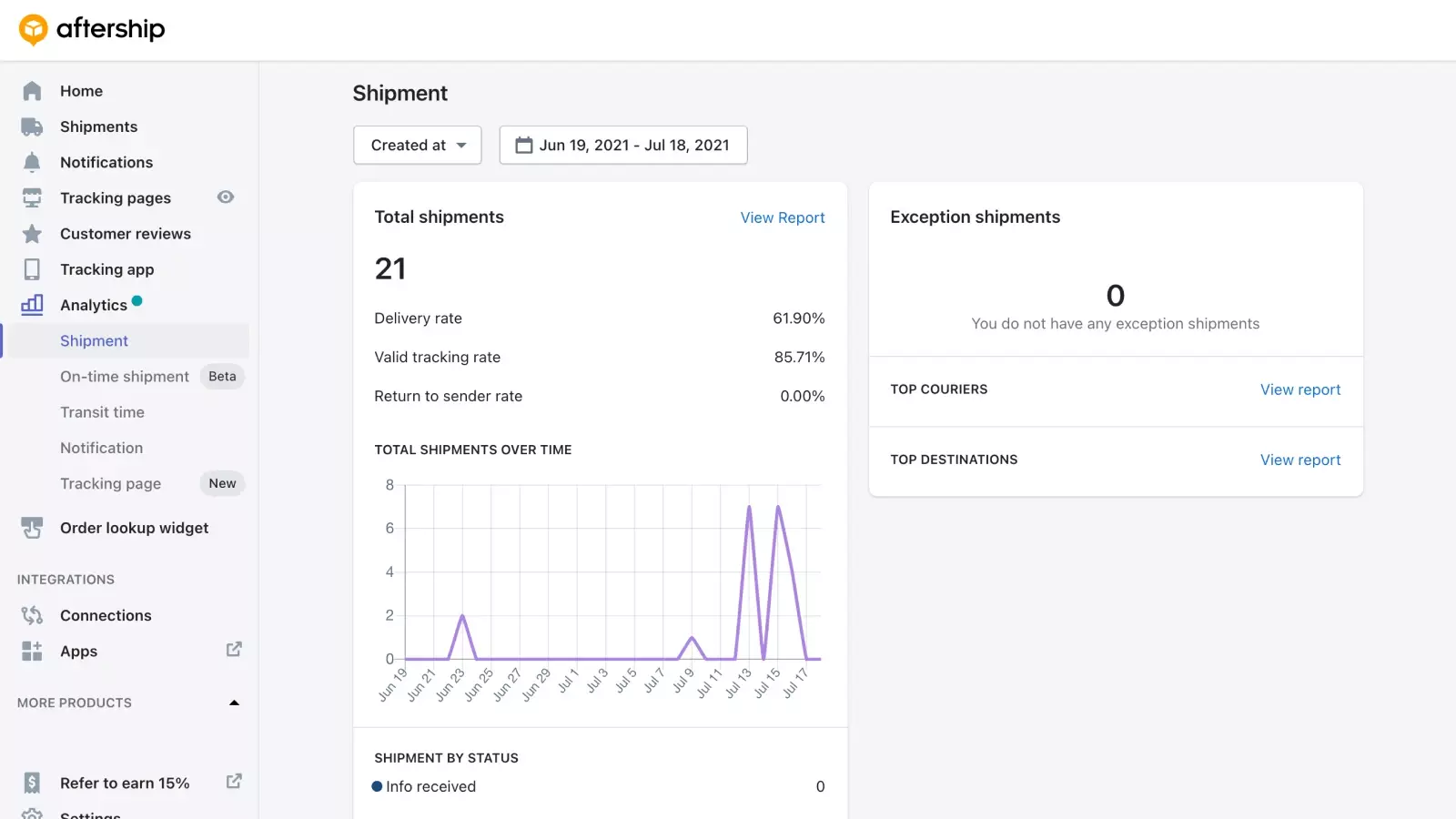 The software keenly measures shipping performance and generates a detailed analytics report on various parameters. With the help of analytics, you can double-up your efforts to address all major issues and pain points of your business.
5.7) Order Notifications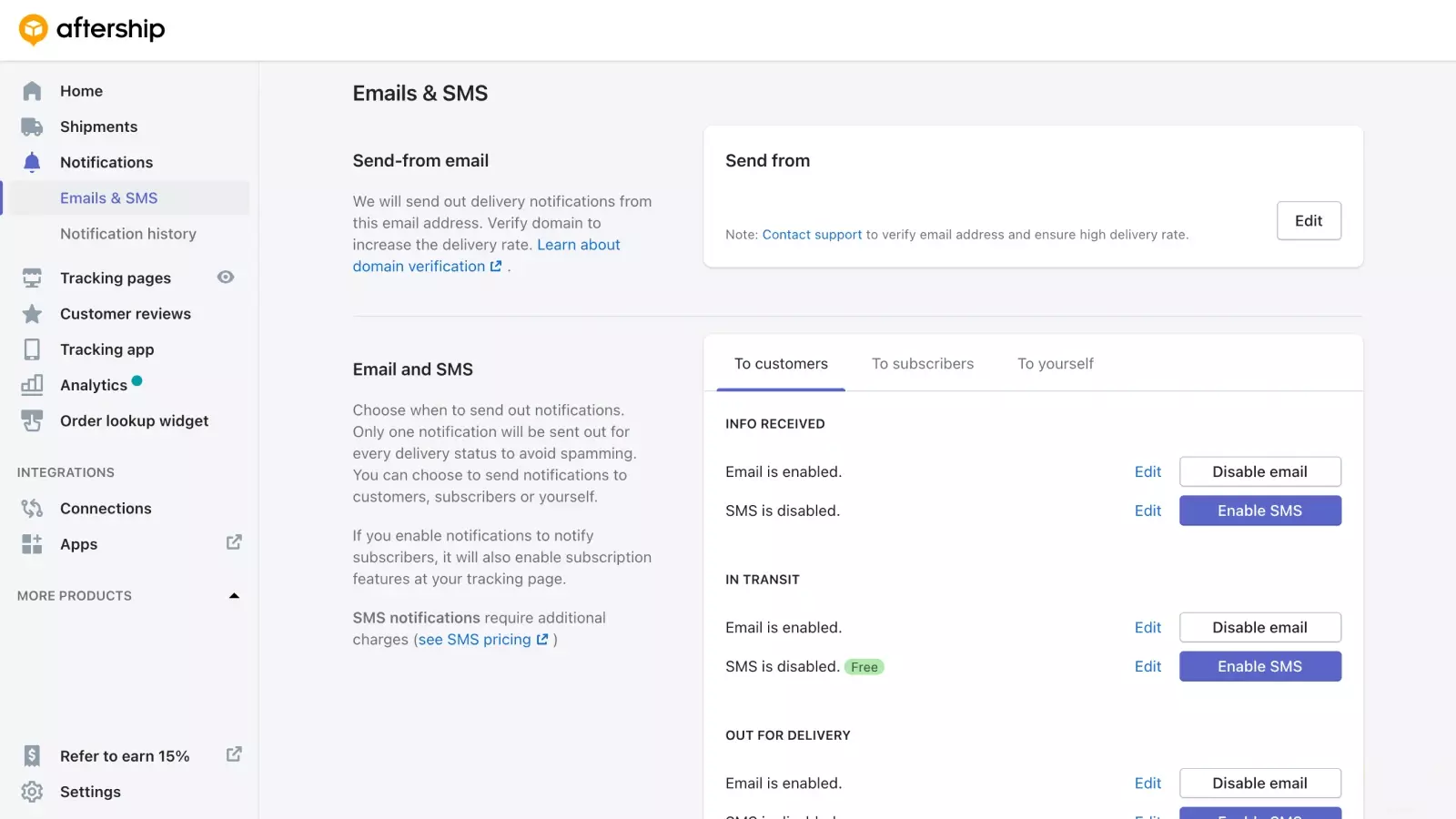 Aftership's branded tracking page allows online sellers to send out order notifications to their customers with a single click. What's more, you can enable, disable or use custom notifications for select customers. AfterShip uses 7 standardized order notifications for all of its integrated carriers.
5.8) Estimated Delivery Date Prediction
A branded tracking page allows companies to send accurate estimated delivery date predictions, that too in a branded message. The message comes with a tracking link that would take them to your branded tracking page.
5.9) Upselling and Cross-Selling with Product Recommendations
Branded tracking pages offer ecommerce enterprises the opportunity to re-engage their customers with featured images and product recommendations. Research shows many repeat customers end up buying from such suggestions. A branded tracking page is the perfect place to advertise newer or discounted merchandise.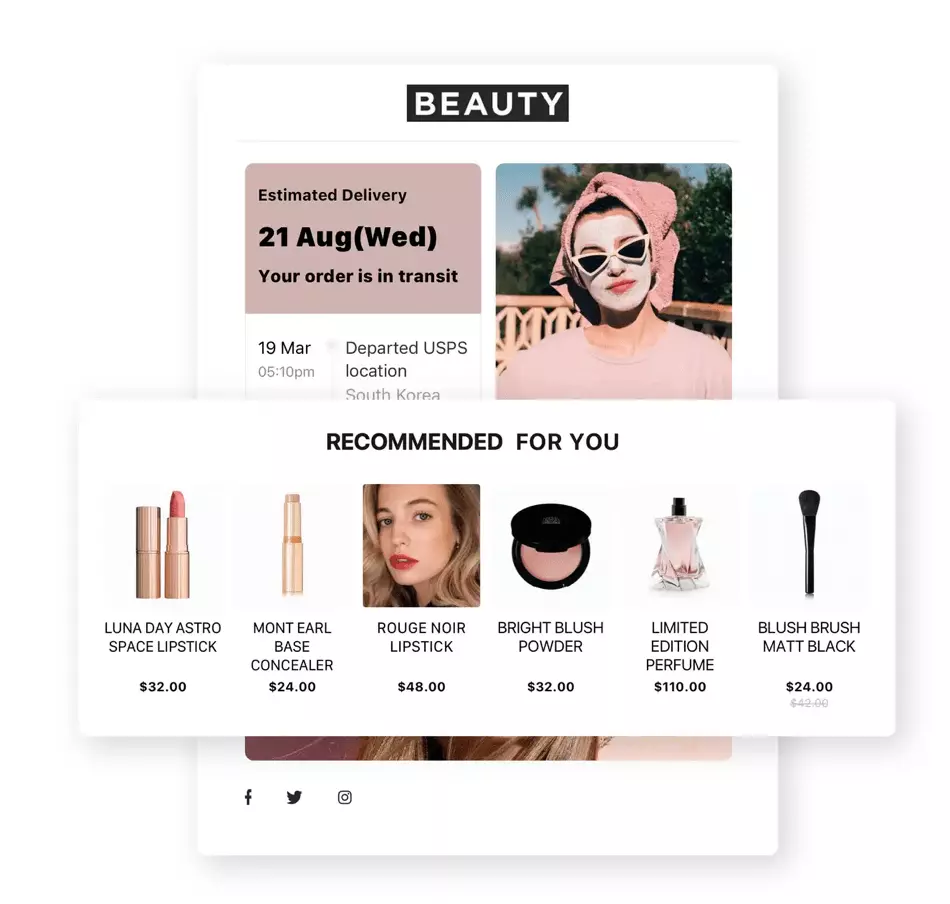 5.10) Personalised Email Updates
AfterShip has got you covered from all sides. You can send your valued customer's personalised order updates via email featuring all details of their shipment.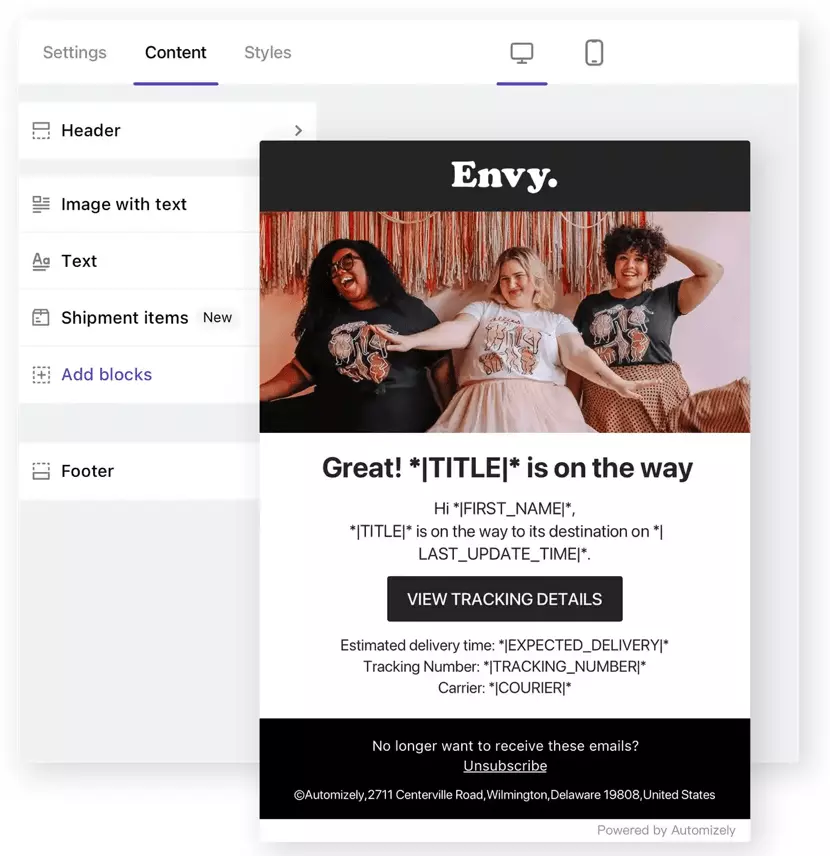 6) How To Embed the AfterShip Branded Tracking Page to Your Existing Ecommerce Online Store?
The AfterShip branded tracking page can be easily integrated with any page on your website or ecommerce store. All you have to do is add the URL of the tracking page to the page you want to link it to. You can share the same tracking links with your customers over email or SMS. All order information is gathered by the Aftership API from carrier partners and displayed to customers.
7) What are the Key Benefits of AfterShip Shipping Software W.R.T. Brand Specific Tracking Page?
The advantages offered by branded tracking pages are unparalleled in terms of efficiency, ease and engagement. The AfterShip shipping software offers both branded and regular tracking pages among its array of shipping and logistics solutions. A branded tracking page once integrated with your store and domain lets you choose and customise the look and feel of the page. You can also add your store's Facebook and Twitter accounts for more customer engagement.
It allows eCommerce companies to penetrate the consumer retail market by creating an engaging platform. For most online shoppers, how a brand handles the post-purchase journey of customers is a big determiner of brand loyalty.
The branded tracking page feature of AfterShip lets you reinvent the post-shipping mechanism. All orders can be monitored and managed from a single interface. With the help of robust analytic reports, you can determine the causes of delayed or failed deliveries and take action to rectify the problem. By streamlining the tracking and delivery system, you can considerably reduce returns and RTO% (Return-to-Origin).
8) AfterShip Branded Tracking Page FAQs
8.1) What are the benefits of using the AfterShip Branded Tracking Page?
Branded tracking page by AfterShip lets you track shipments in real-time and provides a fully customizable branded experience.
8.2) How many carriers and online marketplaces do the AfterShip Branded Tracking Page support?
AfterShip integrates with 800+ carriers including the most popular ones like FedEx, DHL, UPS, etc. It supports over 144 online marketplaces, apps, and plugins.
8.3) How to track packages with tracking numbers?
Tracking packages with the AfterShip branded tracking page is simple. Customers and ecommerce businesses can enter their tracking numbers into the app to access all order information and status.
8.4) How to view multiple shipments under the same order in the AfterShip Branded Tracking Page?
An ecommerce company can view orders by entering the order number or tracking number along with the email id. If the order number is associated with many shipments, all of those shipments will be displayed on the page. This feature helps businesses break down bulkier parcels into smaller shipments.
8.5) How is the AfterShip Track Button embed different from AfterShip Branded Tracking Page?
The AfterShip Track button when added to an online platform can provide all tracking information for orders. However, it will not have the business's logo or any other customization. With a branded AfterShip tracking page, businesses can use their own branding and provide customers with an immersive brand experience.