1. Overview of WooCommerce Order Tracking Page in detail
Woocommerce has become a buzzword ever since it came into existence in 2011. It is a WordPress plugin that allows any website to turn into an online store. It is the world's most extensive, fully customizable, open-source ecommerce selling channel. The plugin is free, but extra features can be added at a minimal cost. WooCommerce has brought tremendous growth & innovation to the ecommerce industry.
The WooCommerce shipment tracking page is a WooCommerce extension that is available for purchase. It allows ecommerce businesses and online shoppers to track their orders. The WooCommerce order tracking page lets online retailers add unique tracking codes to each order.
These codes provide visibility on packages through the transit journey. It also facilitates tracking of shipments by online retailers and customers. The shipment tracking page of WooCommerce can be easily installed and does not require any special technical or coding knowledge.
2. What is WooCommerce Order Tracking?
WooCommerce order tracking is a paid WooCommerce plugin of WordPress. It can be used by online storefronts and ecommerce businesses to provide shipping information to their customers. The shipment tracking plugin automatically sends tracking updates to online shoppers on their email and phone. WooCommerce order tracking page also notifies sellers every time a sale occurs.
The plugin is easily installed and comes at an annual cost of $49.00. It comes furnished with a 1-year customer support and extension updates. Moreover, if you don't like the shipment tracking feature, you can also avail yourself of their 30-day money-back guarantee. For ease of access, opt for WooCommerce Mobile App to stay on top of your orders even on the go. The app is available on all android and iOS devices.
3. How To Install The WooCommerce Order Tracking Page For Ecommerce?
Installing the WooCommerce shipment and order tracking page Plugin will only take you a couple of minutes.
Let's take a look at the steps below:
Make sure your online store or website meets all the requirements for downloading the plugin. You will need to have a WooCommerce version 3.0.0 or higher. Your required WordPress version is 4.6 or higher. You can check the WooCommerce website to learn more about this and other compatibility requirements.
Log in to your WordPress account to view the WooCommerce dashboard and download the extension for "Shipment Tracking".
Add the new extension ZIP file to your existing Plugin and click "Install".
You will need to "Activate" the extension after installation.
That's it, you have successfully installed the WooCommerce order tracking page to your eCommerce site. Now it's time to make it look and feel more like your ecommerce store. Clicking on "Configure" will take you to the customization options. Here are a few ways you can customize and use WooCommerce's order tracking page.
You can easily customize your store's tracking button by choosing the type or color for icon, text, label, and background.
You can also customize order pickup messages and non pickup messages.
Emails with tracking details that are sent to customers can also be easily customized.
4. How To Track Orders With WooCommerce Order Tracking Page?
Once you have set up WooCommerce shipment tracking you should start adding order information to shipments to enable real-time tracking.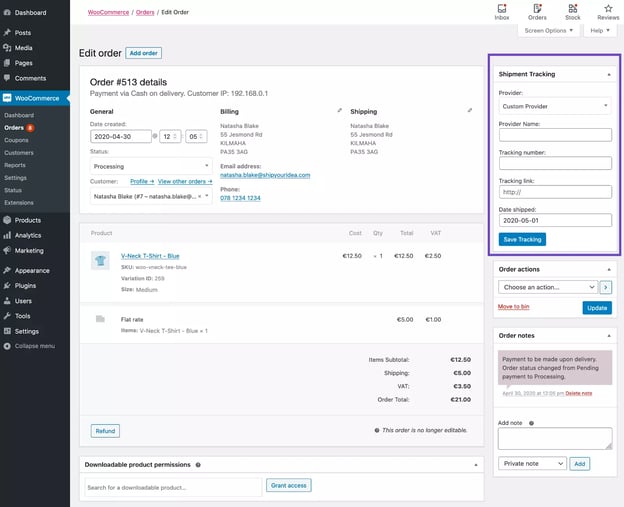 On the WooCommerce Dashboard, locate the View, Edit or Add Order Page.
You will see a blank Shipment Tracking panel on the right side. Click on the panel to start filling out order information.
Choose the carrier provider or shipping company for the shipment.
If your shipping partner is already integrated with WooCommerce, you should find it on the carrier list. If not, select the "Custom" option and fill in the name of your provider.
Fill in the tracking number provided by your carrier. In the case of a custom carrier, you might be asked to provide a tracking link.
You can choose whether to show the Shipping Date on this form or not.
Finally, click on the " Save Tracking" button. At this point, you should change the shipment status of the current order to " Completed" or " Shipped" to send an automatic update to your customer.
5. Which are the Shippers and Carriers Supported by WooCommerce Order Tracking?
This WooCommerce extension supports major carriers and shippers as a part of its core features. Shipment and order tracking by WooCommerce also provides automatic tracking links for renowned logistics solution providers worldwide. They include, but are not limited to :
5.1) Australia
Australia Post
Fastway Couriers
5.2) Austria
5.3) Brazil
5.4) Belgium
5.5) Canada
5.6) Czech Republic
PPL.cz
Česká pošta
DHL.cz
DPD.cz
5.7) Finland
5.8) France
5.9) Germany
DHL Intraship (DE)
Hermes
Deutsche Post DHL
UPS Germany
DPD.de
5.10) Ireland
5.11) Italy
BRT (Bartolini)
DHL Express
5.12) India
5.13) Netherlands
PostNL
DPD.NL
UPS Netherlands
5.14) New Zealand
Courier Post
NZ Post
Fastways
PBT Couriers
5.15) Poland
InPost
DPD.PL
Poczta Polska
5.16) Romania
Fan Courier
DPD Romania
Urgent Cargus
5.17) South Africa
5.18) Sweden
PostNord Sverige AB
DHL.se
Bring.se
UPS.se
DB Schenker
5.19) United Kingdom
DHL
DPD.co.uk
InterLink
ParcelForce
Royal Mail
TNT Express (consignment)
TNT Express (reference)
DHL Parcel UK
5.20) United States
FedEx
FedEx Sameday
OnTrac
UPS
USPS
DHL US
6. Benefits of Using The WooCommerce Order Tracking Page
Integrating your online store with the WooCommerce order tracking page comes with an array of benefits.
6.1) Customer Satisfaction
The one thing customers price above everything else is honesty. They enjoy knowing where their products are and how long it will take to reach them. This part of the process is equally as important as the purchasing itself. WooCommerce's shipment tracking page can help you notify customers regarding their purchases. It can also help you ensure their goods reach them on time.
6.2) Avoid Delays
The best part of using the order tracking extension by WooCommerce is the ability to foresee and resolve issues. The visibility it provides helps you spot problems a mile away and nip them in the bud. This will enable you toensure that your shipments face no unnecessary delays or miss deadlines. Being forewarned helps you be forearmed.
6.3) Improved Efficiency
WooCommerce order tracking provides visibility on your entire eCommerce operations. You will easily be able to identify the areas in which you are struggling and excelling. You can use this analysis as a guide to help you strategize ways to improve your weaker processes. This will help you bring your fulfillment processes on par with your brand image.
7. Conclusion
Using the WooCommerce shipment and order tracking page helps you stay in control of your eCommerce business. It directly impacts customer experience and interaction, improves your brand perception, and boosts overall efficiency in your operations. Simply put, the transparency and visibility this WooCommerce extension provides will help you get the most out of your business. Although it comes with a price tag, the benefits that WooCommerce's order tracking page provides makes it worth the spend.
8. FAQ
1) How do I track my order on WooCommerce?
You can easily track your order on WooCommerce by using the WooCommerce Shipment & Order Tracking Page extension. You can also send order tracking information to customers via email. They will also be able to view and track from their current orders tab in their accounts section.
2) Is WooCommerce order tracking page free to use?
eCommerce businesses operating on the WooCommerce platform need to purchase the WooCommerce order tracking page extension for their use. Although this extension is not free to use, the value it brings to the table makes it worth the splurge.