Shipping services
International and national delivery

Global Express delivery services

Priority Express with customs clearance
Special services
Diversified LTL and FTL solutions

Discounted rates for small businesses

Warehouse Facility management
Technology services
Sensor tagging for fashion stock

Automated inventory management

Advanced shipment tracking services
About

Aramex
Aramex is one of the world's leading logistics and supply chain management companies providing courier delivery and fulfillment services to over 250+ countries worldwide. Aramex started in 1982 as an express delivery company aiding logistic bigwigs like FedEx, Emery, Purolator, etc. Aramex, being a Dubai-based company, became the first Arabian company to be listed on the NASDAQ stock exchange. Since its time of inception, Aramex has successfully bridged the gap between businesses and customers, providing successful deliveries of shipments, parcels, documents through a variety of shipping services like express delivery, freight forwarding, etc. Aramex offers complete warehousing solutions through its large storage spaces scattered across the globe. It currently operates out of 300 offices located in 58 different countries, employs a formidable workforce of more than 66000 people who enable swift deliveries with the help of 30000+ delivery fleets.
With the beginning of the eCommerce revolution, Aramex has also lent its support to eCommerce entrepreneurs by providing shipping operations, delivery, and e-fulfillment opportunities. Since 2011, Aramex has taken on several sustainable projects that truly testify to its tagline, "Delivering Good". With the advancement in logistics technology, Aramex has shifted focus to strengthening its multi-modal technological approach to provide shipping services that require the least amount of manual intervention. Aramex believes in amping up technology instead of physical infrastructure and therefore offers its last-mile delivery services to 250+ countries through local courier delivery providers. This allows Aramex to penetrate the remotest parts of the world.
Aramex offers several shipping services under its banner that can cater to businesses of all types and sizes. They have shipping solutions for eCommerce businesses of small, medium and large capacity, SMBs, B2Bs, B2Cs and more. It also accepts dropshipping orders for individual businesses. In shipping, Aramex offers two kinds of services - Express Shipping and Freight shipping. Express Shipping consists of 3 main services, Export, Import and Domestic, all of which are further divided into specific shipping services. For instance, both Export and Import Services have Priority and Value shipping options that make delivery that much faster depending on the urgency of the delivery.
All of these services come with Proof of Delivery, customs clearance and automated tracking updates sent on customer mobile phones and email. For domestic shipments, Aramex can ship products to the customer's doorstep within a 24-48 hour timeframe. It can also manage product returns with its returns management system and handle outbound and inbound Cash on Delivery orders. Aramex provides Land, Air and Ocean freight services for any package or a bundle of packages that weigh more than 68kgs/150lbs. All of its modern fleets are fitted with the latest GPS technology so that tracking items in a freight is never a problem. Aramex provides a transparent order tracking channel to all its customers from the moment an order is shipped till the time it reaches the destination.
For ecommerce businesses, Aramex has a lot to offer. For businesses who have still not set up shop, Aramex offers the full package that includes building a brand new online shop on one of their integrated marketplaces, ShopGo or MartJack. Aramex provides 24/7 customer support to address any technical difficulties that might arise during onboarding. Ecommerce businesses with pre-existing ships, who only need assistance from Aramex in shipping, may choose one of their core shipping services. These services are - pick up and drop, warehousing, inventory management, returns management, etc. They may also choose from several value-added services like Cash on Delivery or an insurance plan, called Shield.
Both individuals, businesses and ecommerce clients can benefit from Aamex's Shipping Rates Calculator on their website. A transparent and straightforward approach to shipping not only builds trust among customers but also helps avoid any cost discrepancies after shipping. If you are unsure about how shipping rates are calculated, head over to their FAQ section, which clearly answers this question. Aramex is a renowned brand with a good cause. It has been delivering parcels, managing supply chains and maintaining customer relationships ever since it was born. For every ecommerce company, Aramex is a good carrier to partner with. Did you know, ClickPost already has a courier API integration with Aramex that allows you to go live in just 1 day? Try it now!
FAQs about

Aramex
1) How long does it take Aramex to deliver?
Aramex can deliver shipments within 24 to 48 hours in most major cities and countries across the globe. Express and scheduled delivery and pickup services are available as well. Standard deliveries can take between 3 and 7 days.
2) Where can I track my parcel with Aramex?
You can track your shipments with Aramex on the Aramex platform directly. You just need to input the unique AWB number of the respective order. Alternately, you can track all orders with Aramex and multiple carriers using shipping softwares like Clickpost.
| | |
| --- | --- |
| API | Description |
| Manifestation and shipping label generation API: | Order creation is made easy through automated generation of waybill and shipping label, so the order can be picked up. |
| Track Shipment API: | Keep track of orders and get regular shipping updates from Aramex. |
| Cancellation API | Fast cancellation of shipments to promote faster return to origin warehouse. |
| EDD API: | Calculation and display of estimated delivery date (EDD) for customers to see. |
| NDR Action update: | Immediate updates to Aramex Shipping API Integration for all NDR-related actions. |
| Return Web-hooks: | All orders being returned to the origin warehouse can be tracked in real time using web-hooks. |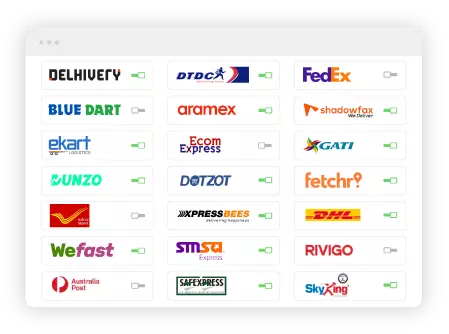 Step 1 - Select The Courier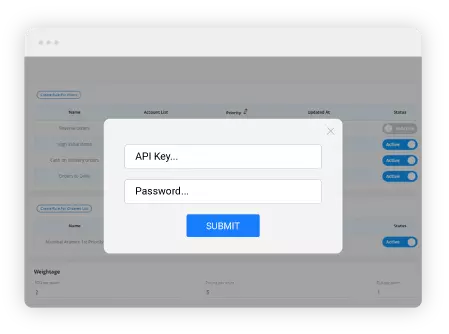 Step 2 - Enter API Key