Dropr

API Integration Platform
Get Direct integrations with AWB, Shipping label, Tracking, Cancellation, NDR, Returns API of Dropr using ClickPost.
ABOUT DROPR
Dropr is an on-demand logistics solution for eCommerce businesses. They offer a real-time, secured and convenient way to book delivery and pickup services via Android/iOS mobile apps and a web app. The flexible scheduling, real-time tracking and the safety of the packages make Dropr a popular choice amongst businesses of all sizes.
MULTI-DELIVERY BOOKINGS
You can book as many pickup and delivery services for your eCommerce business from different locations and select the best-suited vehicle to carry your parcel.
REAL-TIME TRACKING
Dropr gives you the ability to monitor the trip of the vehicle carrying your parcel in real-time with live tracking on the mobile and web apps. It also sends automated SMS and email updates.

PAY THROUGH CASH/CARD
With Dropr, you have the flexibility of paying for the pick and drop of your parcels through cash or online using a credit/debit card. On order fulfilment, you are also asked to rate your experience.
INTEGRATING WITH DROPR: DIRECT V/S CLICKPOST
CLICKPOST API FOR INTEGRATING WITH DROPR
ClickPost already has API integrations with Dropr for the complete shipping process.
Manifestation and shipping label generation API: Create order on Courier Partner, fetch waybill and shipping label and place pickup request

Track Shipment API: Track your shipment using AWB and Courier Partner

Cancellation API: Cancel shipment manifested on Courier Partner for faster returns

EDD API: Show estimated delivery date for shipments on the order checkout page

NDR Action update: Updates the after NDR action directly on courier company's database

Return Webhooks: Track your return shipment using AWB and Courier Partner using webhooks
" We went live with 3 new couriers in 1 week using ClickPost - Superfast execution with no technical glitches. Our reach has increased and overall logistics costs have gone down by more than 10%, thanks to ClickPost "
Head of Logistics
Online Apparel Brand
ClickPost integrates with 120+ Carrier Partners

















List of E-Commerce Shipping Solutions
View all logistics service providers in India and how ClickPost helps you integrate with them
Read More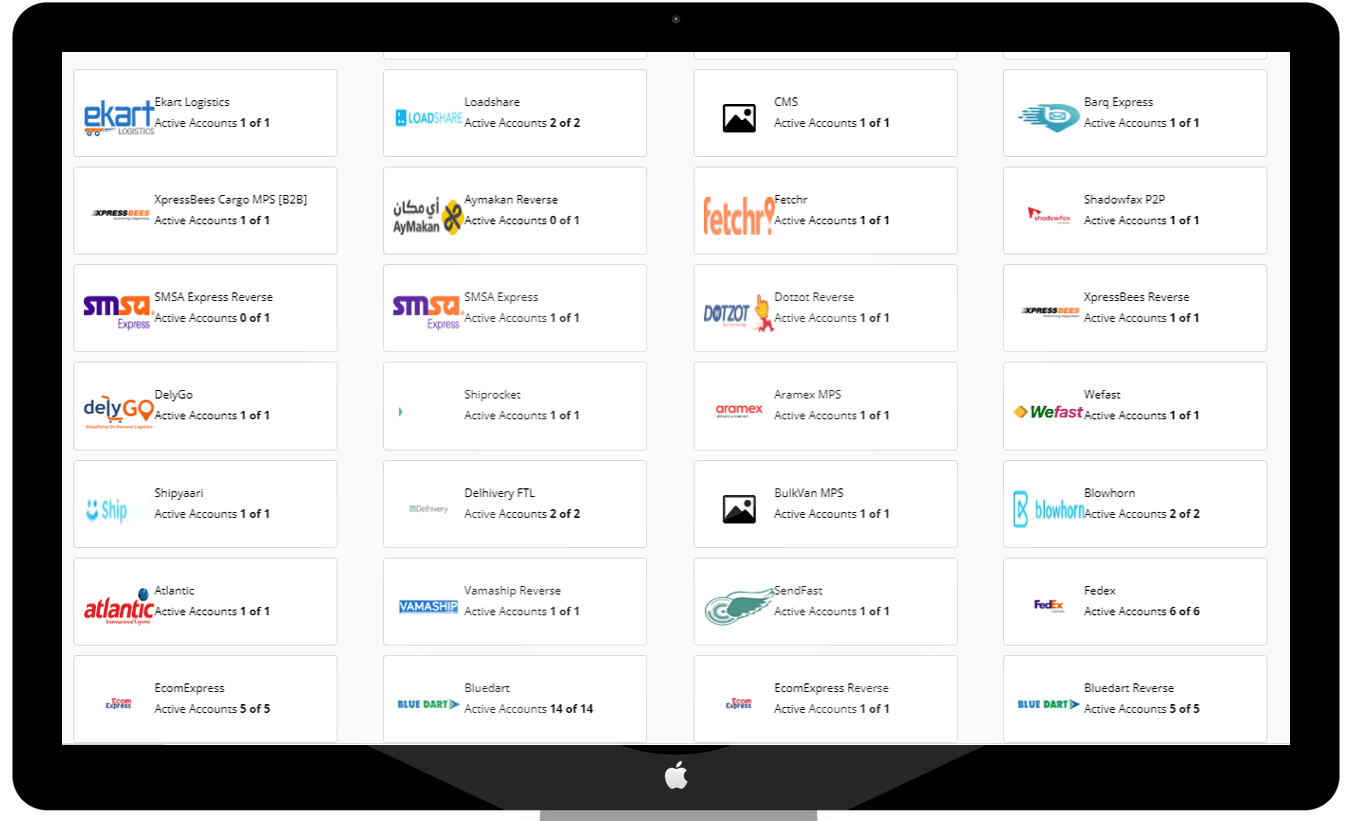 Step 1
Select the courier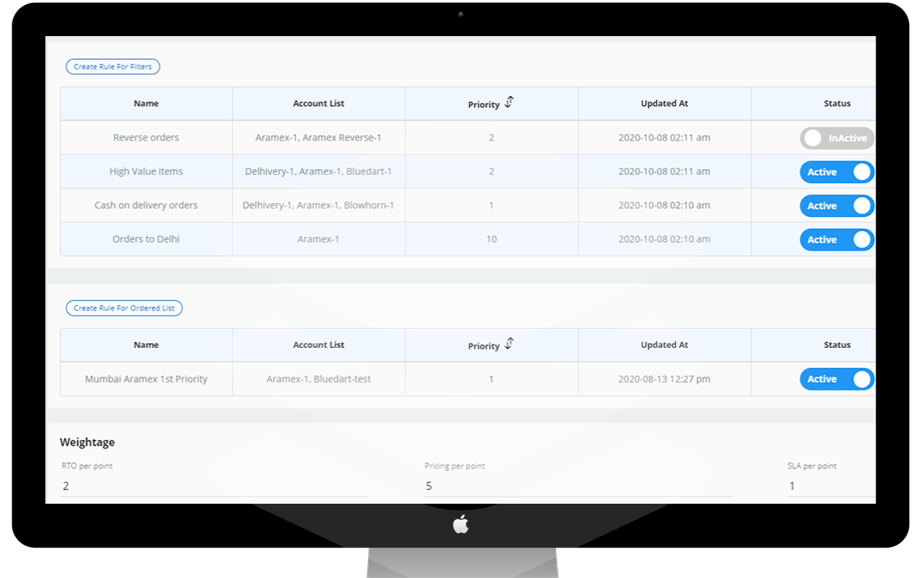 Step 2
Enter Credentials, Pricing etc.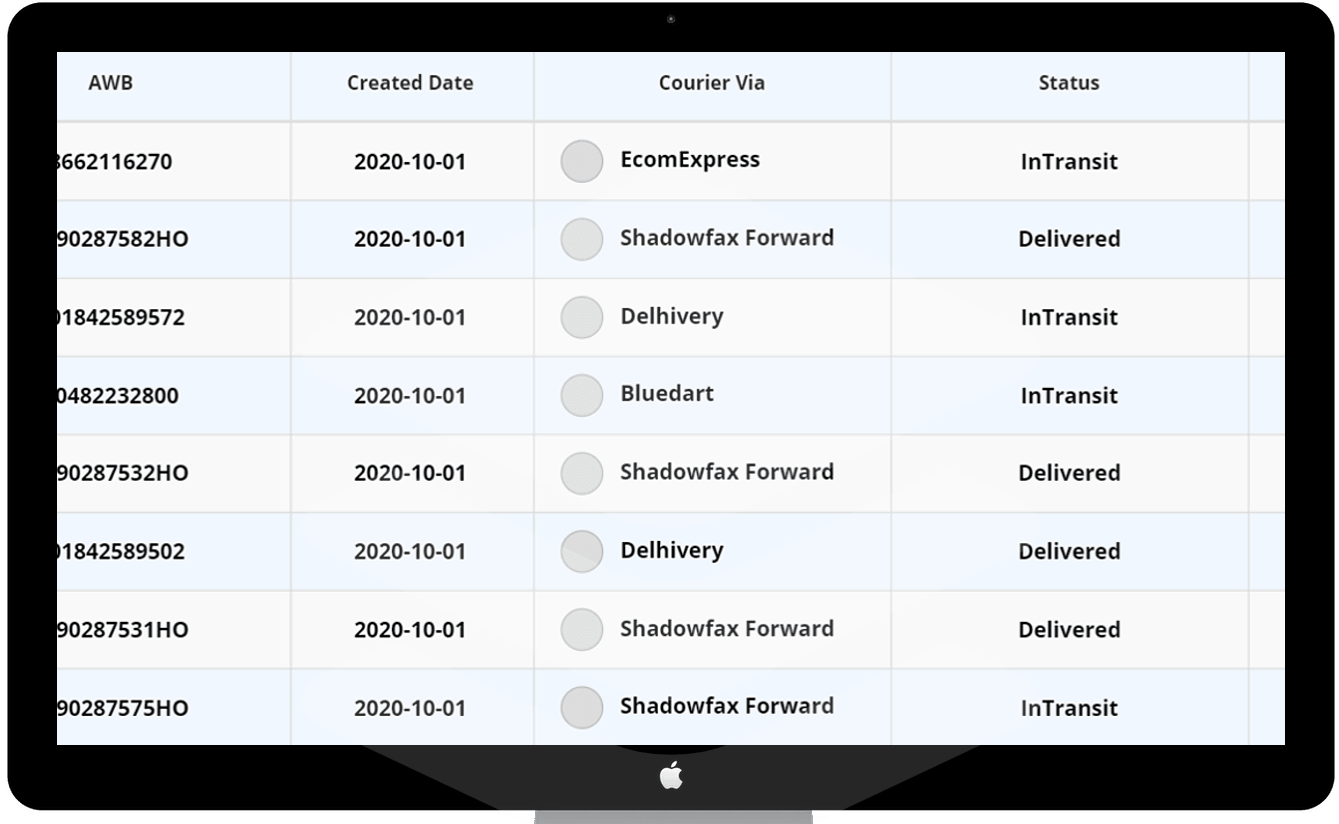 Step 3
Start Generating waybills
Why e-commerce companies prefer ClickPost over traditional logistics aggregators?
Complete control over Contracts with Logistics Partners

No middle-layer - Faster resolution of Shipping queries

Complete transparency in courier performance

Advanced features to reduce RTO% and automate operations CLICKPOST SOLVES MULTIPLE PROBLEMS BEYOND SHIPPING PARTNER INTEGRATIONS
Courier Partner Recommendations: Our logistics intelligence platform comes with a recommendation engine. We help you pick the most suitable courier partner for your orders based on their pickup and delivery performance, payment modes, serviceability, RTO orders and 50+ signals.

Engaging post-purchase experience: Keep your customers in the loop with automated order status notifications on email and SMS. Reduce post-purchase anxiety and WISMO calls, and get an opportunity to sell more with customer engagement.

Branded tracking pages: Make it easier for shoppers to track their orders. Offer a branded tracking page on your store, customized to match your brand. Upsell, cross-sell, collect feedback and improve your NPS score on the page.

Automated NDR flow: With an automated NDR flow, we help you reduce RTO by almost 9%. Get insights into shopper preference and gather feedback in real-time to prevent order delays and post-purchase regret.

Hassle-Free Integrations: Integrate all your carrier partners with one ClickPost API to bring all your data onto a unified dashboard. Get complete visibility on your logistics to improve order fulfilment.
Dropr Shipping, Courier, and Logistics API Integration
Dropr is an Indian startup that offers logistics and supply chain solutions to businesses. It was founded in 2019 by Neeraj Makhija and is currently headquartered in New Delhi. Dropr offers domestics as well as international logistics solutions to businesses in India. It currently serves more than 10,000 pin codes all over India. It also has a reach of more than 90 countries around the world. Dropr offers a variety of logistics solutions to businesses including general courier services, parcel delivery for documents, personal luggage hauling, pharmaceutical delivery and more. It offers pan India surface and air transportation services. Businesses that deal with odd-shaped or specialized cargo can also approach Dropr for transportation.
Dropr provides cross-border solutions to businesses including international air and sea freight, with options for full container load (FCL) and less container load (LCL). For large businesses, it provides supply chain management solutions as well as third party logistics including solutions like packaging, warehousing and cargo delivery. It also offers custom brokerage services for international shipments. Dropr is a budding business in the logistics industry. It offers various services and works with companies from a variety of industries including retailers, corporates, restaurants and apparel manufacturers. Coupled with its international reach, Dropr is a suitable solution for small to medium-sized businesses that are looking for scalable logistics solutions.
Dropr uses technology to make its operations more efficient and offers integrations to partners. API integrations allow businesses to automate several processes and share data with multiple platforms in order to reduce inefficiencies. ClickPost, the leading logistics intelligence platform in India, is integrated with Dropr. ClickPost allows businesses to manage their orders, shipping partners and several other operations through a unified platform. Businesses can go live with Dropr's platform through ClickPost in a single day.