Shipping services
24-48 hours delivery

Weight Flexible Shipping

Automated Carrier Selection
Special services
Early COD Reconicalltion

Multi-location pickup

Advanced Shipping Analytics
Technology services
Shipment Tracking Services

Branded Customer Experience

Marketplace Integrations
About

Pickrr
Pickrr is a top Indian logistics startup that offers affordable shipping solutions to eCommerce businesses. It is a logistics and shipping aggregator that provides online sellers with access to multiple shipping companies and their services with pre-negotiated rates. It allows businesses to access the services of these providers through a unified platform that can be used to perform a variety of functions including order management, tracking, performance reporting and more. It was founded in 2015 and is headquartered in Gurugram. Pickrr has partnered with more than 20 courier companies with the aim to provide cost-effective services to e-tailers in the country.
Pickrr is scaling its businesses rapidly and has raised more than $15 million in two rounds of funding. It does not charge any monthly subscription fees, instead, it operates on a pay-per-use model. Pickrr offers logistics solutions from top shipping companies including the likes of Delhivery, Bluedart, FedEx and eKart. Pickrr provides wide domestic coverage to businesses by providing access to over 26000 pin codes across India, helping businesses reach customers even in remote areas of the country. Its 20+ partner shipping services providers allow businesses to deliver their products to more than 200 countries around the world.
Pickrr also facilitates easy integrations with multiple digital storefront platforms such as Shopify, Magento, Woocommerce, and more. Pickrr allows businesses to ship all kinds of products to almost everywhere their customer is located. Its partnerships with top logistics companies allow it to serve virtually anywhere in India and in 200+ other countries. It allows businesses to decide where they need their products to be picked up from. Through its multi-location pickup service, businesses can have their products shipped from multiple warehouses around the world using surface, air or sea transportation modes.
There is also no limitation on the number of orders a business can ship using the platform. Pickrr provides flexibility with shipping choices through unique weight slabs ranging from 500 grams to 10 kilograms to offer the most convenient solution. Adding to the convenience of the platform, it offers Calcula, an AI-powered tool that automatically selects the most ideal carrier based on your needs. Pickrr also offers advanced analytics to help businesses assess and manage the performance of their shipping process through comprehensive reports.
It helps businesses monitor their shipments, cycles of billing, COD remittances, and the growth of their business. Pickrr is a great choice for businesses that are in search of an aggregator that can offer them affordable and flexible shipping solutions. Through its per-as-you-ship model, Pickrr eliminates any fixed charges for businesses, meaning they will only be required to pay for the services that they avail.
Apart from that, the various weight slabs, international coverage, and integrations make it a highly scalable platform for businesses who seek to expand their operations. Since Pickrr helps manage multiple shipping companies, it allows businesses to easily integrate with service providers that can resolve specific problems for them such as NDR management, returns management and more. ClickPost has courier and tracking API integration with Pickrr and allows eCommerce companies to go live with Pickrr in just one day.
FAQs about

Pickrr
1) Is Pickrr courier partner?
Pickrr is not a courier partner but rather a shipping aggregator. The single integration with Pickrr enables access to 20+ carriers and 50+ marketplaces integrations. This allows businesses to expand across multiple sales channels.
2) How do I track multiple orders across multiple couriers?
Pickrr equips you with an integrated tracking dashboard that will enable you to access the tracking status of your order across multiple couriers. The integrated dashboard allows you to track their orders in a single window, irrespective of the number of courier partners you use.
3) What is the COD remittance period with Pickrr?
Pickrr has a weekly COD remittance period which allows you to maintain a periodical cycle with your COD orders and manage your finances. If you prefer a different remittance cycle, you can ask your sales POC during the onboarding process.
| | |
| --- | --- |
| API | Description |
| Manifestation and shipping label generation API: | Create a shipping label and request pickup with multiple carriers |
| Track Shipment API: | Trace your shipment in transit and get regular updates about the Pickrr delivery |
| Cancellation API | Cancel the shipping request with Pickrr |
| EDD API: | Boost conversions by estimating the delivery date for custom's pin code |
| NDR Action update: | Manage NDR actions and scenarios |
| Return Web-hooks: | Manage return pickups and handle reverse logistics process |
VIEW API DOCUMENTATION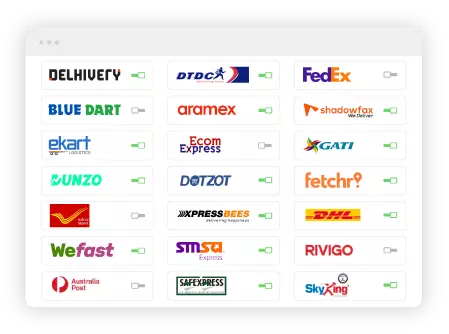 Step 1 - Select The Courier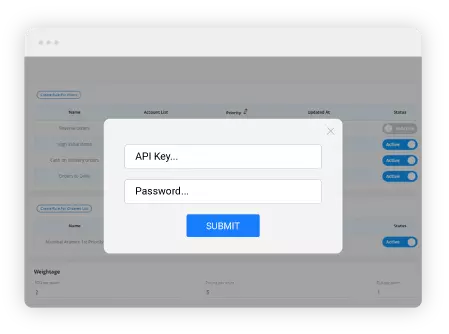 Step 2 - Enter API Key