Rivigo

API Integration Platform
Get Direct integrations with AWB, Shipping label, Tracking, Cancellation, NDR, Returns API of Rivigo using ClickPost.
ABOUT RIVIGO
Rivigo is a technology company that is building the material movement pipeline of India, using a unique model that innovates relay trucking. They enable efficient logistics using an interplay of technology, data, culture and operational excellence to reach 4000+ cities, 29,765 pin codes.
FULL TRUCK LOAD
Based on a unique pilot relay model which allows Rivigo to offer delivery services in unprecedented transit times for various industries in eCommerce.
Reduction in transit times by 50-70%

Extensive network of 70+ pitstops spread across India

Safe and secure transit in containerized vehicles

Fleet of over 3000 vehicles
EXPRESS CARGO RELAY
Rivigo powers their operations through data and technology to deliver high efficiency and vast network coverage with express cargo services.
Client ERP integrations

Damages or thefts as low as 100PPM

Covers over 30,000 pin-codes across the nation

Over 97% on CSAT scores
COLD CHAIN RELAY
A service for businesses in segments like pharmaceuticals, dairy, fruits and vegetables, frozen foods, perishables, ice creams, chocolates and similar products.
Remote temperature control technology

70+ service pit stops to ensure cargo is always within 2-3 hours
Over 250 vehicles with the best AC units

Well established SOPs and highly trained operations staff

Real-time visibility of temperature and location tracking on web and mobile apps
INTEGRATING WITH RIVIGO LOGISTICS: DIRECT V/S CLICKPOST
CLICKPOST API FOR INTEGRATING WITH RIVIGO
ClickPost already has API integrations with Rivigo eCommerce logistics for the complete shipping process.
Track Shipment API: Track your shipment using AWB and Courier Partner


EDD API: Show estimated delivery date for shipments on the order checkout page


NDR Action update: Updates the after NDR action directly on courier company's database


Return Webhooks: Track your return shipment using AWB and Courier Partner using webhooks


EDD API: Show estimated delivery date for shipments on the order checkout page


NDR Action update: Update the courier company on NDR


Returns: Track your return shipments using AWB and Courier Partner
" We went live with 3 new couriers in 1 week using ClickPost - Superfast execution with no technical glitches. Our reach has increased and overall logistics costs have gone down by more than 10%, thanks to ClickPost "
Head of Logistics
Online Apparel Brand
ClickPost integrates with 120+ Carrier Partners

















List of E-Commerce Shipping Solutions
View all logistics service providers in India and how ClickPost helps you integrate with them
Read More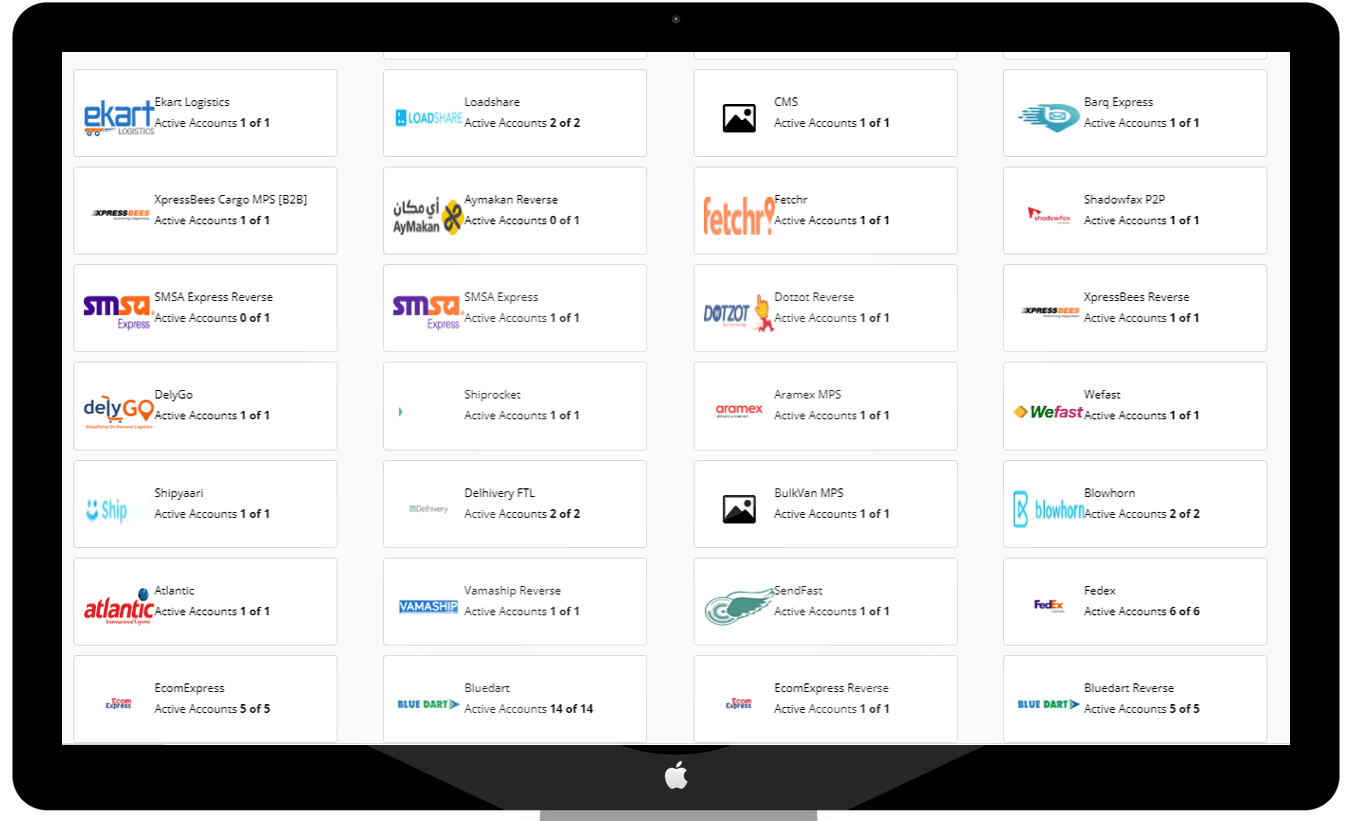 Step 1
Select the courier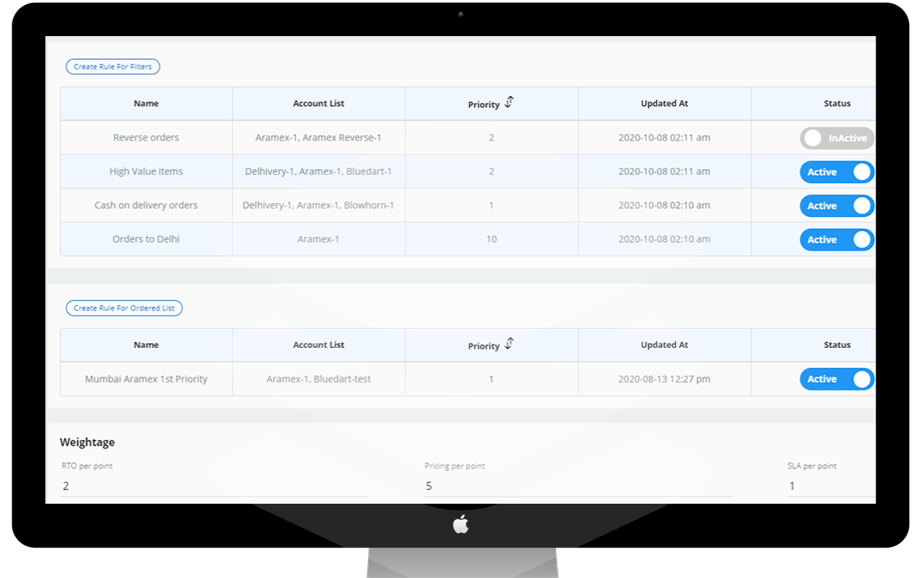 Step 2
Enter Credentials, Pricing etc.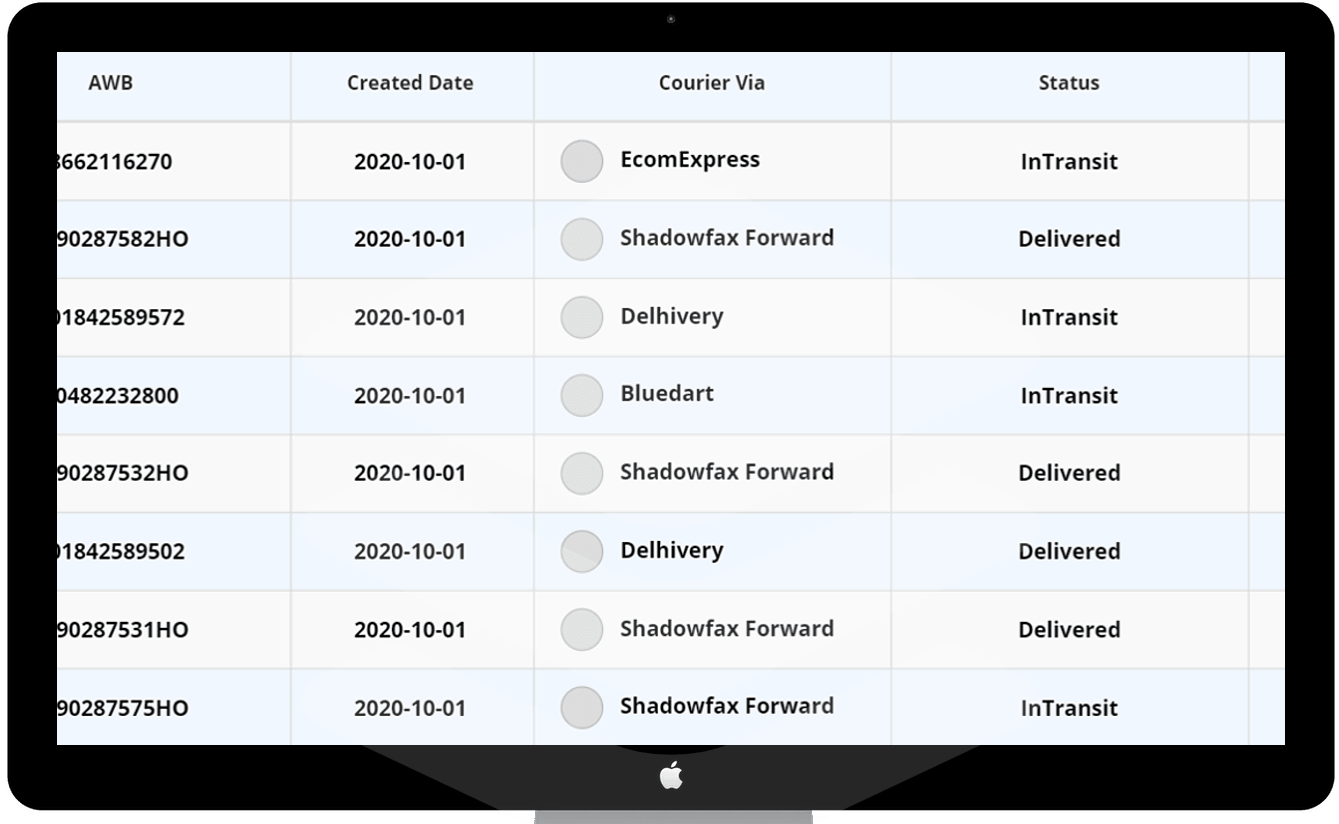 Step 3
Start Generating waybills
Rivigo
Rivigo is a shipping and distribution services company based in India. It was founded in 2014 and is currently headquartered in Gurugram. Rivigo offers surface transportation services to businesses in India, helping them connect with customers in over 4,000 cities. It covers a total of 29765 pin codes throughout the country using its fleet of 5,000+ trucks and over 200,000 verified fleet owners. It operates a network of 250 processing centres covering an area of more than 10 million square feet. It also has a network of 70+ pit stops across India including in Tier 2 and Tier 3 cities.
Rivigo offers two major types of services, namely Part Truck Load (PTL) and Full Truck Load (FTL), along with several value-added solutions. Under its Part Truck Load offering, it allows businesses to send a preferred number of items through its fleet and uses ERP integrations to manage the shipping process offering one of the lowest defects in operations in the country at 100 PPM. Under its Full Truck Load service, it allows businesses to book an entire vehicle to transport goods throughout its serviceable area.
It promises 50%-70% lower transit times via a relay-led model which transfers vehicles from one driver to another at pit stops, making the work hours healthier for truck drivers and improving the safety of items in transit. Additionally, Rivigo provides value-added services such as appointment delivery which allows businesses to deliver their items on time and safely, while also providing real-time updates to sellers. It offers cash or cheque-on-delivery solutions to online sellers, collecting the desired payment instruments at the time of delivery and then providing real-time updates on the status of remittance.
It also offers a self-service client portal for efficient management and minimal lag between processes as well as regular alerts to sellers. Rivigo offers dedicated solutions for different industries including fashion and apparel, automotive, FMCG, healthcare, eCommerce, electronics, and more. It allows businesses from different industries to receive customized solutions to help improve the logistics experience. Rivigo is a logistics solution for medium and large companies, providing industry-specific solutions and a host of value-added services for efficient operations.
Its massive self-owned fleet and innovative relay-led model allow it to increase efficiency and promote employee health. Further, its several integrations extend various capabilities such as order management, tracking, and alerting to business partners allowing them to resolve issues and monitor the shipping process closely. ClickPost, a leading multi-carrier management solution and logistics intelligence platform is integrated with Rivigo and can help businesses integrate with the carrier in a single business day.