Shipping services
Same-Day Domestic Shipping

Next-Day International Delivery

Slot-based Delivery
Special services
Shipping Insurance

Exhibition Shipping

3-hour Customs Brokerage
Technology services
NDR management protocol

Warehousing and fulfillment

Automated Import/Export
About BVC Logistics
BVC Logistics is a one-stop shipping platform for all B2B and B2C gem and jewelry businesses. It started operations nearly 60 years ago and has some of the best-curated services targeted for luxury jewelry brands. Some key advantages to using BCV Logistics are a wide pin code coverage (over 10000 in India), exports/imports in 130+ countries, and fast API integrations. It also offers assured delivery and shipping insurance for all packages. The need for safe and superfast deliveries in the jewelry segment has led BVC Logistics to provide 1-day delivery across India and 2-day shipping worldwide.
What's great about BVC Logistics is that they have built their services around the most common challenges faced by global jewelry entrepreneurs in B2B and B2C shipping. These include a lack of an efficient last-mile delivery system, exorbitant shipping costs, cases of loss, damage, or theft, and a decentralized inventory leading to slower deliveries. To remedy these issues, BVC Logistics offers 9 specialized services across 4 use cases - exhibitions, ecommerce, fulfillment, and refining.
BVC ValSHIP and BVC iValSHIP provide B2B domestic and international shipping services. While BVC ValSHIP guarantees 18-hour deliveries, iValSHIP completes fulfillment anywhere between 18 hours to the next day. Both come with door-to-door delivery and a real-time order tracking system. It also offers round-the-clock customer support.
Ecommerce companies can opt for BVC eSHIP and BVC ieSHIP to deliver domestic packages within 24 hours and international shipments in 2 days. All orders are fully insured under both schemes. BVC Logistics only ties up with DHL, FedEx, and UPS for secured cross-border shipping. Merchants get the best shipping discounts and cost-effective deals to help grow their business in global markets. Customers are intimated about the status of their shipments through timely order tracking messages and emails.
In LuxeSHIP, BVC Logistics helps export and import high-value luxury items, like jewelry and leather goods, and safely transport them to retail outlets in bulletproof vehicles. It also has one of the fastest customs brokerage services in India, with a turnaround time of only 3 hours. Brokers handle KYC and registration and upload all export/import data onto the automated platform called Icegate for further processing.
Their final offering, BVC ExhiSHIP, caters to all jewelry businesses that want to increase their brand's reach and exposure by participating in exhibitions. Along with to and fro delivery of selected items in a specialized van, BVC Logistics arranges for the safe storage of all goods for the duration of the exhibition. It is the trusted partner for over 100 global brands and expertly handles all documentation related to international exhibitions. You can integrate with ClickPost's BVC Logistics Tracking API if you think this platform is perfect for your business and start shipping in a day!
FAQs about BVC Logistics
1) Does BVC Logistics offer competitive shipping costs?
Yes, BVC Logistics offers economical shipping prices allowing businesses to exp[and freely without too many hassles. Its base shipping charges are low compared to most jewelry shipping platforms.
2) How to track packages with BVC Logistics?
To track your BVC Logistics shipments, enter the order number or tracking ID provided to you at the time of booking. Clients can track multiple shipments at once by entering all order numbers or tracking IDs together.
| | |
| --- | --- |
| API | Description |
| Manifestation and shipping label generation API: | Begins order processing by initiating shipping label and AWB number generation |
| Track Shipment API: | Enables shipment tracking from order processing to fulfillment |
| Cancellation API | Allows customers to cancel orders |
| EDD API: | Displays the estimated delivery date for every product |
| NDR Action update: | Manages failed deliveries by starting the NDR response protocol |
| Return Web-hooks: | Receives customer return requests |
VIEW API DOCUMENTATION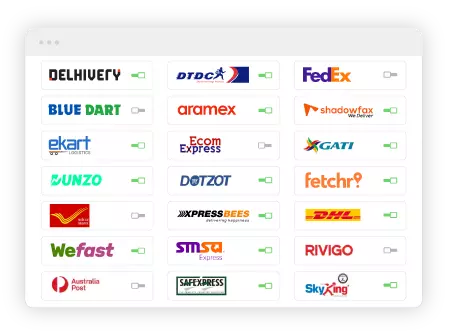 Step 1 - Select The Courier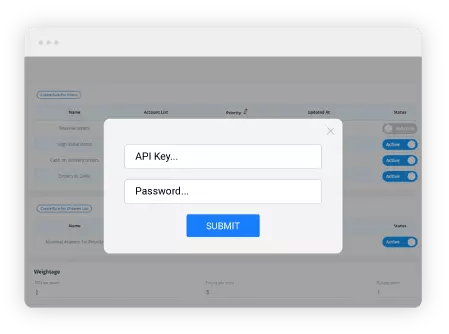 Step 2 - Enter API Key