Shipping services
Air/Sea/Land Freight

Bounded Logistics
Special services
Warehousing and Distribution services

Brand Services
Technology services
Real-time vessel tracking

Dedicated CCTV Access
About GMT Logistics
GMT Logistics is a logistics company focused on enabling delivery and 3PL services across the middle east region. The carrier is one of the few commercial entities that is licensed to handle cigarettes, cigars, and raw tobacco products in the middle east region. Not only does it focus on producing seamless transport services, but it also has developed extensive warehouse spaces capable of handling different types of material.
Founded in 2003, the GMT Logistics Company became one of the most reliable service providers of warehousing services. The main storage facility for the company is located in Jebel Ali, which has about 20 loading docks. With a build-up area of 14,000 square meters, the warehouse also has temperature-controlled regions and block storage regions.
The shipping services for the carrier include Air, Sea, and Land freight delivery services. These services are offered as a part of the main service of the carrier, along with bounded logistics service to enable different parts of the distribution supply chain.
These shipping services of the carrier are paired with the warehousing and distribution services of the carrier. The carrier has two main warehouses, one in Jebel Ali in the North and the second one in the South, with a total build-up area of 10,000 square meters. This warehouse has only three loading bases as compared to its northern counterpart.
However, both these warehouses feature government-approved CCTV monitoring systems that ensure maximum security for your goods. For its freight services, the carrier also offers real-time vessel tracking services to ensure better visibility over your entire global supply chain. ClickPost has a logistics API integration with GMT logistics to enable shipping services from our 300+ different carriers along with top-notch warehousing services.
FAQs about GMT Logistics
1) How many warehouses does GMT Logistics have?
GMT Logistics has two main warehouses - North and South located in Jebel Ali. Along with this, the carrier also has open yard storage facilities, cold storage facilities, etc., as a part of their storage offerings. All the warehouses come with dedicated CCTV surveillance and high-security measures to ensure safety.
2) Does GMT Logistics offer any branding services?
GMT logistics allows you to introduce branding initiatives at various places in your packaging. This branding suite allows you to print customized shipping labels and add personalization to the packaging and delivery experiences.
| | |
| --- | --- |
| API | Description |
| Manifestation and shipping label generation API: | Use the shipping label to manifest an order with the carrier |
| Track Shipment API: | Fetch the live status of the order from the tracking page |
| Cancellation API | Cancel the order in transit and return the package to the merchant/warehouse |
| EDD API: | Predict a delivery date for the customer's pin code and display it on the product checkout page |
| NDR Action update: | Initiate the NDR action to generate non-delivery reports |
| Return Web-hooks: | Use the returns portal to process the return shipping request of the package |
VIEW API DOCUMENTATION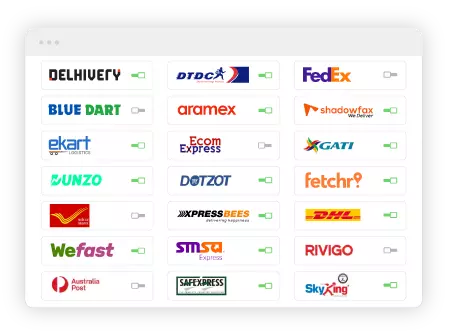 Step 1 - Select The Courier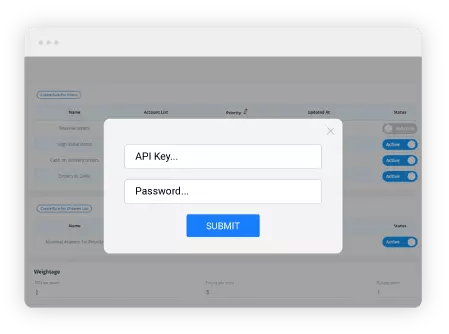 Step 2 - Enter API Key