Shipping services
Same-Day and Next-Day Delivery

International and domestic drop shipping

Cross Border Order Fulfillment
Special services
Fast COD remittance cycles

Shipping insurance for all orders

Lean order and warehouse management systems
Technology services
Mobile app, iMile Drop, to book faster pickups and dropoffs

24/7 customer support with live chatbots

AI-driven autonomous delivery vehicles
About

iMile Delivery
iMile Delivery is the brainchild of Rita Huang, who formed this ecommerce logistics startup to combat recurring delivery issues arising from the lack of a nationalized address system. During her stay in the Middle East, she encountered great difficulties tracking orders placed with Chinese ecommerce websites. iMile Delivery was born in 2017 to help Chinese SMEs reach high-growth markets like the Middle East, KSA (Kingdom of Saudi Arabia), etc., with targeted delivery solutions.
Since then, iMile Delivery has opened 5 offices and 2 associate centers in some of the world's fastest-emerging ecommerce markets. It is dedicated to providing all-in-one logistics and fulfillment solutions for ecommerce retailers and social media businesses. Its consistent efforts have made supply chain and delivery operations far more transparent in the Middle East and Latin America than ever before.
Some of the flagship services offered by this logistics software are - Pick Up and Drop Off (PUDO), last-mile delivery, warehousing solutions and end-to-end fulfillment, same/next day delivery, and cash on delivery (COD). It also has a fast COD remittance cycle that helps ecommerce businesses manage their invested capital efficiently. iMile Delivery currently provides international and domestic dropshipping services in the UAE, KSA, Bahrain, Mexico, Qatar, Jordan, Oman, and Kuwait.
All packages associated with iMile Delivery can be tracked in real-time from when it's picked up by the carrier in China till it reaches the customer. International shipments take anywhere between 4 to 8 days, while domestic ones can take 1 to 4 days, depending on the accessibility of the location. The maximum weight of any shipment is 15kgs for both domestic and international parcels. Sellers must declare an estimated value of their orders to avail of shipping insurance. International and domestic order values must be USD 100 and USD 25, respectively, to qualify for insurance.
iMile Delivery provides the best facilities for its delivery agents through a delivery associate app that helps drivers plan their days and routes for maximum efficiency. If customers want to change their address or reschedule their delivery, then they can easily reach out to iMile's 24/7 helpdesk. Ecommerce businesses can now connect with iMile Delivery through ClickPost's logistics API integration and start shipping in a day!
FAQs about

iMile Delivery
1) How to track international orders with iMile Delivery?
To track international orders, visit the iMile Delivery website, and under the Track Orders section, enter your AWB or order number. You can find your order number in the confirmation email sent by your seller/carrier after your purchase.
2) Does iMile Delivery accommodate bulk shipments?
Yes, iMile delivery transports bulk shipments through land, and sea freights with FCL (Full Container Load), LCL (Less than Container Load), FTL (Full Truckload), and LTL (Less than Truckload)services. It also uses Roll-on/Roll-off ships to ship bikes, cars, trailers, buses, etc.
| | |
| --- | --- |
| API | Description |
| Manifestation and shipping label generation API: | Creates an AWB number and shipping label to initiate an order pickup request from iMile Delivery |
| Track Shipment API: | Tracks orders 24/7 and provides real-time shipment status updates |
| Cancellation API | Enables order cancellation after shipment processing |
| EDD API: | Displays accurate estimated delivery dates to customers on product and checkout pages for selected pin/zipcodes |
| NDR Action update: | Jump starts the NDR protocol to manage failed deliveries |
| Return Web-hooks: | Books customer return requests and initiates the returns process |
VIEW API DOCUMENTATION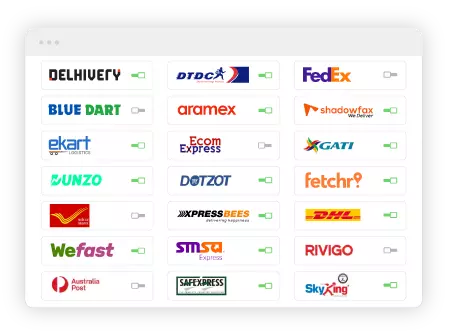 Step 1 - Select The Courier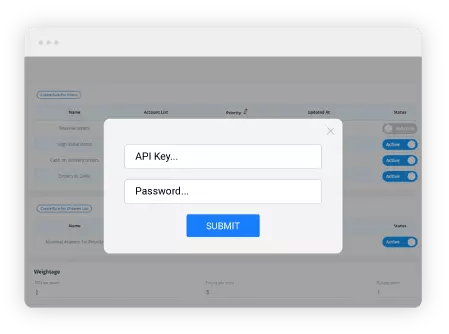 Step 2 - Enter API Key